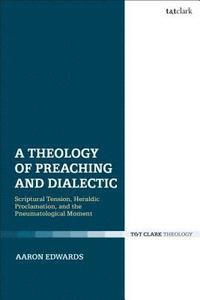 Fler böcker inom
Format

Häftad (Paperback / softback)

Språk

Engelska

Antal sidor

264

Utgivningsdatum

2020-01-23

Förlag

Dimensioner

234 x 156 x 21 mm

Vikt

425 g

Antal komponenter

1

ISBN

9780567693242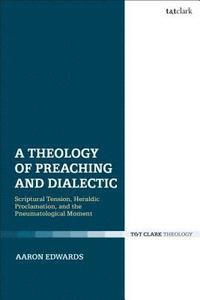 A Theology of Preaching and Dialectic
Scriptural Tension, Heraldic Proclamation and the Pneumatological Moment
Ännu ej utkommen – klicka "Bevaka" för att få ett mejl så fort boken boken går att köpa.
How does the preacher know what God might say now based upon the many things God said then? Preachers and theologians throughout Christian history have grappled with Scripture's diverse emphases alongside the urgent task of declaring the authoritative Word of God in the contemporary pulpit. Aaron Edwards offers a new way of engaging with this problem, by exploring the theological relationship between biblical dialectics and heraldic proclamation. Edwards highlights the theological necessity of dialectical variety, without forfeiting assertiveness in the prophetic moment of preaching. A vast array of key voices from the theological tradition are drawn upon - including Augustine, Aquinas, Eckhart, Luther, Calvin, Hegel, Kierkegaard, Chesterton, Barth, Bultmann, Tillich, Ebeling, and others - to navigate the connection between Scriptural unity, clarity, and paradoxical plurivocality, leading to a nuanced account of dialectic. Applying this to the homiletically neglected concept of 'heraldic' confidence in preaching, Edwards examines the theological possibility of preaching in light of dialectical complexity via its 'prophetic' dimension. He shows how the uniquely revelatory relationship of Word and Spirit enables Scriptural illumination, prophetic discernment, and dialectical decisiveness in the 'momentary' encounter which undergirds all Christian proclamation.
Recensioner i media
In an age when the power and authority of the preached word is in question and the focus has come to be upon human rhetoric and skill, it is vitally important that we consider once again the work and power of God in the preached word. Edwards' book calls us back to a theological understanding of the task of preaching, but it does so in a way which takes context and practice seriously. Rigorous, scholarly, demanding and thought provoking, this book deserves to be read by theologians and preachers alike. * Tom Greggs, University of Aberdeen, UK * In this instructive volume, Aaron Edwards engages with the theological aspects of preaching-dialectics and heraldic proclamation. He challenges readers to consider the dialectic interaction between proclamation and praxis, all the while anchored in Scripture. * Scott M. Gibson, Gordon Conwell Theological Seminary, USA * Should preachers feel incapacitated by the apparent lack of unity in the biblical message? In this wide-ranging study, Aaron Edwards urges preachers to shake off their lack of confidence and instead to trust that they have been called to preach with abandon in the power of the Spirit - even if the Sunday morning message may seem imbalanced. Edwards's theology of preaching offers solid reasons to proclaim the gospel with authority in the midst of an apparent cacophony of voices. * Hans Boersma, Regent College, Canada *
Bloggat om A Theology of Preaching and Dialectic
Övrig information
Aaron P. Edwards is Lecturer in Theology, Preaching and Mission at Cliff College, UK.
Innehållsförteckning
Preface Introduction Chapter 1 Canonicity, Clarity, Dialectic: The Problematic Task of Biblical Expository Preaching - Introduction: Preaching and Scripture - The Proclaimed Gospel and Early Canonicity - The Clarity of Scripture as Dialectical Precursor - Dialectic and Scripture - Conclusion: Engaging Dialectic with Clarity Chapter 2 Dialectic, Paradox, Contradiction: The Paradoxical Legacy of Theological Dialectic - Introduction: Towards Terminological Clarity - Dialectic - Paradox - Dialectic and Paradox - The Myth of Synthesis - Distinguishing Primary Dialectical Modes - Conclusion: Dialectical Bases Chapter 3 Dialectic, Proclamation, Correctivity: The Possibility of Dialectical Heraldic Confidence - Introduction: Dialectics, Homiletics, and Preaching - The Necessity of 'Heraldic' Proclamation - Between Herald and New Homiletic - A Brief Theology of Heraldic Confidence - Between Herald and Dialectician - Conclusion: The Contingently Confident Herald Chapter 4 Dialectic, Prophecy, Decisiveness: A Pneumatology of Dialectical Heraldic Proclamation - Introduction: Correctivity and Decisiveness - Preaching as Pneumatologically Prophetic - Attaining Dialectical Decisiveness - Distinctive Purposes of Pneumatological Prophetic Preaching - Pneumatological Prophetic Preaching as 'Moment' - Conclusion: Dialectical Heraldic Proclamation Conclusion Bibliography Index