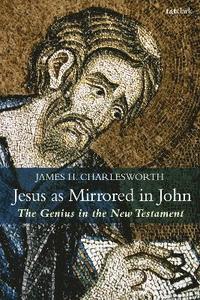 Fler böcker inom
Format

Häftad (Paperback / softback)

Språk

Engelska

Antal sidor

624

Utgivningsdatum

2020-05-28

Förlag

Illustrationer

40 bw illus

Antal komponenter

1

ISBN

9780567694874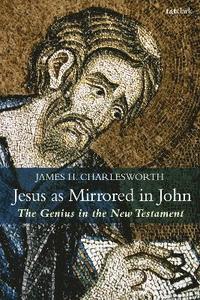 Jesus as Mirrored in John
The Genius in the New Testament
Ännu ej utkommen – klicka "Bevaka" för att få ett mejl så fort boken boken går att köpa.
James H. Charlesworth begins from a burgeoning point of scholarly consensus: More and more scholars are coming to recognize that the Fourth Gospel is more historically complex than previously thought. Charlesworth outlines two historical horizons within John. On the one hand, there is the Jewish background to the text (complete with the evangelist's knowledge of Palestinian geography and Jewish customs) which Charlesworth perceives as offering a window into pre-70 Palestinian Judaism. On the other hand, the gospel also reflects a post-70 world in which non-believing Jews, with more unity, begin to part definitely with those who identified Jesus as the Messiah. Split into four sections, this volume first examines the origins of the Fourth Gospel, its evolution in several editions, and its setting in Judea and Galilee. Charlesworth then looks specifically at the figure of Jesus and issues of history. He proceeds to consider this Gospel alongside earlier and contemporaneous Jewish literature, most notably the Dead Sea Scrolls. Finally, the volume engages with John's symbolism and language, looking closely at key aspects in which John differs from the Synoptic Gospels, and raising such provocative questions as whether or not it is possible that Jesus married Mary Magdalene. From one of the New Testament's most noted scholars, this book allows deeper understanding of the ways in which the Gospel of John is a vital resource for understanding both the origin of Christianity and Jesus' position in history.
Recensioner i media
Good books on the Gospel of John abound; important books are fewer. This book by James Charlesworth, however, is both. Drawing on a half century of original Johannine research, this collection of essays puts forward a bold and noteworthy overall theory regarding John's composition, religious background, historical setting(s), and implications for understanding more fully the Jesus of history as well as the Christ of faith. As a self-standing Jesus tradition, informed by state-of-the-art analyses of its Jewish environs, this book not only critiques older paradigms; it heralds and furthers new paradigms regarding some of the most complex issues within modern New Testament studies. A must-read for scholars and students alike! * Paul N. Anderson, George Fox University, USA * Professor James Charlesworth has devoted most of his long and productive career to the Gospel of John and the world in which it took shape. In Jesus as Mirrored in John he pulls together his great expertise in Second Temple Jewish literature, archaeology, and early church tradition, in order to shed new light of what everyone regards as the most intriguing of the four New Testament Gospels. Professor Charlesworth leaves no stone unturned as he probes the setting, history, and real meaning of the Gospel of John and the genius that lies behind it. * Craig A. Evans, Houston Baptist University, USA * Keenly sensitive to the Jewish setting of both Jesus and the Fourth Gospel, James Charlesworth helpfully draws on recent archaeological discoveries, discussions in Johannine scholarship, and his own years of research in Enoch literature, the Dead Sea Scrolls and other sources with fresh considerations for Johannine research. * Craig S. Keener, Asbury Theological Seminary, USA *
Bloggat om Jesus as Mirrored in John
Övrig information
James H. Charlesworth is George L. Collord Professor of New Testament Language and Literature and Director of the Princeton Dead Sea Scrolls Project at Princeton Theological Seminary, USA.
Innehållsförteckning
Preface: John's Symbolic Language: The Johannine Community and Its Jewish Background Foreword Abbreviations Introduction: The Genius in the New Testament I. Origin, Evolution, and Settings of the Gospel of John 1. Paradigm Shifts in Johannine Studies 2. The Priority of John 3. The Beloved Disciple: Criteria and Observations 4. The Historical and Social Setting of the Gospel of John in Light of the Essenes II. John and the Historical Jesus 5. John: A Neglected Source 6. Archaeological Discoveries Supporting the Historicity of John's Traditions III. The Gospel of John and Other Sacred Literature John and the Dead Sea Scrolls 7. The Dualism of Qumran and the "Dualism" of John 8. An Overview of the Dead Sea Scrolls and a Revolutionary New Perspective 9. John and Qumran: Almost Seventy Years of Research 10. John's Indebtedness to Judaism and the Self-Glorification Hymn John and Enoch 11. Did the Fourth Evangelist Know the Enoch Tradition? John and the Odes of Solomon 12. The Odes of Solomon and the Gospel of John 13. Qumran, John, and the Odes of Solomon IV. Symbolic Language in the Gospel of John 14. Jewish Purity Laws and the Identity of the Beloved Disciple 15. The Symbolism of the Serpent in John 16. Symbology in Johannine Christology 17. Is it Conceivable that Jesus Married Mary Magdalene?; Searching for Evidence in Johannine Traditions 18. Whence the Title Kata Ioannon: "According to John"? Conclusion Advances in the Study of the Fourth Gospel: A Selected Bibliography - Jolyon G. R. Pruszinski Indexes