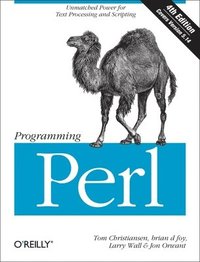 Fler böcker inom
Format

Häftad (Paperback)

Språk

Engelska

Antal sidor

1184

Utgivningsdatum

2012-03-16

Upplaga

4 Rev ed

Förlag

Illustrationer

illustrations

Dimensioner

234 x 176 x 50 mm

Vikt

1650 g

Antal komponenter

1

ISBN

9780596004927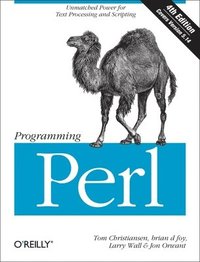 Programming Perl: Unmatched power for text processing and scripting
Skickas inom 3-6 vardagar.
Fri frakt inom Sverige för privatpersoner.
Adopted as the undisputed Perl bible soon after the first edition appeared in 1991,
Programming Perl
is still the go-to guide for this highly practical language. Perl began life as a super-fueled text processing utility, but quickly evolved into a general purpose programming language thats helped hundreds of thousands of programmers, system administrators, and enthusiasts, like you, get your job done.
In this much-anticipated update to "the Camel," three renowned Perl authors cover the language up to its current version, Perl 5.14, with a preview of features in the upcoming 5.16. In a world where Unicode is increasingly essential for text processing, Perl offers the best and least painful support of any major language, smoothly integrating Unicode everywhere-including in Perls most popular feature: regular expressions.
Important features covered by this update include:
New keywords and syntax
I/O layers and encodings
New backslash escapes
Unicode 6.0
Unicode grapheme clusters and properties
Named captures in regexes
Recursive and grammatical patterns
Expanded coverage of CPAN
Current best practices
Passar bra ihop
+
Bloggat om Programming Perl: Unmatched power for tex...
Övrig information
Tom Christiansen is a freelance consultant specializing in Perl training and writing. After working for several years for TSR Hobbies (of Dungeons and Dragons fame), he set off for college where he spent a year in Spain and five in America, dabbling in music, linguistics, programming, and some half-dozen different spoken languages. Tom finally escaped UW-Madison with B.A.s in Spanish and computer science and an M.S. in computer science. He then spent five years at Convex as a jack-of-all-trades working on everything from system administration to utility and kernel development, with customer support and training thrown in for good measure. Tom also served two terms on the USENIX Association Board of directors. With over fifteen years' experience in UNIX system administration and programming, Tom presents seminars internationally. Living in the foothills above Boulder, Colorado, surrounded by mule deer, skunks, and the occasional mountain lion and black bear, Tom takes summers off for hiking, hacking, birding, music making, and gaming. Larry Wall originally created Perl while a programmer at Unisys. He now works full time guiding the future development of the language as a researcher and developer at O'Reilly & Associates. Larry is known for his idiosyncratic and thought-provoking approach to programming, as well as for his groundbreaking contributions to the culture of free software programming. He is the principal author of the bestselling Programming Perl, known colloquially as "the Camel book." Jon Orwant, a well-known member of the Perl community, founded The Perl Journal and co-authored O'Reilly's bestseller, Programming Perl, 3rd Edition.
Innehållsförteckning
PrefacePart I: OverviewChapter 1: An Overview of PerlPart II: The Gory DetailsChapter 2: Bits and PiecesChapter 3: Unary and Binary OperatorsChapter 4: Statements and DeclarationsChapter 5: Pattern MatchingChapter 6: UnicodeChapter 7: SubroutinesChapter 8: ReferencesChapter 9: Data StructuresChapter 10: PackagesChapter 11: ModulesChapter 12: ObjectsChapter 13: OverloadingChapter 14: Tied VariablesPart III: Perl as TechnologyChapter 15: Interprocess CommunicationChapter 16: CompilingChapter 17: The Command-Line InterfaceChapter 18: The Perl DebuggerChapter 19: CPANPart IV: Perl as CultureChapter 20: SecurityChapter 21: Common PracticesChapter 22: Portable PerlChapter 23: Plain Old DocumentationChapter 24: Perl CulturePart V: Reference MaterialChapter 25: Special NamesChapter 26: FormatsChapter 27: FunctionsChapter 28: The Standard Perl LibraryChapter 29: Pragmatic ModulesIndex of Perl Modules in This BookColophon