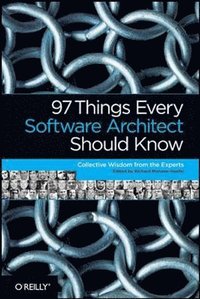 Fler böcker inom
Format

Häftad (Paperback)

Språk

Engelska

Antal sidor

200

Utgivningsdatum

2009-02-01

Upplaga

1

Förlag

Illustrationer

Illustrations

Dimensioner

228 x 151 x 10 mm

Vikt

310 g

Antal komponenter

1

ISBN

9780596522698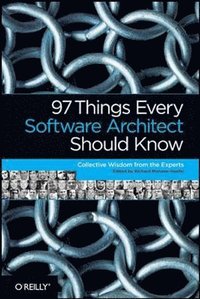 97 Things Every Software Architect Should Know
Collective Wisdom from the Expers
Skickas inom 2-5 vardagar.
Fri frakt inom Sverige för privatpersoner.
In this truly unique technical book, today's leading software architects present valuable principles on key development issues that go way beyond technology. More than four dozen architects -- including Neal Ford, Michael Nygard, and Bill de hOra -- offer advice for communicating with stakeholders, eliminating complexity, empowering developers, and many more practical lessons they've learned from years of experience. Among the 97 principles in this book, you'll find useful advice such as:
Don't Put Your Resume Ahead of the Requirements (Nitin Borwankar)
Chances Are, Your Biggest Problem Isn't Technical (Mark Ramm)
Communication Is King; Clarity and Leadership, Its Humble Servants (Mark Richards)
Simplicity Before Generality, Use Before Reuse (Kevlin Henney)
For the End User, the Interface Is the System (Vinayak Hegde)
It's Never Too Early to Think About Performance (Rebecca Parsons)
To be successful as a software architect, you need to master both business and technology. This book tells you what top software architects think is important
and
how they approach a project. If you want to enhance your career,
97 Things Every Software Architect Should Know
is essential reading.
Passar bra ihop
+
Bloggat om 97 Things Every Software Architect Should...
Övrig information
Richard Monson-Haefel is the author of Enterprise JavaBeans (Editions 1 - 5), Java Message Service and one of the world's leading experts and book authors on enterprise computing. He was the lead architect of OpenEJB, an open source EJB container used in Apache Geronimo, a member of the JCP Executive Committee, member of JCP EJB expert groups, and an industry analyst for Burton Group researching enterprise computing, open source, and Rich Internet Application (RIA) development. Today, Richard is the VP of Developer Relations for Curl, Inc. a RIA platform used in enterprise computing. You can learn more about Richard at his web site http://www.monson-haefel.com
Innehållsförteckning
PrefaceChapter 1: Don't Put Your Resume Ahead of the RequirementsChapter 2: Simplify Essential Complexity; Diminish Accidental ComplexityChapter 3: Chances Are, Your Biggest Problem Isn't TechnicalChapter 4: Communication Is King; Clarity and Leadership, Its Humble ServantsChapter 5: Application Architecture Determines Application PerformanceChapter 6: Seek the Value in Requested CapabilitiesChapter 7: Stand Up!Chapter 8: Everything Will Ultimately FailChapter 9: You're Negotiating More Often Than You ThinkChapter 10: QuantifyChapter 11: One Line of Working Code Is Worth 500 of SpecificationChapter 12: There Is No One-Size-Fits-All SolutionChapter 13: It's Never Too Early to Think About PerformanceChapter 14: Architecting Is About BalancingChapter 15: Commit-and-Run Is a CrimeChapter 16: There Can Be More Than OneChapter 17: Business DrivesChapter 18: Simplicity Before Generality, Use Before ReuseChapter 19: Architects Must Be Hands OnChapter 20: Continuously IntegrateChapter 21: Avoid Scheduling FailuresChapter 22: Architectural TradeoffsChapter 23: Database As a FortressChapter 24: Use Uncertainty As a DriverChapter 25: Warning: Problems in Mirror May Be Larger Than They AppearChapter 26: Reuse Is About People and Education, Not Just ArchitectureChapter 27: There Is No 'I' in ArchitectureChapter 28: Get the 1,000-Foot ViewChapter 29: Try Before ChoosingChapter 30: Understand the Business DomainChapter 31: Programming Is an Act of DesignChapter 32: Give Developers AutonomyChapter 33: Time Changes EverythingChapter 34: "Software Architect" Has Only Lowercase a's; Deal with ItChapter 35: Scope Is the Enemy of SuccessChapter 36: Value Stewardship Over ShowmanshipChapter 37: Software Architecture Has Ethical ConsequencesChapter 38: Skyscrapers Aren't ScalableChapter 39: Heterogeneity WinsChapter 40: It's All About PerformanceChapter 41: Engineer in the White SpacesChapter 42: Talk the TalkChapter 43: Context Is KingChapter 44: Dwarves, Elves, Wizards, and KingsChapter 45: Learn from Architects of BuildingsChapter 46: Fight RepetitionChapter 47: Welcome to the Real WorldChapter 48: Don't Control, but ObserveChapter 49: Janus the ArchitectChapter 50: Architects' Focus Is on the Boundaries and InterfacesChapter 51: Empower DevelopersChapter 52: Record Your RationaleChapter 53: Challenge AssumptionsEspecially Your OwnChapter 54: Share Your Knowledge and ExperiencesChapter 55: Pattern PathologyChapter 56: Don't Stretch the Architecture MetaphorsChapter 57: Focus on Application Support and MaintenanceChapter 58: Prepare to Pick TwoChapter 59: Prefer Principles, Axioms, and Analogies to Opinion and TasteChapter 60: Start with a Walking SkeletonChapter 61: It Is All About The DataChapter 62: Make Sure the Simple Stuff Is SimpleChapter 63: Before Anything, an Architect Is a DeveloperChapter 64: The ROI VariableChapter 65: Your System Is Legacy; Design for ItChapter 66: If There Is Only One Solution, Get a Second OpinionChapter 67: Understand the Impact of C...