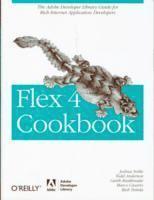 Fler böcker inom
Format

Häftad (Paperback)

Språk

Engelska

Antal sidor

736

Utgivningsdatum

2010-06-11

Upplaga

1

Förlag

Illustrationer

illustrations

Dimensioner

236 x 179 x 38 mm

Vikt

1180 g

Antal komponenter

1

ISBN

9780596805616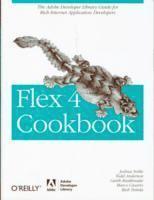 Flex 4 Cookbook
Real-world Recipes for Developing Rich Internet Applications
Skickas inom 7-10 vardagar.
Fri frakt inom Sverige för privatpersoner.
With this collection of proven recipes, you have the ideal problem-solving guide for developing interactive Rich Internet Applications on the Adobe Flash Platform. You'll find answers to hundreds of common problems you may encounter when using Adobe Flex, Flex 4 Framework, or Flash Builder, Adobe's GUI-based development tool.
Flex 4 Cookbook
has hands-on recipes for everything from Flex basics to solutions for working with visual components and data access, as well as tips on application development, unit testing, and Adobe AIR. Each recipe provides an explanation of how and why it works, and includes sample code that you can use immediately. You'll get results fast, whether you're a committed Flex developer or still evaluating the technology. It's a great way to jumpstart your next web application.
Topics include:
Using Spark Component
Text Layout Framework
Groups and Layout
Spark List and ItemRenderer
Images, bitmaps, videos, and sounds
CSS, styling, and skinning
States and Effects
Working with Collections
Using DataBinding
Validation, formatting, and regular expressions
Using Charts
Services and Data Access
Using RSLs and Modules
Working with Adobe AIR 2.0
Passar bra ihop
+
Bloggat om Flex 4 Cookbook
Övrig information
Josh Noble, a consultant, freelance developer, and Rich Internet Application designer, and taught coding and electronics to art and design students at the School of the Museum of Fine Arts in Boston. He works extensively with the tools discussed in this book, and teaches about their use in workshops and at colleges. Todd Anderson is a Senior Software Developer in the Multimedia Platforms Group at Schematic Boston, and is co-author of Adobe AIR Instant Results: Create - Modify - Reuse, a Wrox/Wiley title scheduled for release in spring of 2008. Garth Braithwaite currently works as an Interactive Engineer and Consultant for Media Blacksmith, a company he formed with a partner in 2007. Garth was originally a graphic designer and technical trainer and has been developing internet applications since 2004. In that time, he founded VegasFlex, an official Adobe Flex User Group for the Greater Las Vegas Area focusing on Flex, AIR, and Flash Catalyst. Apart from these technologies, he also develops in CakePHP and JavaScript, and continues to improve his design skills. He is also an Adobe Certified Expert in Flex 3 and AIR. When not in front of a computer, Garth is found at home playing with his family. Marco Casario has been passionate about informatics since he was little more than a child and used to program games in Basic for Commodore 64 before dedicating himself to innovative projects for the web using Flash and Director (as far back as versions 3 and 5). In 2005, Marco founded Comtaste, a company dedicated to exploring new frontiers in Rich Internet Applications and the convergence between the web and the world of mobile devices -- MobyMobile and YouThru are representative of their recent work. He is founder of the biggest worldwide Flash Lite User Group and of AUG Italy, a reference point for the Italian community of Adobe users, in which he carries out the role of Channel Manager for the section dedicated to Flex (AUG Italy Flex Gala). He is author of Flex Solutions: Essential Techniques for Flex 2 and Flex 3 Developers (FriendsofED), and has been Technical Editor for Apress, Friends of ED, and WROX for books such as Essential Flash 8, Professional Flex 2, and Flash Applications for Mobile Devices. This year he was a featured speaker at the Adobe MAX Conference in Barcellona where he preseted the "Extending Flex Components" session, and at the O'Reilly Web 2.0 Summit, presenting "Choosing the final Rich Internet Application technology path." He'll also be presenting at 360Flex Europe and FITC 2008. Rich Tretola currently holds the position of Rich Applications Technical Lead. He is an award-winning Flex developer and was the lead author of Professional Flex 2 (2007 ISBN: 0470102675) and sole author of Beginning AIR (2008 ISBN: 0470229047). Rich has been building Internet applications for over 10 years and has worked with Flex since the original Royale beta version of Flex in 2003. Other than Flex, Rich builds applications using ColdFusion, Flash, and Java. Rich is highly regarded within the Flex community as an expert in RIA and is also an Adobe Community Expert. He runs a popular Flex and AIR blog at Everything Flex, and was also a speaker at the Adobe MAX 2007 conference in Chicago. Read Rich's recent InsideRIA entries. David Tucker is a web application developer and consultant, formerly at the Savannah campus of one of the nation's premiere educational institutions, Georgia Tech. He is an avid blogger and writes primarily about Adobe AIR, Flash, Flex, and ColdFusion at his blog, davidtucker.netand at InsideRIA.com. David spends the rest of the week planning media strategies for educational institutions and not-for-profit organizations.
Innehållsförteckning
Preface; Who This Book Is For; Who This Book Is Not For; How This Book Is Organized; Conventions Used in This Book; Using Code Examples; How to Use This Book; OReilly Cookbooks; Safari Books Online; How to Contact Us; Acknowledgments; Chapter 1: Flex and ActionScript Basics; 1.1 Create a Flex Project in Flash Builder; 1.2 Create a Flex Library Project in Flash Builder; 1.3 Set Compiler Options in Flash Builder; 1.4 Compile a Flex Project Without Flash Builder; 1.5 Add an Event Listener in MXML; 1.6 Create Typed Vectors; 1.7 Use Event Bubbling; 1.8 Use Custom Events and Dispatch Data with Events; 1.9 Listen for a Keyboard Event; 1.10 Define Optional Parameters for Methods; 1.11 Define and Implement an Interface; 1.12 Access the Parent of a Flex Component; Chapter 2: Containers; 2.1 Position Children Within a Container; 2.2 Dynamically Add and Remove Children; 2.3 Reorder Child Elements of a Container; 2.4 Display Children Using Data Items; 2.5 Use a Custom Item Renderer in a DataGroup; 2.6 Use Multiple Item Renderers in a DataGroup; 2.7 Enable Scrolling in a Container; 2.8 Scale Children of a Container; 2.9 Apply Skins to a Container; 2.10 Set the Background Image of a BorderContainer; 2.11 Use a Control Bar; 2.12 Modify Layout of Content Elements in a Panel; 2.13 Track Mouse Position Within a Container; 2.14 Drag and Drop Between Visual Containers; 2.15 Drag and Drop Between Data Containers; 2.16 Add a Spark Layout Container to a MX Navigation Container; 2.17 Create a Spark-Based ViewStack; Chapter 3: Layout; 3.1 Position Children Linearly; 3.2 Switch Layout Management at Runtime; 3.3 Align and Size Children Within a Layout; 3.4 Lay Out Children Using Rows and Columns; 3.5 Size Children Uniformly; 3.6 Lazily Create and Recycle Children; 3.7 Create a Custom Layout; 3.8 Measure and Alter the Container Size; 3.9 Dynamically Change the Child Depth in the Layout; 3.10 Use Matrix3D to Apply Transformations Within a Layout; 3.11 Use TransformOffsets to Apply Transformations Within a Layout; 3.12 Create a Custom 3D Layout; 3.13 Programmatically Scroll Within a Layout; 3.14 Determine the Visibility of Elements in a Sequence-Based Layout; Chapter 4: Graphics; 4.1 Size and Position a Graphic Element; 4.2 Use Path to Draw a Shape with Stroke and Fill; 4.3 Display Text in a Graphic Element; 4.4 Display Bitmap Data in a Graphic Element; 4.5 Display Gradient Text; 4.6 Apply Bitmap Data to a Graphic Element as a Mask; 4.7 Create a Custom Shape Element; 4.8 Create a Custom Standalone Graphic Component; 4.9 Define and Reuse Graphic Symbols; Chapter 5: Components; 5.1 Handle a Buttons Click Event; 5.2 Create a Button Bar; 5.3 Load a External SWF; 5.4 Use a Calendar Date Input; 5.5 Create Event Handlers for Menu-Based Controls; 5.6 Display an Alert in an Application; 5.7 Display a Custom Pop Up in a Custom Component; 5.8 Dete...