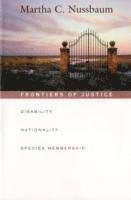 Fler böcker inom
Format

Häftad (Paperback / softback)

Språk

Engelska

Antal sidor

512

Utgivningsdatum

2007-05-01

Upplaga

New ed

Förlag

Illustrationer

none

Dimensioner

210 x 140 x 31 mm

Vikt

440 g

Antal komponenter

1

ISBN

9780674024106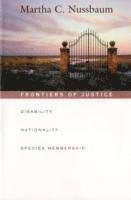 Frontiers of Justice
Disability, Nationality, Species Membership
Skickas inom 5-8 vardagar.
Fri frakt inom Sverige för privatpersoner.
Theories of social justice are necessarily abstract, reaching beyond the particular and the immediate to the general and the timeless. Yet such theories, addressing the world and its problems, must respond to the real and changing dilemmas of the day. A brilliant work of practical philosophy, Frontiers of Justice is dedicated to this proposition. Taking up three urgent problems of social justice neglected by current theories and thus harder to tackle in practical terms and everyday life, Martha Nussbaum seeks a theory of social justice that can guide us to a richer, more responsive approach to social cooperation. The idea of the social contract--especially as developed in the work of John Rawls--is one of the most powerful approaches to social justice in the Western tradition. But as Nussbaum demonstrates, even Rawls's theory, suggesting a contract for mutual advantage among approximate equals, cannot address questions of social justice posed by unequal parties. How, for instance, can we extend the equal rights of citizenship--education, health care, political rights and liberties--to those with physical and mental disabilities? How can we extend justice and dignified life conditions to all citizens of the world? And how, finally, can we bring our treatment of nonhuman animals into our notions of social justice? Exploring the limitations of the social contract in these three areas, Nussbaum devises an alternative theory based on the idea of "capabilities." She helps us to think more clearly about the purposes of political cooperation and the nature of political principles--and to look to a future of greater justice for all.
Passar bra ihop
+
Recensioner i media
"Martha C. Nussbaum's impressive new book Frontiers of Justice can be easily summarized as Rawls meets Aristotle...Well-argued and beautifully written, Frontiers of Justice is an important, provocative and thoroughly admirable book, and will be essential reading for anyone interested in the concepts of justice and moral entitlement." - Mark Rowlands, Times Literary Supplement"
Bloggat om Frontiers of Justice
Övrig information
Martha C. Nussbaum is Ernst Freund Distinguished Service Professor of Law and Ethics at the University of Chicago.
Innehållsförteckning
* Abbreviations * Introduction *1. Social Contracts and Three Unsolved Problems of Justice * i. The State of Nature * ii. Three Unsolved Problems * iii. Rawls and the Unsolved Problems * iv. Free, Equal, and Independent * v. Grotius, Hobbes, Locke, Hume, Kant * vi. Three Forms of Contemporary Contractarianism * vii. The Capabilities Approach * viii. Capabilities and Contractarianism * ix. In Search of Global Justice *2. Disabilities and the Social Contract * i. Needs for Care, Problems of Justice * ii. Prudential and Moral Versions of the Contract; Public and Private * iii. Rawls's Kantian Contractarianism: Primary Goods, Kantian Personhood, Rough Equality, Mutual Advantage * iv. Postponing the Question of Disability * v. Kantian Personhood and Mental Impairment * vi. Care and Disability: Kittay and Sen * vii. Reconstructing Contractarianism? *3. Capabilities and Disabilities * i. The Capabilities Approach: A Noncontractarian Account of Care * ii. The Bases of Social Cooperation * iii. Dignity: Aristotelian, not Kantian * iv. The Priority of the Good, the Role of Agreement * v. Why Capabilities? * vi. Care and the Capabilities List * vii. Capability or Functioning? * viii. The Charge of Intuitionism * ix. The Capabilities Approach and Rawls's Principles of Justice * x. Types and Levels of Dignity: The Species Norm * xi. Public Policy: The Question of Guardianship * xii. Public Policy: Education and Inclusion * xiii. Public Policy: The Work of Care * xiv. Liberalism and Human Capabilities *4. Mutual Advantage and Global Inequality: The Transnational Social Contract * i. A World of Inequalities * ii. A Theory of Justice: The Two-Stage Contract Introduced * iii. The Law of Peoples: The Two-Stage Contract Reaffirmed and Modified * iv. Justification and Implementation * v. Assessing the Two-Stage Contract * vi. The Global Contract: Beitz and Pogge * vii. Prospects for an International Contractrarianism *5. Capabilities across National Boundaries * i. Social Cooperation: The Priority of Entitlements * ii. Why Capabilities? * iii. Capabilities and Rights * iv. Equality and Adequacy * v. Pluralism and Toleration * vi. An International "Overlapping Consensus"? * vii. Globalizing the Capabilities Approach: The Role of Institutions * viii. Globalizing the Capabilities Approach: What Institutions? * ix. Ten Principles for the Global Structure *6. Beyond "Compassion and Humanity": Justice for Nonhuman Animals * i. "Beings Entitled to Dignified Existence" * ii. Kantian Social-Contract Views: Indirect Duties, Duties of Compassion * iii. Utilitarianism and Animal Flourishing * iv. Types of Dignity, Types of Flourishing: Extending the Capabilities Approach * v. Methodology: Theory and Imagination * vi. Species and Individual * vii. Evaluating Animal Capabilities: No Nature Worship * viii. Positive and Negative, Capability and Functioning * ix. Equality and Adequacy * x. Death and Harm * xi. An Overlapping Consensus? * xii. Toward Basic Political Principles: The Capabilities List * xiii. The Ineliminability of Conflict * xiv. Toward a Truly Global Justice *7. The Moral Sentiments and the Capabilities Approach * Notes * References * Index