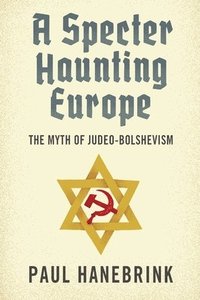 Fler böcker inom
Format

Inbunden (Hardback)

Språk

Engelska

Antal sidor

368

Utgivningsdatum

2018-11-30

Förlag

Originalspråk

English

Dimensioner

215 x 152 x 31 mm

Vikt

530 g

Antal komponenter

1

ISBN

9780674047686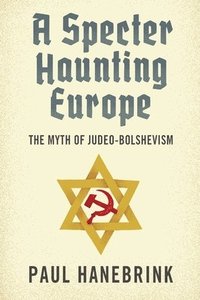 A Specter Haunting Europe
The Myth of Judeo-Bolshevism
Skickas inom 2-5 vardagar.
Fri frakt inom Sverige för privatpersoner.
The first comprehensive account of the evolution and exploitation of the Judeo-Bolshevik myth, from its origins to the present day. For much of the twentieth century, Europe was haunted by a threat of its own imagining: Judeo-Bolshevism. This myth-that Communism was a Jewish plot to destroy the nations of Europe-was a paranoid fantasy, and yet fears of a Jewish Bolshevik conspiracy took hold during the Russian Revolution and spread across Europe. During World War II, these fears sparked genocide. Paul Hanebrink's history begins with the counterrevolutionary movements that roiled Europe at the end of World War I. Fascists, Nazis, conservative Christians, and other Europeans, terrified by Communism, imagined Jewish Bolsheviks as enemies who crossed borders to subvert order from within and bring destructive ideas from abroad. In the years that followed, Judeo-Bolshevism was an accessible and potent political weapon. After the Holocaust, the specter of Judeo-Bolshevism did not die. Instead, it adapted to, and became a part of, the Cold War world. Transformed yet again, it persists today on both sides of the Atlantic in the toxic politics of revitalized right-wing nationalism. Drawing a worrisome parallel across one hundred years, Hanebrink argues that Europeans and Americans continue to imagine a transnational ethno-religious threat to national ways of life, this time from Muslims rather than Jews.
Passar bra ihop
+
Recensioner i media
A timely reminder of the intellectual tradition deployed by Republican politicians in the U.S. when they join the loose coalition of conspiracy theorists across the Atlantic gleefully demonizing George Soros. It is both salutary and depressing to be reminded of how enduring the trope of an exploitative global Jewish conspiracy against pure, humble and selfless nationalists really is...A century after the end of the first world war, we have, it seems, learned very little.-- (11/14/2018) Magisterial...Hanebrink's book covers this dark history with insight and skill. He has the linguistic ability to bring Eastern Europe fully into the narrative, and the vision to include American and Western European debates, too. The end result is a major intervention into our understanding of 20th-century Europe and the lessons we ought to take away from its history.-- (04/08/2019) Hanebrink follows the myth's twisted course from its European origins in the immediate aftermath of the Bolshevik Revolution, through the jaundiced politics of the interwar period, to its devastating culmination in Nazi Germany...He argues that it survives today in the resurgent right-wing nationalism cropping up in many Western countries. From the start, the fantasy held that an alien element--the Jews--aimed to subvert the cultural values and national identities of Western societies. As Hanebrink points out, this theme is echoed in modern anti-Muslim conspiracy theories. The writers, politicians, and shills whose poisonous ideas he exhumes have many contemporary admirers.-- (01/01/2019) Thoughtful and informative...In addition to examining the origins and influence of the Judeo-Bolshevik myth in the period from 1917 to 1945, Hanebrink attempts to show that it is still an important element in anti-Semitism, both in Europe and beyond...While Judeo-Bolshevism may have lost its resonance, Paul Hanebrink is right to insist that its history still matters, both as a key to understanding the tragic fate of Europe's Jews in the first half of the twentieth century and as a reminder of how myths can open the way to political and moral catastrophe.--James J. Sheehan"Commonweal" (03/08/2019) As Paul Hanebrink demonstrates in this masterly account, the myth of Judaeo-Bolshevism rose on a tide of hysteria whipped up by the chaos in central Europe that marked the end of the Great War...This in turn fed easily into a vicious racist rhetoric that characterized much of the discourse of the political right in Europe between the two world wars and which was of course a cornerstone of the Nazi enterprise.--Geoffrey Alderman"Times Higher Education" (11/29/2018) Tremendous...Could not be more timely...These are dangerous times and we need to know as much about the history and politics of the far-right as we can. Hanebrink's book is a challenging and important contribution helping to develop that understanding.-- (10/01/2018) One of the great merits of Paul Hanebrink's A Specter Haunting Europe is its demonstration of how Europe's most pervasive and powerful twentieth-century manifestation of anti-Semitic thought--the myth of Judeo-Bolshevism--emerged before the rise of National Socialism and has continued to have a curious life long after the Holocaust and the defeat of Nazi Germany.--Christopher R. Browning"New York Review of Books" (02/21/2019) During World War II the phantom idea of Judeo-Bolshevism fueled genocides that killed millions of Jews and East Europeans, but, as Paul Hanebrink tells us, we hear its echoes anytime politicians stir fears about outsiders threatening civilization--whether they call it European, Western, or Christian. Hanebrink's tour de force is rare in its brilliance and originality, but also urgent in its message for our time.--John Connelly, author of From Enemy to Brother: The Revolution in Catholic Teaching on the Jews, 1933-1965 This masterful interpretation of the origins and trajectory of the Judeo-Bolshevik myth is far more
Bloggat om A Specter Haunting Europe
Övrig information
Paul Hanebrink is Associate Professor of History at Rutgers University-New Brunswick. He is the author of In Defense of Christian Hungary: Religion, Nationalism, and Antisemitism, 1890-1944.