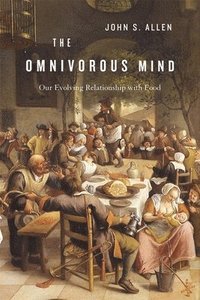 Fler böcker inom
Format

Inbunden (Hardback)

Språk

Engelska

Antal sidor

328

Utgivningsdatum

2012-05-01

Förlag

Illustrationer

9 halftones

Dimensioner

222 x 139 x 31 mm

Vikt

521 g

Antal komponenter

1

ISBN

9780674055728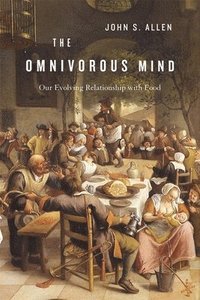 The Omnivorous Mind
Our Evolving Relationship with Food
Skickas inom 2-5 vardagar.
Fri frakt inom Sverige för privatpersoner.
In this gustatory tour of human history, John S. Allen demonstrates that the everyday activity of eating offers deep insights into human beings' biological and cultural heritage. We humans eat a wide array of plants and animals, but unlike other omnivores we eat with our minds as much as our stomachs. This thoughtful relationship with food is part of what makes us a unique species, and makes culinary cultures diverse. Not even our closest primate relatives think about food in the way Homo sapiens does. We are superomnivores whose palates reflect the natural history of our species. Drawing on the work of food historians and chefs, anthropologists and neuroscientists, Allen starts out with the diets of our earliest ancestors, explores cooking's role in our evolving brain, and moves on to the preoccupations of contemporary foodies. "The Omnivorous Mind" delivers insights into food aversions and cravings, our compulsive need to label foods as good or bad, dietary deviation from "healthy" food pyramids, and cross-cultural attitudes toward eating (with the French, bien sur, exemplifying the pursuit of gastronomic pleasure). To explain, for example, the worldwide popularity of crispy foods, Allen considers first the food habits of our insect-eating relatives. He also suggests that the sound of crunch may stave off dietary boredom by adding variety to sensory experience. Or perhaps fried foods, which we think of as bad for us, interject a frisson of illicit pleasure. When it comes to eating, Allen shows, there's no one way to account for taste.
Passar bra ihop
+
Recensioner i media
There's lots of terrific information about why we like crispy foods and how food drove evolution...[A] substantial tour of human history by way of the dinner plate. -- Jesse Rhodes Smithsonian blog 20120214 Whether we're obsessing over intricate recipes or daydreaming about chocolate, our minds are often focused on food...Allen uses this mental gustation as a lens on our biological and cultural past, through anthropology, food history and the experience of chefs. The result is a banquet. Ranging over food cravings and aversions, cultural preferences and diets, he serves up plenty of amuse-bouches, not least an unusual take on the global love for the crispy and crunchy. Nature 20120405 An authoritative...guide to the ways in which humans eat with their minds as much as their stomachs. This includes the relationship between food and memory, language and diets, and the importance of categorizing foodstuffs...Anyone curious about the human condition will welcome the diversity. -- Catherine de Lange New Scientist 20120428 [Has] a refreshing emphasis on the physiological and evolutionary aspects of our relationship with food. Recommended for readers seeking a better understanding of their complex relationship with food and its biological and cultural significance. -- Jon Bodnar Library Journal 20120501 [Allen's] lucid, careful examination of how we think about food (as well as how our brains receive input about food, whether we're actively cogitating about it or not) is a welcome addition to the growing bookshelf exploring the brain, about which we know more and more but never, somehow, enough. -- Kate Tuttle Boston Globe 20120513 In The Omnivorous Mind [Allen] explores our biological equipment for taste and the ways in which each culture builds a unique cuisine upon a shared cognitive blueprint...Allen admirably conveys that our varied taste is both what makes us human and what marks each of us as an individual. -- Leo Coleman Wall Street Journal 20120520 John S. Allen's The Omnivorous Mind is a clever and original take on how we think about food. Allen is a research scientist, which means that he's less interested in the cultural history of food--how the pickle migrated from Eastern Europe to New York, for example--than he is in hard appetite. Allen's approach involves the intriguing, if inconclusive, results that come from peering at brain scans and noticing which bits light up when we're asked to think about different foods. Some of his best conclusions involve mapping current food preferences onto the long march of evolutionary biology. -- Kathryn Hughes Prospect 20120501 In The Omnivorous Mind, neuroscientist John Allen takes the long view of our eating habits, tracing their development through the evolution of our species. He expands on the increasingly widespread view that "the obesity epidemic that is occurring in developed countries throughout the world is ultimately a result of placing bodies and minds evolved for one environment in one that is wholly different." The emphasis here is on "minds," as Allen convincingly argues that our capacious brains have been profoundly shaped by the need to ensure a steady food supply. The reward pathways in our grey matter therefore compel us towards the sugariness that denotes ripe fruit or the fattiness of high-energy meat. But this system honed to extract the most calories from an unforgiving environment leads us badly astray when it is placed in a land of plenty. There is, however, hope. Our eating habits are rooted in our physiology but they are, nonetheless, also mediated by the culture in which we grow up. This is evident, for example, in the case of taboos, in which different cultures frown upon the consumption of some perfectly good foodstuffs, such as pork (as in Judaism or Islam), beef (in India) or insects (most of the western world). Allen astutely compares this to learning a mother tongue: we are all born hard-wired to acquire language, but which langua
Bloggat om The Omnivorous Mind
Övrig information
John S. Allen is Research Scientist at Dornsife Cognitive Neuroscience Imaging Center and the Brain and Creativity Institute, University of Southern California.