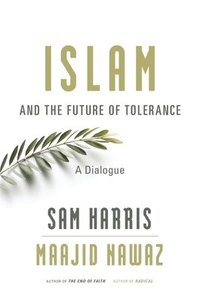 Fler böcker inom
Format

Inbunden (Hardback)

Språk

Engelska

Antal sidor

144

Utgivningsdatum

2015-10-02

Förlag

Dimensioner

203 x 120 x 25 mm

Vikt

208 g

Antal komponenter

1

Komponenter

,

ISBN

9780674088702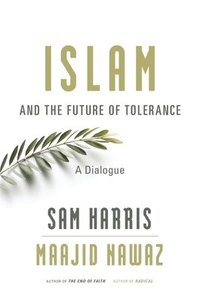 Islam and the Future of Tolerance
A Dialogue
Skickas inom 5-8 vardagar.
Fri frakt inom Sverige för privatpersoner.
In this short book, Sam Harris and Maajid Nawaz invite you to join an urgently needed conversation: Is Islam a religion of peace or war? Is it amenable to reform? Why do so many Muslims seem drawn to extremism? What do words like Islamism, jihadism, and fundamentalism mean in today's world? Remarkable for the breadth and depth of its analysis, this dialogue between a famous atheist and a former radical is all the more startling for its decorum. Harris and Nawaz have produced something genuinely new: they engage one of the most polarizing issues of our time-fearlessly and fully-and actually make progress. Islam and the Future of Tolerance has been published with the explicit goal of inspiring a wider public discussion by way of example. In a world riven by misunderstanding and violence, Harris and Nawaz demonstrate how two people with very different views can find common ground.
Passar bra ihop
+
Kundrecensioner
Det finns 2 recensioner av Islam and the Future of Tolerance. Har du också läst boken?
Sätt ditt betyg »
Partsinlaga med saklig ton

Trevligt skriven, med välunderbyggda och tydliga resonemang. Gillar den sakliga och mot meningsmotståndare respektfulla tonen. Men jag vill gärna höra synpunkter på innehållet från dem som varnar för islam. Vissa invändningar kan jag själv formulera, men saknar tillräcklig kunskap för att bedöma alla resonemang.

Måste läsas!

Sam och Maajid gör ett extremt viktigt jobb. Deras tankar måste få större spridning i Sverige. Deras intellekt är enastående.
Recensioner i media
[A] wise little volume.--Ray Olson"Booklist" (09/01/2015) A worthwhile read on the state of Islam and religious tolerance in the world today... Those interested in a deferential and detailed dialogue about human rights, Islam, jihadism, and pluralism will find this book both enlightening and engaging.--Publishers Weekly (10/16/2015) Readers with a knee-jerk opinion of Islam will learn a lot.--Kirkus Reviews (07/01/2015) How refreshing to read an honest yet affectionate exchange between the Islamist-turned-liberal-Muslim Maajid Nawaz and the neuroscientist who advocates mindful atheism, Sam Harris... Their back-and-forth clarifies multiple confusions that plague the public conversation about Islam.--Irshad Manji"New York Times Book Review" (11/08/2015) Free thought and rational inquiry once characterized the relative liberalism and humanism of ancient Muslim societies and civilizations: the leading Sunni Imam, Abu Hanifa, would debate atheists inside the great mosques of Iraq; the Abbasid caliphs hosted debates amongst the leaders of Judaism, Christianity, and Islam at their courts in Baghdad; the Mughal emperors engaged in debate with Christians, Hindus, and Buddhists. Sam Harris and Maajid Nawaz should be commended for conducting a frank and wide-ranging conversation about a number of key issues around religion, reform, and Islam in the modern world. Nawaz's approach is based upon detailed familiarity with extremist worldviews, and with the history and tradition of reform theology and renewal within Islam that desperately needs to be amplified. I hope that this debate will be a fruitful endeavor, and illustrate that, in our increasingly-polarized world, it is possible and even normal for people with different viewpoints to have a civilized conversation and to learn from each other.--Sheikh Dr. Usama Hasan, Islamic scholar Back in Islam's formative centuries, the engagement of Muslims with their ideological opponents helped them to forge the doctrines and traditions of their nascent faith--and perhaps now, as Maajid Nawaz locks horns with Sam Harris, we are at the start of another stage in Islam's evolution. It is certainly a privilege to read their conversation, and to enjoy a flavor of those great debates between rival scholars that were once staged for the entertainment of the Caliph in Baghdad.--Tom Holland, historian and author of In the Shadow of the Sword: The Birth of Islam and the Rise of the Global Arab Empire It is sadly uncommon, in any era, to find dialogue based on facts and reason--but even more rarely are Muslim and non-Muslim intellectuals able to maintain critical distance on broad questions about Islam. Which makes Islam and the Future of Tolerance something of a unicorn. Nawaz and Harris discuss Islamism and jihadism from a historical as well as a philosophical angle, with no trace of sentiment or dogma. Most conversations about religion are marked by the inability of either side to listen, but here, at last, is a proper debate.-- (12/18/2015) In this conversation, Sam Harris and Maajid Nawaz achieve what so many who take part in the debate on Islam and the West fail to accomplish: a civil but honest dialogue. The result is as illuminating as it is fascinating. Courteous and at times even chivalrous, the two men address every thorny issue on Islam, issues that lead so many others into wild shouting matches, personal attacks, and accusations of Islamophobia. In this gem of a book the authors lay it all out and set the rest of us a great example: that an incisive debate on Islam between a believer and a non-believer is attainable. Given the importance and the urgency of the topic, we must all read it and follow in their footsteps.--Ayaan Hirsi Ali, author of Infidel, Nomad, and Heretic Provocative and profane... Islam and the Future of Tolerance exemplifies the virtues of open dialogue... All Harris and Nawaz seek is to give voice to the spirit of rebellion and reformation smoldering in th
Bloggat om Islam and the Future of Tolerance
Övrig information
Sam Harris is the author of The End of Faith, Letter to a Christian Nation, The Moral Landscape, and Free Will, among other writings. Maajid Nawaz is the author of Radical and a cofounder and the chairman of Quilliam-a globally active think tank focusing on religious freedom, extremism, and citizenship.