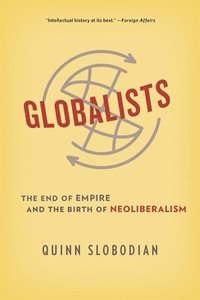 Fler böcker inom
Format

Häftad (Paperback / softback)

Språk

Engelska

Antal sidor

400

Utgivningsdatum

2020-04-24

Utmärkelser

Winner of George Louis Beer Prize 2019 (United States); Short-listed for Wallace K. Ferguson Prize 2019 (United States)

Förlag

Illustratör/Fotograf

Illustrationer

3 photos, 2 illus., 2 graphs

Dimensioner

210 x 140 x 32 mm

Vikt

530 g

Antal komponenter

1

ISBN

9780674244849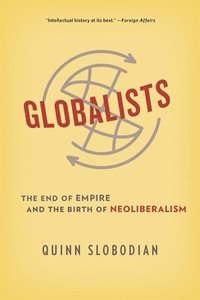 Globalists
The End of Empire and the Birth of Neoliberalism
Skickas inom 7-10 vardagar.
Fri frakt inom Sverige för privatpersoner.
George Louis Beer Prize Winner Wallace K. Ferguson Prize Finalist A Marginal Revolution Book of the Year "A groundbreaking contribution...Intellectual history at its best." -Stephen Wertheim, Foreign Affairs Neoliberals hate the state. Or do they? In the first intellectual history of neoliberal globalism, Quinn Slobodian follows a group of thinkers from the ashes of the Habsburg Empire to the creation of the World Trade Organization to show that neoliberalism emerged less to shrink government and abolish regulations than to redeploy them at a global level. It was a project that changed the world, but was also undermined time and again by the relentless change and social injustice that accompanied it. "Slobodian's lucidly written intellectual history traces the ideas of a group of Western thinkers who sought to create, against a backdrop of anarchy, globally applicable economic rules. Their attempt, it turns out, succeeded all too well." -Pankaj Mishra, Bloomberg Opinion "Fascinating, innovative...Slobodian has underlined the profound conservatism of the first generation of neoliberals and their fundamental hostility to democracy." -Adam Tooze, Dissent "The definitive history of neoliberalism as a political project." -Boston Review
Passar bra ihop
+
Fler böcker av Quinn Slobodian
Recensioner i media
Masterful...Slobodian corrects erroneous assumptions about neoliberal theory...The neoliberal theorists resemble Arendt's Eichmann in their dehumanizing of humans and seeming obliviousness to the human condition. -- Judith Deutsch * CounterPunch * Heraclitus warned us that 'no man can stand in the same river twice, for it is not the same river,' yet the temptation to do so is strong when it comes to the history of ideas. Viewing the liberalism of today as simply a return to earlier ideas is similarly tempting, but wrong. Slobodian's investigation of how 'Geneva school' liberals sought to reinvent global liberalism so that capitalism could be made safe from democracy is a fundamental recasting of what modern liberalism is and from whence it came, forcing all of us who theorize on capitalism to rethink the very object of our study. -- Mark Blyth, Brown University A remarkable study, elegant and lucid. Slobodian's complete mastery of his subject is evident. -- Angus Burgin, Johns Hopkins University Well-executed, engaging, and important. This is by far the best book I have read on neoliberalism, ever. -- Bruce Caldwell, Duke University This powerful headlong dive into the history of neoliberalism necessitates rethinking the ways of perpetuating an idea central to the 20th and 21st centuries...Globalists should be required reading for graduate students and scholars whose interests intersect with 20th-century Europe, economic history, and, most broadly, the history of ideas. -- D. N. Nelson * Choice * Flat-out brilliant. -- Andy Seal * Society for U.S. Intellectual History blog * [A] fantastic intellectual history of neo-liberalism in the international arena... Slobodian's book is excellent history... It offers a fresh and exciting new vantage point on an important set of global developments, drawing on important and under-utilized archival resources. It also implicitly pushes back at the romanticism of ideas that is core to the standard story of neo-liberalism. -- Henry Farrell * Crooked Timber * [A] sweeping intellectual history of neoliberalism...Globalists is the work of an historian that relishes the opportunity to excavate, like an archaeologist, the fossils of an idea...As Slobodian's book makes clear, global economic integration in its neoliberal form cannot allow for democracy, because it is precisely predicated on protecting the market from democracies. -- Ayan Meer * New Politics * One of the invaluable services provided by Quinn Slobodian's Globalists: The End of Empire and the Birth of Neoliberalism is to trace this anti-democratic tendency's theoretical origins, and demonstrate how for generations, ultra-market intellectuals have viewed democracy as a potential threat to the market...Slobodian's book is at its most engaging when he shows in detail the practically metaphysical dignity the neoliberals bestow upon the market. -- Jordan Ecker * American Prospect * The term neoliberalism provokes much choleric denial. But Quinn Slobodian's Globalists: The End of Empire and the Birth of Neoliberalism decisively establishes it as a coherent project, tracing it back to the political and intellectual synergies of the 1920s. -- Pankaj Mishra * The Guardian * [The] most important story of the rise of neoliberalism cannot be found in the books and lectures by theorists like David Harvey, Michel Foucault, Wendy Brown, or Werner Bonefeld. It is, as far as I can tell, only in Slobodian's Globalists. -- Charles Mudede * The Stranger * Represents a step forward in scholarship on neoliberalism. It deserves to be widely read not merely by historians interested in the twentieth century, but by anyone looking for more depth and broader context on the populist uprisings reshaping global relations today...To know this history is not just necessary but urgent. -- Jennifer Burns * American Historical Review * A book that is likely to upset enthusiasts of the 'liberal world order.'...Slobodian makes a groundbreaking contribution. Unlike standa
Övrig information
Quinn Slobodian is Associate Professor of History at Wellesley College.