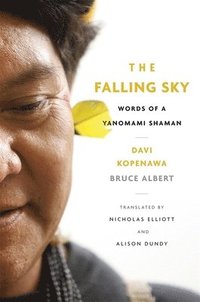 Fler böcker inom
Format

Inbunden (Hardback)

Språk

Engelska

Antal sidor

690

Utgivningsdatum

2013-11-08

Förlag

Översättare

Nicholas Elliott

Originalspråk

French

Illustratör/Fotograf

Illustrationer

Illustrations

Dimensioner

234 x 158 x 38 mm

Vikt

1065 g

Antal komponenter

1

ISBN

9780674724686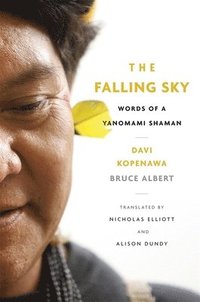 The Falling Sky
Words of a Yanomami Shaman
Skickas inom 7-10 vardagar.
Fri frakt inom Sverige för privatpersoner.
The Falling Sky is a remarkable first-person account of the life story and cosmo-ecological thought of Davi Kopenawa, shaman and spokesman for the Yanomami of the Brazilian Amazon. Representing a people whose very existence is in jeopardy, Davi Kopenawa paints an unforgettable picture of Yanomami culture, past and present, in the heart of the rainforest--a world where ancient indigenous knowledge and shamanic traditions cope with the global geopolitics of an insatiable natural resources extraction industry. In richly evocative language, Kopenawa recounts his initiation and experience as a shaman, as well as his first encounters with outsiders: government officials, missionaries, road workers, cattle ranchers, and gold prospectors. He vividly describes the ensuing cultural repression, environmental devastation, and deaths resulting from epidemics and violence. To counter these threats, Davi Kopenawa became a global ambassador for his endangered people. The Falling Sky follows him from his native village in the Northern Amazon to Brazilian cities and finally on transatlantic flights bound for European and American capitals. These travels constitute a shamanic critique of Western industrial society, whose endless material greed, mass violence, and ecological blindness contrast sharply with Yanomami cultural values. Bruce Albert, a close friend since the 1970s, superbly captures Kopenawa's intense, poetic voice. This collaborative work provides a unique reading experience that is at the same time a coming-of-age story, a historical account, and a shamanic philosophy, but most of all an impassioned plea to respect native rights and preserve the Amazon rainforest.
Passar bra ihop
+
Fler böcker av Davi Kopenawa
Falling Sky

Davi Kopenawa

Anthropologist Bruce Albert captures the poetic voice of Davi Kopenawa, shaman and spokesman for the Yanomami of the Brazilian Amazon, in this unique reading experience--a coming-of-age story, historical account, and shamanic philosophy, but most ...
Recensioner i media
The words of the Yanomami shamans are powerful: they conjure up another world responsible for this one. Davi Kopenawa proves it for us. Not only do his words give us an unparalleled experience of the life of the Yanomami, but his moving description of their struggle to save the forest and themselves from destruction by the whites reveals the modern tragedy of indigenous peoples in ways we never imagined.--Marshall Sahlins, University of Chicago A perfectly grounded account of what it is like to live an indigenous life in communion with one's personal spirits. We are losing worlds upon worlds.-- (04/28/2016) Kopenawa provides a fascinating glimpse into his life as well as into Yanomami cultural beliefs and practices, setting his story against the various threats the Yanomami people and their forest have faced since the 1960s...Kopenawa's story is eloquent, engaging, and thought-provoking, exuding heartfelt wisdom. This extraordinary and richly detailed work is an outstanding explication of the Yanomami worldview as well as a plea to all people to respect and preserve the rain forest.-- (10/01/2013) This engaging text, the autobiography of Yanomami shaman and activist Davi Kopenawa, translated with some prefatory remarks, appendixes, notes, and additional biographical comments by anthropologist Albert, offers a valuable insider perspective on a much-studied Amazonian society, with rich details on myth and religious practices, including shamanic initiation. Albert frames this story with a half-century-long history of exploitation by Westerners, ranging from anthropologists to government officials and developers. Kopenawa's direct experiences with, and assessment of, his white interlocutors is often charged with a well-justified anger, but through the course of his personal history the need for mutual respect and, where appropriate, collaboration is likewise made evident. The text offers a trenchant critique of the characterization of the Yanomami as humanity's primordial 'fierce people, ' highlighting the beauty and virtues of these people while reminding readers of Western cultural and ecological destruction in the Amazon (an exceptionally virulent brand of fierceness).-- (05/01/2014) I have just read your manuscript and am enormously impressed by this work of such powerful methodological interest and prodigious documentary richness. It wholly captivates the reader yet is simultaneously so complex, raising so many questions.--Claude L vi-Strauss, letter to Bruce Albert, July 10, 2006 One of the first and best autobiographical narratives by an indigenous lowland Amazonian...The book is a mix of autobiography, history, personal philosophy, and cultural criticism of whites for their destruction of the world, worship of the material, and lack of spirituality and vitality...The book is not only finely detailed and full of challenging philosophical points, it also contains much humor...Ultimately, it is Kopenawa's voice that tells us who he is, who his people are, and who we are to them. It is complex and nuanced; I'd go so far as to call The Falling Sky a literary treasure: invaluable as academic reading, but also a must for anyone who wants to understand more of the diverse beauty and wonder of existence.-- (11/18/2013) Anthropologists and other specialists will find much to relish in this beautifully crafted evocation of Yanomami culture and philosophy. Based on hundreds of hours of interviews taped in native language, it is enriched by almost a hundred pages of footnotes, ethnobiological and geographic glossaries, bibliographical references, detailed indexes and, last but not least, an essay by Bruce Albert on how he wrote the book. While the book resonates with current Western metaphysical angst about finitude, it is written principally as a long shamanic chant that opens up a multitude of interior journeys and provides a new consciousness of the world as a whole... The Yanomami have suffered the effects of deadly epidemics, land
Bloggat om The Falling Sky
Övrig information
Davi Kopenawa is a shaman and an internationally known spokesperson of the Brazilian Yanomami. Bruce Albert, a French anthropologist who has worked with the Yanomami in Brazil since 1975, is Research Director at the Research Institute for Development (IRD), Paris, and Associate Researcher at the Instituto Socioambiental (ISA), S o Paulo.