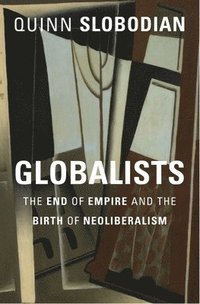 Fler böcker inom
Format

Inbunden (Hardback)

Språk

Engelska

Antal sidor

400

Utgivningsdatum

2018-03-23

Förlag

Illustratör/Fotograf

Illustrationer

3 halftones, 2 line illustrations, 2 graphs

Dimensioner

241 x 165 x 38 mm

Vikt

703 g

Antal komponenter

1

Komponenter

,

ISBN

9780674979529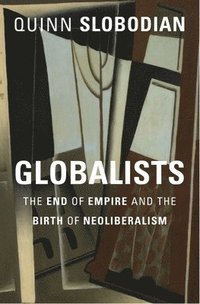 Globalists
The End of Empire and the Birth of Neoliberalism
Skickas inom 2-5 vardagar.
Fri frakt inom Sverige för privatpersoner.
Chosen by Pankaj Mishra as one of the Best Books of the Summer Neoliberals hate the state. Or do they? In the first intellectual history of neoliberal globalism, Quinn Slobodian follows a group of thinkers from the ashes of the Habsburg Empire to the creation of the World Trade Organization to show that neoliberalism emerged less to shrink government and abolish regulations than to redeploy them at a global level. Slobodian begins in Austria in the 1920s. Empires were dissolving and nationalism, socialism, and democratic self-determination threatened the stability of the global capitalist system. In response, Austrian intellectuals called for a new way of organizing the world. But they and their successors in academia and government, from such famous economists as Friedrich Hayek and Ludwig von Mises to influential but lesser-known figures such as Wilhelm Roepke and Michael Heilperin, did not propose a regime of laissez-faire. Rather they used states and global institutions-the League of Nations, the European Court of Justice, the World Trade Organization, and international investment law-to insulate the markets against sovereign states, political change, and turbulent democratic demands for greater equality and social justice. Far from discarding the regulatory state, neoliberals wanted to harness it to their grand project of protecting capitalism on a global scale. It was a project, Slobodian shows, that changed the world, but that was also undermined time and again by the inequality, relentless change, and social injustice that accompanied it.
Passar bra ihop
+
Fler böcker av Quinn Slobodian
Foreign Front

Quinn Slobodian

It is often asserted that West German New Leftists "discovered the Third World" in the pivotal decade of the 1960s. Quinn Slobodian upsets that storyline by beginning with individuals from the Third World themselves: students from Africa...

Comrades of Color

Quinn Slobodian

In keeping with the tenets of socialist internationalism, the political culture of the German Democratic Republic strongly emphasized solidarity with the non-white world: children sent telegrams to Angela Davis in prison, workers made contribution...
Recensioner i media
Well-executed, engaging, and important. This is by far the best book I have read on neoliberalism, ever.--Bruce Caldwell, Duke University A remarkable study, elegant and lucid. Slobodian's complete mastery of his subject is evident.--Angus Burgin, Johns Hopkins University Heraclitus warned us that 'no man can stand in the same river twice, for it is not the same river, ' yet the temptation to do so is strong when it comes to the history of ideas. Viewing the liberalism of today as simply a return to earlier ideas is similarly tempting, but wrong. Slobodian's investigation of how 'Geneva school' liberals sought to reinvent global liberalism so that capitalism could be made safe from democracy is a fundamental recasting of what modern liberalism is and from whence it came, forcing all of us who theorize on capitalism to rethink the very object of our study.--Mark Blyth, Brown University Imagine a novel and interesting coverage of the post-war Austrian School, here relabeled the 'Geneva School, ' a well-done partial history of the WTO and EU, and a book where the central characters are not only Mises and Hayek, but also Alexander R stow, Wilhelm R pke, and Michael Heilperin.--Tyler Cowen"Marginal Revolution" (02/22/2018) [A] fascinating book... [Slobodian] writes with elegance and clarity.--Deirdre Nansen McCloskey"Literary Review" (04/01/2018) [A] fantastic intellectual history of neo-liberalism in the international arena... Slobodian's book is excellent history... It offers a fresh and exciting new vantage point on an important set of global developments, drawing on important and under-utilized archival resources. It also implicitly pushes back at the romanticism of ideas that is core to the standard story of neo-liberalism.-- (05/03/2018) Beginning with the breakup of the Hapsburg Empire, Slobodian's lucidly written intellectual history traces the ideas of a group of Western thinkers who sought to create, against a backdrop of anarchy, globally applicable economic rules. Their attempt, it turns out, succeeded all too well in our own time. We stand in the ruins of their project, confronting political, economic and environmental crises of unprecedented scale and size. It is imperative to chart our way out of them, steering clear of the diversions offered by political demagogues. One can only hope that the new year will bring more intellectual heresies of the kind...Slobodian's book embod[ies]. We need them urgently to figure out what comes after neoliberalism.-- (12/24/2018) Contrary to popular assumption, Mises, Hayek, and many of their heirs did not actually trust capital to manage itself unimpeded: The economic 'freedom' they desired, in practice, required extreme, top-down measures to curtail democracy.--Atossa Abrahamian"Bookforum" (09/01/2018) [A] magnificent history of neoliberalism...Offers a rich, lucid, and illuminating genealogy of neoliberal theory and practice, from its inception after World War I to the formation of the World Trade Organization.--Eugene McCarraher"Commonweal" (10/19/2018) Represents a step forward in scholarship on neoliberalism. It deserves to be widely read not merely by historians interested in the twentieth century, but by anyone looking for more depth and broader context on the populist uprisings reshaping global relations today...To know this history is not just necessary but urgent.-- (12/01/2018) Flat-out brilliant.--Andy Seal"Society for U.S. Intellectual History blog" (06/11/2018) This powerful headlong dive into the history of neoliberalism necessitates rethinking the ways of perpetuating an idea central to the 20th and 21st centuries...Globalists should be required reading for graduate students and scholars whose interests intersect with 20th-century Europe, economic history, and, most broadly, the history of ideas.--D. N. Nelson"Choice" (08/01/2018) [A] sweeping intellectual history of neoliberalism...Globalists is the work of
Övrig information
Quinn Slobodian is Associate Professor of History at Wellesley College.