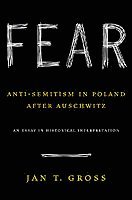 Fler böcker inom
Format

Inbunden (Hardback)

Språk

Engelska

Antal sidor

336

Utgivningsdatum

2006-06-01

Förlag

Originalspråk

English

Illustrationer

Illustrations

Dimensioner

245 x 160 x 35 mm

Vikt

500 g

Antal komponenter

1

ISBN

9780691128788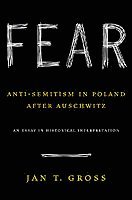 Fear
Anti-Semitism in Poland after Auschwitz: An Essay in Historical Interpretation
Skickas inom 5-8 vardagar.
Fri frakt inom Sverige för privatpersoner.
Poland suffered an exceedingly brutal Nazi occupation during the Second World War. Close to five million Poles were killed. Of these, more than half were Jews killed in the Holocaust. Ninety percent of the world's second largest Jewish community was annihilated. But despite the calamity shared by Poland's Jews and non-Jews, anti-Semitic violence did not stop in Poland with the end of the war. Jewish Holocaust survivors returning to their Polish hometowns after the war experienced widespread hostility, including murder, at the hands of their neighbors. The bloodiest peacetime pogrom in twentieth-century Europe took place in Kielce, Poland, a year after the war ended. Jan Gross's Fear is a detailed reconstruction of this pogrom and the Polish reactions to it that attempts to answer a perplexing question: How was anti-Semitism possible in Poland after the war? Gross argues that postwar Polish anti-Semitism cannot be understood simply as a continuation of prewar attitudes. Rather, it developed in the context of the Holocaust and the Communist takeover: Anti-Semitism eventually became a common currency between the Communist regime and a society filled with people who had participated in the Nazi campaign of murder and plunder, people for whom Jewish survivors were a standing reproach. The Polish poet Czeslaw Milosz said that Poland's Communist rulers fulfilled the dream of Polish nationalists by bringing into existence an ethnically pure state. For more than half a century, what happened to Jewish Holocaust survivors in Poland has been cloaked in guilt and shame. Writing with passion, brilliance, and fierce clarity, Gross at last brings the truth to light.
Passar bra ihop
+
Recensioner i media
"Bone-chilling ... [Fear] is illuminating and searing, a moral indictment delivered with cool, lawyerly efficiency that pounds away at the conscience with the sledgehammer of a verdict... Fear takes on an entire nation, forever depriving Poland of any false claims to the smug, easy virtue of an innocent bystander to Nazi atrocities... Gross' Fear should inspire a national reflection on why there are scarcely any Jews left in Poland. It's never too late to mourn. The soul of the country depends on it."--Thane Rosenbaum, Los Angeles Times Book Review "Ultimately, what's far more important than the 'why' of this story is the 'that': that a civilized nation could have descended so low, and that such behavior must be documented, remembered, discussed. This Gross does, intelligently and exhaustively."--David Margolick, New York Times Book Review "This book tells a wartime horror story that should force Poles to confront an untold--and profoundly terrifying--aspect of their history. Fear relates, in compelling detail, how Poles from virtually all segments of society persecuted the poor, emaciated and traumatized Holocaust survivors... After reading Fear, the next time I hear someone say the Poles were as bad as the Germans, I will probably still challenge that charge ... but my challenge will be far less forceful."--Publishers Weekly (starred review) "This is a brilliantly-written history that combines narrative power with analytical depth. Gross treats his readers with respect, offering every possible interpretation of the evidence before offering his own (often withering) judgment. The word 'genius' is carelessly thrown around these days, but with Fear, Gross genuinely deserves the accolade."--David Cesarani, Jewish Chronicle "You read [Fear] breathlessly, all human reason telling you it can't be so--and the book culminates in so keen a shock that even a student of the Jewish tragedy during World War II cannot fail to feel it."--Elie Wiesel, Washington Post Book World "Provocative ... powerful and necessary ... One can only hope that this important book will make a difference."--Susan Rubin Suleiman, Boston Globe "Imaginative, urgent, and unorthodox ... The 'fear' of Mr. Gross's title ... is not just the fear suffered by Jews in a Poland that wished they had never come back alive. It is also the fear of the Poles themselves, who saw in those survivors a reminder of their own wartime crimes. Even beyond Mr. Gross's exemplary historical research and analysis, it is this lesson that makes Fear such an important book."--New York Sun "After all the millions dead, after the Nazi terror, a good many Poles still found it acceptable to hate the Jews among them... The sorrows of history multiply: a necessary book."--Kirkus (starred review) "Gross illustrates with eloquence and shocking detail that the bloodletting did not cease when the war ended... This is a masterful work that sheds necessary light on a tragic and often-ignored aspect of postwar history."--Booklist (starred review) "This is an extraordinary book which, almost accidentally, demonstrates that in Poland (and, almost certainly, throughout central Europe) there was such a deep anti-Sematism that not even a recognition of the horrors of Auschwitz could modify or expunge it. This book, rather distressingly, demonstrates that racism transcends politics and morality and lives deep in the heart."--Bruce Elder, Sydney Morning Herald "Gross's Fear carries us to post-war Poland, establishing and examining in sedulous depth the plundering slaughter of Jews across 1945 and 1946... Fear's anguishing expose is brilliantly scholarly, analytical, sober, yet compellingly readable."--Jack Hibberd, The Australian "Competing conceptions of victimhood are thrust into a dynamic that oscillates between denationalization and re-nationalization... Gross's book maneuvers beautifully betwe
Övrig information
Jan T. Gross was a 2001 National Book Award nominee for his widely acclaimed Neighbors: The Destruction of the Jewish Community in Jedwabne, Poland. He teaches history at Princeton University, where he is a Norman B. Tomlinson '16 and '48 Professor of War and Society.
Innehållsförteckning
Introduction ix Chapter 1: POLAND ABANDONED 3 Chapter 2: THE UNWELCOMING OF JEWISH SURVIVORS 31 Chapter 3: THE KIELCE POGROM: EVENTS 81 Chapter 4: THE KIELCE POGROM: REACTIONS 118 Chapter 5: BLINDED BY SOCIAL DISTANCE 167 Chapter 6: ZYDOKOMUNA 192 CONCLUSIONS 245 Acknowledgments 263 Bibliography 265 Notes 275 Index 295