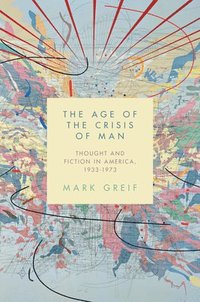 Fler böcker inom
Format

Inbunden (Hardback)

Språk

Engelska

Antal sidor

448

Utgivningsdatum

2014-12-16

Utmärkelser

Winner of 2015 Morris D. Forkosch Book Prize, Journal of the History of Ideas 2015; Winner of 18th Annual (2016) Susanne M. Glasscock Humanities Book Prize for Interdisciplinary Scholarship, Melbern G

Förlag

Originalspråk

English

Dimensioner

203 x 127 x 25 mm

Vikt

771 g

Antal komponenter

1

ISBN

9780691146393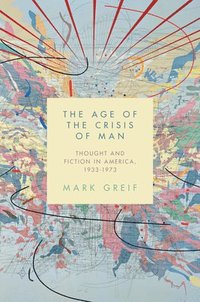 The Age of the Crisis of Man
Thought and Fiction in America, 1933-1973
Skickas inom 7-10 vardagar.
Fri frakt inom Sverige för privatpersoner.
In a midcentury American cultural episode forgotten today, intellectuals of all schools shared a belief that human nature was under threat. The immediate result was a glut of dense, abstract books on the "nature of man." But the dawning "age of the crisis of man," as Mark Greif calls it, was far more than a historical curiosity. In this ambitious intellectual and literary history, Greif recovers this lost line of thought to show how it influenced society, politics, and culture before, during, and long after World War II. During the 1930s and 1940s, fears of the barbarization of humanity energized New York intellectuals, Chicago protoconservatives, European Jewish emigres, and native-born bohemians to seek "re-enlightenment," a new philosophical account of human nature and history. After the war this effort diffused, leading to a rebirth of modern human rights and a new power for the literary arts. Critics' predictions of a "death of the novel" challenged writers to invest bloodless questions of human nature with flesh and detail. Hemingway, Faulkner, and Richard Wright wrote flawed novels of abstract man. Succeeding them, Ralph Ellison, Saul Bellow, Flannery O'Connor, and Thomas Pynchon constituted a new guard who tested philosophical questions against social realities--race, religious faith, and the rise of technology--that kept difference and diversity alive. By the 1960s, the idea of "universal man" gave way to moral antihumanism, as new sensibilities and social movements transformed what had come before. Greif's reframing of a foundational debate takes us beyond old antagonisms into a new future, and gives a prehistory to the fractures of our own era.
Passar bra ihop
+
Fler böcker av Mark Greif
Against Everything

Mark Greif

Against Everything is a thought-provoking study and essential guide to the vicissitudes of everyday life under twenty-first-century capitalism. Mark Greif is one of the most exciting writers of his generation. In this invigorating collection, he c...

Bluescreen

Mark Greif

"Ein Schritt weiter", die Anthologie mit Texten aus dem New Yorker Magazin "n+1", stieß 2008 auf überwältigende Resonanz: "Die Zeit" nannte den Band einen »Rosinenbomber voll origineller Gedanken«, die NZZ bezeichnete...
Recensioner i media
A Wall Street Journal Book of the Year for 2015 (selected by Adam Thirlwell) Winner of the 2015 Morris D. Forkosch Book Prize, Journal of the History of Ideas Winner of the 18th Annual (2016) Susanne M. Glasscock Humanities Book Prize for Interdisciplinary Scholarship, Melbern G. Glasscock Center for Humanities Research at Texas A&M University A New Statesman Book of the Year for 2015 (selected by Robert Macfarlane) One of Flavorwire's 10 Must-Read Academic Books for 2015 One of the Slate Book Review's Overlooked Books of 2015 One of The Paris Review's Staff Picks for 2015 (selected by Lorin Stein) "An important book, a brilliant book, an exasperating book... In The Age of the Crisis of Man: Thought and Fiction in America, 1933-1973, the gifted essayist Mark Greif, who reveals himself to be also a skillful historian of ideas, charts the history of the 20th-century reckonings with the definition of 'man.'"--Leon Wieseltier, New York Times Book Review "In careful, thoughtful, and elegant prose reminiscent of Lionel Trilling and Edmund Wilson, Greif gives a brilliant exploration of the philosophical field that developed in the middle decades of the 20th century and echoes even up to our own time... Greif's dazzling, must read analysis offers luminous insights into midcentury American understandings of humanity and its relevance to the present."--Publishers Weekly, starred review "[A]n important new study of mid-century intellectual life."--Louis Menand, New Yorker "Bracingly ambitious... [He is] a stimulating literary critic."--Pankaj Mishra, London Review of Books "I will not insult [Mark] Greif by calling him a public intellectual. He is an intellectual, full-stop... An intellectual is not an academic who can write plain or a journalist who can write smart, but something else altogether... Greif's history turns out to be a prehistory--our prehistory."--William Deresiewicz, Harper's "[The Age of the Crisis of Man is] a brilliant contribution to the history of ideas, one of the rare books that reshapes the present by reinterpreting the past."--Adam Kirsch, Tablet "[E]xhilarating...By 'the discourse of man' Greif means the vast midcentury literature on human dignity, from Being and Nothingness, to the 'Family of Man' photo exhibition, to the Universal Declaration of Human Rights--a discourse that Greif interrogates with verve, erudition, sympathy, and suspicion, and that he follows into the fiction of our time."--Lorin Stein, Paris Review "It is encouraging to come across the work of a young scholar that offers clear-eyed insight into the origins of the current malaise, while also exemplifying what a fresh contribution to humanistic study might look like today... [A]mbitious and deeply researched."--Christopher Benfey, New York Review of Books "[W]ith this brilliant book Greif is restarting the project of 're-enlightenment,' pointing us toward ... the spiritual daylight of the present--where literary purposes and political agendas are moments on an intellectual continuum, not the terms of an either/or choice."--James Livingston, Bookforum "A striking construction, bringing together an array of thinkers and intellectual traditions whose synchronicity has gone largely unremarked."--David Simspon, New Left Review "Sometimes a work of cultural history surprises and enlightens simply by naming what we had not thought required a name. [Such is] Mark Greif's revelatory study of mid-20th -century humanism."--Brian Dillon, Guardian (UK) "A stunning intellectual history of the 20th century... [W]hat this book really offers is a new way of thinking about thinking, and the particular thinking that fiction can do."--Adam Thirlwell, Wall Street Journal "[O]ne of the most accessibly intelligent and provocative looks at a fascinating period in American intellectual life. Read it, if only for Greif's exploration of white
Bloggat om The Age of the Crisis of Man
Övrig information
Mark Greif is associate professor of literary studies at the New School. He is a founder and editor of the journal n+1.
Innehållsförteckning
Preface ix PART I Genesis 1 CHAPTER 1 Introduction The "Crisis of Man" as Obscurity and Re-enlightenment 3 CHAPTER 2 Currents through the War 27 CHAPTER 3 The End of the War and After 61 PART II Transmission 101 CHAPTER 4 Criticism and the Literary Crisis of Man 103 PART III Studies in Fiction 143 CHAPTER 5 Saul Bellow and Ralph Ellison Man and History, the Questions 145 CHAPTER 6 Ralph Ellison and Saul Bellow History and Man, the Answers 181 CHAPTER 7 Flannery O'Connor and Faith 204 CHAPTER 8 Thomas Pynchon and Technology 227 PART IV Transmutation 253 CHAPTER 9 The Sixties as Big Bang 255 CHAPTER 10 Universal Philosophy and Antihumanist Theory 281 CONCLUSION Moral History and the Twentieth Century 316 Notes 331 Acknowledgments 401 Index 405