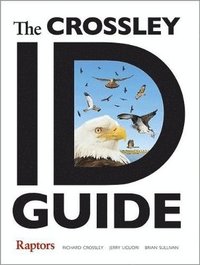 Fler böcker inom
Format

Häftad (Paperback / softback)

Språk

Engelska

Antal sidor

288

Utgivningsdatum

2013-04-07

Upplaga

Flexibound

Utmärkelser

Commended for National Outdoor Book Award: Nature and the Environment 2013

Förlag

Originalspråk

English

Illustratör/Fotograf

Illustrationer

34 Maps

Dimensioner

254 x 190 x 19 mm

Vikt

952 g

Antal komponenter

1

ISBN

9780691157405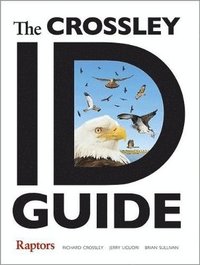 The Crossley ID Guide
Raptors
Skickas inom 5-8 vardagar.
Fri frakt inom Sverige för privatpersoner.
Part of the revolutionary Crossley ID Guide series, this is the first raptor guide with lifelike scenes composed from multiple photographs--scenes that allow you to identify raptors just as the experts do. Experienced birders use the most easily observed and consistent characteristics--size, shape, behavior, probability, and general color patterns. The book's 101 scenes--including thirty-five double-page layouts--provide a complete picture of how these features are all related. Even the effects of lighting and other real-world conditions are illustrated and explained. Detailed and succinct accounts from two of North America's foremost raptor experts, Jerry Liguori and Brian Sullivan, stress the key identification features. This complete picture allows everyone from beginner to expert to understand and enjoy what he or she sees in the field. The mystique of bird identification is eliminated, allowing even novice birders to identify raptors quickly and simply. Comprehensive and authoritative, the book covers all thirty-four of North America's diurnal raptor species (all species except owls). Each species is featured in stunning color plates that show males and females, in a full spectrum of ages and color variants, depicted near and far, in flight and at rest, and from multiple angles, all caught in their typical habitats. There are also comparative, multispecies scenes and mystery photographs that allow readers to test their identification skills, along with answers and full explanations in the back of the book. In addition, the book features an introduction, and thirty-four color maps accompany the plates. Whether you are a novice or an expert, this one-of-a-kind guide will show you an entirely new way to look at these spectacular birds. * The most complete guide to North American raptors, written by some of the foremost experts * The first raptor guide using Richard Crossley's acclaimed, innovative composite images that show birds as they actually appear in the field *101 stunning color plates--including thirty-five double-page layouts--composed from thousands of photographs * Comparative, multispecies plates and photos of mystery species that allow readers to test their growing identification skills * Complete with introduction, 34 color maps, and detailed species accounts
Passar bra ihop
+
Recensioner i media
Richard Crossley, Winner of the 2012 ABA Robert Ridgway Award for Publications in Field Ornithology, American Birding Association Honorable Mention for the 2013 National Outdoor Book Awards, Nature Guidebooks "Marvelous, if slightly surreal... Crossley's charm lies in setting these birds against photographic dioramas--when was the last time you saw an urban skyline in a bird guide?"--Dominique Browning, New York Times Book Review "If you love raptors and want to improve your identification skills buy this book. Leave it on your coffee table or bed stand and study it. Follow this prescription and show up at your next hawk watch ready to hold your own against the pros. My library includes a several outstanding raptor guides, which I will continue to use. However, The Crossley ID Guide to Raptors breaks new ground in the evolution of bird identification guides."--Wayne Mones, Audubon blog "Richard Crossley takes his innovative approach to bird identification to the next level with The Crossley ID Guide: Raptors. Along with the insights of co-authors and renowned raptor experts Jerry Liguori and Brian Sullivan, Crossley presents the 34 diurnal raptors of North America in stunning detail, combining conversational text and rich composite photographs to create an identification guide that birders of all experience levels can not only learn from but also enjoy, appreciate and read over and over again, rediscovering raptors on every page."--Melissa Mayntz, About.com Birding/Wild Birds "Contains detailed species accounts with more identification tips and a plethora of useful information. The Crossley ID Guide: Raptors is a great addition to any birder's library."--Alex Lamoreaux, Nemesis Bird "With the help of Brian Sullivan and Jerry Liguori, Richard Crossley has produced another fantastic tool for us to develop our ability to identify birds of prey. Because this guide focuses on one category of birds, we're getting multiple composite plates for many of the species, rather than just one. Each bird image is carefully selected for a purpose. The Crossley ID Guide books can indeed be used to help you figure out which bird species you saw. Yet, the real purpose of this series is that Crossley Guides can and should be used as a study workbook before you go birding. It's like practicing birding in the comfort of your home by birding in the book itself, then you can take those skills into the field and 'recognize' birds rather than having to 'identify' them."--Robert Mortensen, Birding is Fun "What the book is especially good for is to study between field trips to improve your knowledge of field marks and plumages when you have time to really study the differences. I especially liked the quiz pages where multiple similar species are shown sitting and in-flight, from various aspects, with the opportunity to determine the identification on your own before looking at the key."--Penny Miller, A Charm of Finches blog "Richard Crossley takes the unique format introduced in his Eastern Birds guide and expands upon it. Every bird (except Aplomado Falcon) gets at least two pages devoted exclusively to it (Red-tailed gets ten!), plus inclusion in one or more of the mystery photos. These plates, where numbered images of different species are grouped together, are my favorite feature. With the answers in the back, they afford great practice at identification and provide the easiest way to compare species against each other. The Crossley raptor guide's insane number of photos and innovative design make it fun to study raptors."--Grant McCreary, Birder's Library "The whole book is based upon this pioneering approach to bird identification, a method employed in the first Crossley Guide and continued here to even better effect. The new guide is an ideal way for beginner or novice birders to learn about raptors and an opportunity for the more experienced to sharpen up their skills on t
Bloggat om The Crossley ID Guide
Övrig information
Richard Crossley is an internationally acclaimed birder and photographer and the award-winning author of The Crossley ID Guide series (Princeton/Crossley Books), which has been recognized for its pioneering approach to bird identification. He is also a coauthor of The Shorebird Guide and the cofounder of the Pledge to Fledge global birding initiative, and he is working on multiple birding projects involving mixed media and new technologies such as birdcams. Jerry Liguori is the author of Hawks from Every Angle and Hawks at a Distance (both Princeton). He has been studying raptors throughout North America for more than twenty-five years and has conducted hawk counts at numerous spring and fall migration sites. Brian Sullivan is the coauthor of the forthcoming Princeton Guide to North American Birds. He is eBird project leader and photographic editor of the Birds of North America Online at the Cornell Lab of Ornithology, as well as photographic editor for the American Birding Association's journal, North American Birds.
Innehållsförteckning
Preface 5-6 Introduction 7-9 Raptor Topography 10-11 Species Accounts Images, Accounts * Turkey Vulture 12, 175 * Black Vulture 16, 177 * Crested Caracara 22, 179 * California Condor 24, 180 * Bald Eagle 26, 183 * Golden Eagle 30, 186 * Osprey 36, 190 * Northern Harrier 40, 192 * Sharp-shinned Hawk 44, 195 * Cooper's Hawk 48, 197 * Northern Goshawk 54, 200 * Red-tailed Hawk 60, 203 * Swainson's Hawk 70, 209 * White-tailed Hawk 76, 212 * Ferruginous Hawk 78, 214 * Rough-legged Hawk 82, 217 * Red-shouldered Hawk 88, 220 * Broad-winged Hawk 92, 223 * Gray Hawk 98, 226 * Short-tailed Hawk 100, 228 * Harris's Hawk 102, 230 * Common Black-Hawk 104, 232 * Zone-tailed Hawk 106, 234 * Snail Kite 110, 236 * Hook-billed Kite 114, 238 * Swallow-tailed Kite 116, 240 * Mississippi Kite 118, 242 * White-tailed Kite 122, 243 * American Kestrel 128, 245 * Merlin 132, 248 * Peregrine Falcon 136, 251 * Prairie Falcon 140, 254 * Gyrfalcon 144, 256 * Aplomado Falcon 146, 259 Mystery Photo Images 18-21, 34-35, 42-43, 46-47, 50-53, 56-59, 66-69, 74-75, 80-81, 86-87, 94-97, 108-9, 124-27, 142-43, 147-71 Mystery Photo Answers 261-283 Glossary 284 Acknowledgments 285 Index 286