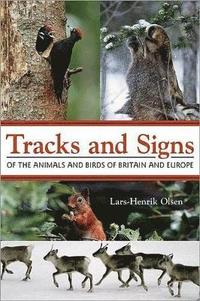 Fler böcker inom
Format

Häftad (Paperback / softback)

Språk

Engelska

Antal sidor

272

Utgivningsdatum

2013-07-02

Förlag

Översättare

Mark Epstein

Originalspråk

English

Illustratör/Fotograf

Illustrationer

25 Maps

Dimensioner

241 x 158 x 25 mm

Vikt

707 g

Antal komponenter

1

Komponenter

,

ISBN

9780691157535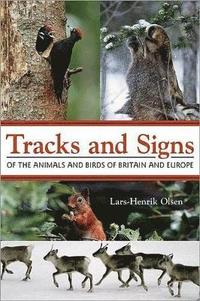 Tracks and Signs of the Animals and Birds of Britain and Europe
Skickas inom 5-8 vardagar.
Fri frakt inom Sverige för privatpersoner.
This beautifully illustrated field guide enables you to easily identify the tracks and signs left by a wide variety of mammal and bird species found in Britain and Europe, covering behaviors ranging from hunting, foraging, and feeding to courtship, breeding, and nesting. Introductory chapters offer detailed drawings of footprints and tracks of large and small mammals, which are followed by sections on mammal scat, bird droppings, and the feeding signs of animals on food sources such as nuts, cones, and rose hips. The book then describes specific mammal species, providing information on size, distribution, behavior, habitat, and similar species, as well as more specific detail on tracks and scat. Distribution maps are also included. This indispensable field guide covers 175 species of mammals and birds, and features a wealth of stunning color photos and artwork throughout. * Helps you easily identify the tracks and signs of a variety of mammals and birds * Covers 175 species * Illustrated throughout with photos, drawings, and artwork * ncludes informative descriptions of mammal species along with distribution maps
Passar bra ihop
+
Fler böcker av Lars-Henrik Olsen
Tier-Spuren

Lars-Henrik Olsen

Alle Tierspuren: vollständig, übersichtlich, mit brillanten Fotos und Zeichnungen. Fährten, Fuß- und Fraßspuren, Losungen, Gewölle, Baue und Verstecke, Suhlen und andere Spuren. Die heimischen Säugetiere in Porträts mit Lebensweise, Spuren und Ver...
Recensioner i media
"If anyone has a particular interest in learning how to track animals they should buy this book. If on the other hand they are someone who likes to understand the countryside and delve below the surface more than a little, this book will help them to do just that in a handy-sized, nonscientific, and highly readable guide."--Phil Slade, Another Bird Blog "[B]y far the best book on the subject I've ever seen ... beautifully illustrated."--Dick Warner, Irish Examiner "[Focuses] on helping you identify the signs species leave behind, and these are especially useful for tough-to-tell-apart, cryptic, or nocturnal species."--Kate Jones, New Scientist "[C]oncise and punchy ... [Olsen] manages to pack an awful lot into these pages, and the result is as thorough a survey of European tracks and signs as you could wish for in a book that's still small and light enough for you to consider taking out into the field... [The book makes] lavish use of colour photos, and there's a pleasingly equal weight given to different species, and to the different aspects of the subject being dealt with."--Matt Merritt, Birdwatching Magazine "I cannot praise Tracks and Signs highly enough. It is not only the finest guide to tracking I've ever held in my hands, it is one of the most attractive and informative books on natural history I've ever seen. This guide will prove invaluable to those who already take an interest in tracking and wish to gain more experience. It is also an important tool to promote the field art of tracking in Europe, a region where tracking as a zoological method can use all the support it can get. I also wish to emphasize that this is not only a book for European (and British) naturalists. I definitely recommend it to naturalists in North America and East Asia as well. Yes, it is that good."--Jochen Roeder, 10,000 Birds "[T]his is a lovely book to dip into and learn something new each time. It may not work as a conventional 'in the field guide' but will be invaluable to identify tracks and signs from photographs at home. The drawings and photographs are excellent throughout and the text is clear and concise. I would recommend this book to anyone with an active interest in nature."--Mike King, Gloster Birder "[A] great field guide to take out with you on country walks, as well as to use for study at home... [A] very attractive book with detailed information and wonderful photography. The layout is clear and easy to follow and there's a wealth of information in there."--Kate Bradbury, English Garden "A lavishly illustrated book, packed with colour photographs... [T]his book is the start of many possible wildlife adventures and really gets the adrenalin flowing!"--Biggest Twitch "[A]n excellent book which has rekindled my interest in tracking down more mammals and looking more carefully for the signs of birds. This book is certainly highly recommended... [T]his book will be on the packing list for all our tours in future."--Biggest Twitch "[I]t's a fascinating, high-quality, good value and very informative book that I'd happily recommend to anyone with an interest in the subject, and I'm looking forward to test-driving it in the North Yorkshire forests this winter."--Mark James Pearson, Birding Frontiers "Brown et al. will doubtless already be known to many as a reliable guide to the tracks and signs of birds. Those wishing to extend their knowledge of the subject to include mammals should certainly examine a copy of Olsen."--M.G.W., IBIS "This excellent guide should enable the observer to easily identify the tracks and signs left by a wide variety of our native birds and mammals. I must emphasize the high quality of the outstanding colour photographs."--Bryan Sage, Country-Side "For me one of the great strengths of this book is that reading it--even just browsing through it--has heighten my awareness of what is a
Bloggat om Tracks and Signs of the Animals and Birds...
Övrig information
Lars-Henrik Olsen is a zoologist, writer, and lecturer. He has worked at the Zoological Museum in Copenhagen and the World Wildlife Fund, and is the producer of a number of Danish radio and television programs. His books include Small Freshwater Creatures.
Innehållsförteckning
Preface 5 Mammal tracks 6 Antlers 18 Bird tracks 22 Scat 35 Carnivores 35 Carnivore scat 36 Scat of smaller mammals 38 Scat of larger rodents 8 Scat of larger herbivores 40 Bird droppings 43 Feeding signs on trees 46 Fray marks on trees 57 Holes in trees, ant heaps, etc 59 Gnawed branches 62 Feeding signs on mushrooms 64 Feeding signs on turnips 65 Feeding signs on spruce cones 66 Feeding signs on pine cones 68 Feeding signs on hazelnuts 68 Feeding signs on walnuts 71 Feeding signs on rose hips 72 Feeding signs on cherry stones 73 Feeding signs on apples 74 Nests and dens 76 Pellets 82 Owl pellets 82 Raptor pellets 84 Gull, cormorant, heron, and stork pellets 85 Wader, crow, and jay pellets 87 Skulls in pellets 89 Other skulls and bones 91 Round nests 92 Feathers 96 Raptor feeding signs 100 Trails 104 Brown Bear 106 Wolverine 109 Wolf and domestic dog 111 Lynx 115 Iberian Lynx 117 Wildcat 118 Arctic Fox 120 Red Fox 122 Raccoon Dog 127 Raccoon 130 Eurasian Badger 132 European Beaver 136 North American Beaver 142 Coypu 143 Muskrat 144 Northern Water Vole 147 Southern Water Vole 151 Water Shrew 151 Otter 154 American Mink 157 European Mink 160 Western Polecat 161 Pine Marten 163 Beech Marten 165 Stoat 167 Weasel 169 Brown Hare 171 Mountain Hare 174 Rabbit 176 Red Squirrel 179 Grey Squirrel 183 Flying Squirrel 184 Alpine Marmot 185 European Souslik 187 Black Rat 188 Brown Rat 189 House Mouse 192 Yellow-necked Mouse 195 Wood Mouse 199 Striped Field Mouse 200 Harvest Mouse 202 Northern Birch Mouse 204 Common Dormouse 205 Garden Dormouse 207 Edible Dormouse 209 Bank Vole 211 Field Vole 213 Common Vole 215 Norway Lemming 216 Wood Lemming 218 Grey-sided Vole 219 Root Vole 220 Common Mole 221 Western Hedgehog 223 Algerian Hedgehog 226 Common Shrew 226 Bats 229 Horses 231 Cattle 232 Wild Boar 233 Elk 237 Red Deer 241 White-tailed Deer 246 Fallow Deer 247 Sika Deer 250 Reeve's Muntjac 251 Roe Deer 253 Reindeer 258 Musk Ox 261 Mouflon 263 Chamois 265 Domestic sheep 266 Goats 267 Seals 268 Sea turtles 269 Photo credits 270 Index of species 271