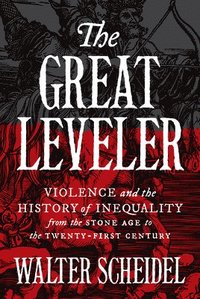 Fler böcker inom
Format

Inbunden (Hardback)

Språk

Engelska

Antal sidor

536

Utgivningsdatum

2017-01-06

Utmärkelser

Commended for The HCSS Bookshelf (chosen by Stephan De Spiegeleire).; Short-listed for Economist.com "Wise Words 2017 Books of the Year" in Economics and Business 2017; Short-listed for Medi

Förlag

Originalspråk

English

Medarbetare

Mokyr, Joel (series ed.)

Illustratör/Fotograf

Illustrationer

45 line illus.

Dimensioner

247 x 158 x 38 mm

Vikt

861 g

Antal komponenter

1

Komponenter

,

ISBN

9780691165028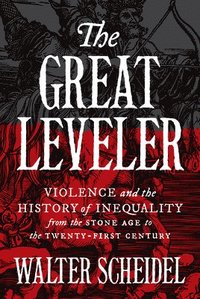 The Great Leveler
Violence and the History of Inequality from the Stone Age to the Twenty-First Century
Skickas inom 2-5 vardagar.
Fri frakt inom Sverige för privatpersoner.
How only violence and catastrophes have consistently reduced inequality throughout world history Are mass violence and catastrophes the only forces that can seriously decrease economic inequality? To judge by thousands of years of history, the answer is yes. Tracing the global history of inequality from the Stone Age to today, Walter Scheidel shows that inequality never dies peacefully. Inequality declines when carnage and disaster strike and increases when peace and stability return. The Great Leveler is the first book to chart the crucial role of violent shocks in reducing inequality over the full sweep of human history around the world. Ever since humans began to farm, herd livestock, and pass on their assets to future generations, economic inequality has been a defining feature of civilization. Over thousands of years, only violent events have significantly lessened inequality. The "Four Horsemen" of leveling--mass-mobilization warfare, transformative revolutions, state collapse, and catastrophic plagues--have repeatedly destroyed the fortunes of the rich. Scheidel identifies and examines these processes, from the crises of the earliest civilizations to the cataclysmic world wars and communist revolutions of the twentieth century. Today, the violence that reduced inequality in the past seems to have diminished, and that is a good thing. But it casts serious doubt on the prospects for a more equal future. An essential contribution to the debate about inequality, The Great Leveler provides important new insights about why inequality is so persistent--and why it is unlikely to decline anytime soon.
Passar bra ihop
+
Recensioner i media
"Mr. Scheidel's depressing view is bound to upset [those] who quite naturally might prefer to live in a world in which events might move political and social systems to figure out a more equitable way to distribute the fruits of growth without the plague, the guillotine or state collapse."--Eduardo Porter, New York Times "Sweeping and provocative."--New Yorker "An astonishing tour de force."--Gregory Clark, Wall Street Journal "In [Scheidel's] magisterial sociopolitical history The Great Leveler, inequality is shown as preferable to the alternative: society levelled by vast upheavals."--Aaron Reeves, Nature "A thoroughly unsunny ... but fascinating look at the engines of our discontent."--Kirkus "A new history of wealth inequality from primitive times to the present that is provoking wide debate."--David Talbot, San Francisco Chronicle "Tight labor markets shrink income inequality by causing employers to bid up the price of scarce labor, so policymakers fretting about income inequality could give an epidemic disease a try. This might be a bit extreme but if increased equality is the goal, Stanford's Walter Scheidel should be heard. His scholarship encompasses many things (classics, history, human biology) and if current events are insufficiently depressing for you, try his just-published book The Great Leveler: Violence and the History of Inequality from the Stone Age to the Twenty-First Century. Judge this book by its cover, which features Albrecht Durer's woodcut 'The Four Horsemen of the Apocalypse.'"--George Will, Washington Post "A new comprehensive and compelling account of the history of inequality by Walter Scheidel suggests that the only means of substantially levelling economic outcomes have been mass mobilisation war, violent revolution, pandemics (think bubonic plagues) and state failure."--Ryan Bourne, City AM "One of the most important books on geostrategic trends to have been published in some years... A dark masterpiece, and everyone who thinks about global trends should read it."--Ian Morris, Stratfor "As a supplier of momentary relief, the Great Depression seems an unlikely candidate... Yes, it brought widespread suffering and dreadful misery. But it did not bring death to millions, and in that it stands out. If that counts as relief, you can begin to imagine the scale of the woe that comes before and after. [Scheidel] puts the discussion of increased inequality found in the recent work of Thomas Piketty, Anthony Atkinson, Branko Milanovic and others into a broad historical context and examines the circumstances under which it can be reduced."--The Economist "[Scheidel] draws on mountains of data to examine the social, economic and political forces that have been responsible for the growth of material inequality--and those that have reduced wealth... Fascinating."--Glenn Altschuler, Huffington Post "The current tome that has policy circles all abuzz."--Dave Neese, The Trentonian "In his remarkable new book, The Great Leveler, historian Walter Scheidel shows that ... reducing inequality has always been a miserable business... Magisterial."--Ian Morris, BBC History Magazine "A readable and quirky history of economic inequality from the great apes to the modern day... It is well worth the read. It is, in a word, gripping."--Victoria Bateman, Times Higher Education "The Great Leveler is a fascinating and informative book, and likely to become a classic--as a warning about our fate if we accept inequality as a law of nature. But now we know better."--Crawford Kilian, The Tyee "A scholarly and ambitious book."--Paul Mason, The Guardian "Reducing inequality by peaceful means looks harder than ever, giving Mr. Scheidel's arguments even greater resonance."--Buttonwood, Economist "A perceptive, if grim, explanation for the ever-widening socio-econ
Bloggat om The Great Leveler
Övrig information
Walter Scheidel is the Dickason Professor in the Humanities, Professor of Classics and History, and a Kennedy-Grossman Fellow in Human Biology at Stanford University. The author or editor of sixteen previous books, he has published widely on premodern social and economic history, demography, and comparative history. He lives in Palo Alto, California.
Innehållsförteckning
List of Figures and Tables xi Acknowledgments xv Introduction: The Challenge of Inequality 1 I A Brief History Of Inequality 23 1 The Rise of Inequality 25 2 Empires of Inequality 62 3 Up and Down 86 II War 113 4 Total War 115 5 The Great Compression 130 6 Preindustrial Warfare and Civil War 174 III Revolution 211 7 Communism 213 8 Before Lenin 232 IV Collapse 255 9 State Failure and Systems Collapse 257 V Plague 289 10 The Black Death 291 11 Pandemics, Famine, and War 314 VI Alternatives 343 12 Reform, Recession, and Representation 345 13 Economic Development and Education 367 14 What If ? From History to Counterfactuals 389 VII Inequality Redux And The Future Of Leveling 403 15 In Our Time 405 16 What Does the Future Hold? 424 Appendix: The Limits of Inequality 445 Bibliography 457 Index 495