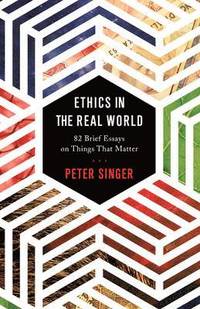 Fler böcker inom
Format

Inbunden (Hardback)

Språk

Engelska

Antal sidor

376

Utgivningsdatum

2016-08-19

Utmärkelser

Long-listed for 2017 PEN/Diamonstein-Spielvogel Award for the Art of the Essay, Pen American Center 2017

Förlag

Originalspråk

English

Dimensioner

222 x 146 x 38 mm

Vikt

566 g

Antal komponenter

1

ISBN

9780691172477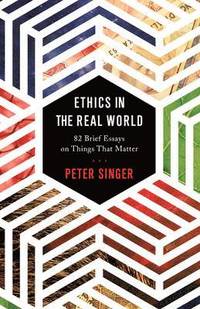 Ethics in the Real World
82 Brief Essays on Things That Matter
Skickas inom 7-10 vardagar.
Fri frakt inom Sverige för privatpersoner.
Peter Singer is often described as the world's most influential philosopher. He is also one of its most controversial. The author of important books such as Animal Liberation, Practical Ethics, Rethinking Life and Death, and The Life You Can Save, he helped launch the animal rights and effective altruism movements and contributed to the development of bioethics. Now, in Ethics in the Real World, Singer shows that he is also a master at dissecting important current events in a few hundred words. In this book of brief essays, he applies his controversial ways of thinking to issues like climate change, extreme poverty, animals, abortion, euthanasia, human genetic selection, sports doping, the sale of kidneys, the ethics of high-priced art, and ways of increasing happiness. Singer asks whether chimpanzees are people, smoking should be outlawed, or consensual sex between adult siblings should be decriminalized, and he reiterates his case against the idea that all human life is sacred, applying his arguments to some recent cases in the news. In addition, he explores, in an easily accessible form, some of the deepest philosophical questions, such as whether anything really matters and what is the value of the pale blue dot that is our planet. The collection also includes some more personal reflections, like Singer's thoughts on one of his favorite activities, surfing, and an unusual suggestion for starting a family conversation over a holiday feast. Provocative and original, these essays will challenge--and possibly change--your beliefs about a wide range of real-world ethical questions.
Passar bra ihop
+
Recensioner i media
Longlisted for the 2017 PEN/Diamonstein-Spielvogel Award for the Art of the Essay, Pen American Center "In his new book, Ethics in the Real World, Mr. Singer picks up the topics of animal rights and poverty amelioration and runs quite far with them... This book is interesting because it offers a chance to witness this influential thinker grapple with more offbeat questions."--Dwight Garner, New York Times "A terrific recent book ... that wrestles with how much we should donate to charity, and whether wearing a $10,000 watch is a sign of good taste, or of shallow narcissism."--Nicholas Kristof, New York Times "Perhaps more than any modern philosopher, Peter Singer has focused on the question of how to live a better life. If you want a philosophy that can directly alleviate human and animal suffering, read this wonderful book."--Sam Harris, author of the New York Times bestsellers The End of Faith, The Moral Landscape, and Waking Up "Could well inspire conversations--and arguments--that deepen and complicate the crucial moral and ethical issues that Singer presents."--Kirkus "An accessible introduction to the work of a philosopher who would not regard being described as 'accessible' as an insult... Despite their brevity, the essays do not shirk the big moral questions."--Economist "Philosophy should be a more public endeavor, and Singer's work is an excellent entry point. In a fall that will be shaped by a political contest in many ways detached from genuinely pressing moral issues, it might also serve as a refreshingly complex source of ethical questioning."--Talya Zax, Forward "Singer demonstrates how to write pungently and succinctly about moral philosophy."--Daniel Johnson, Standpoint "The essays in the present volume address issues well beyond Singer's normal range of commentary. In sum, this book not only provides a broad-based introduction to Singer's moral philosophy but also will serve ... as an excellent textbook for any course in applied ethics. For philosophers, Singer's work provides a model for how to transition from the ivory tower to the domain of public philosophy."--Choice
Bloggat om Ethics in the Real World
Övrig information
Peter Singer is the Ira W. DeCamp Professor of Bioethics in the University Center for Human Values at Princeton University and Laureate Professor at the University of Melbourne. He first became well known internationally in 1975 with the publication of Animal Liberation. His other books include How Are We to Live?, The Ethics of What We Eat (with Jim Mason), and The Most Good You Can Do. He divides his time between Princeton and Melbourne.
Innehållsförteckning
Introduction ix Acknowledgments xv Big Questions The Value of a Pale Blue Dot 3 Does Anything Matter? 6 Is There Moral Progress? 9 God and Suffering, Again 12 Godless Morality (with Marc Hauser) 15 Are We Ready for a "Morality Pill"? (with Agata Sagan) 19 The Quality of Mercy 23 Thinking about the Dead 27 Should This Be the Last Generation? 31 Philosophy on Top 35 Animals Europe's Ethical Eggs 41 If Fish Could Scream 44 Cultural Bias against Whaling? 47 A Case for Veganism 50 Consider the Turkey: Thoughts for Thanksgiving 55 In Vitro Meat 60 Chimpanzees Are People, Too 63 The Cow Who ... 66 Beyond the Ethic of the Sanctity of Life The Real Abortion Tragedy 73 Treating (or Not) the Tiniest Babies 77 Pulling Back the Curtain on the Mercy Killing of Newborns 81 No Diseases for Old Men 85 When Doctors Kill 89 Choosing Death 93 Dying in Court 97 Bioethics and Public Health The Human Genome and the Genetic Supermarket 103 The Year of the Clone? 106 Kidneys for Sale? 110 The Many Crises of Health Care 114 Public Health versus Private Freedom? 118 Weigh More, Pay More 122 Should We Live to 1,000? 125 Population and the Pope 129 Sex and Gender Should Adult Sibling Incest Be a Crime? 135 Homosexuality Is Not Immoral 139 Virtual Vices 142 A Private Affair? 146 How Much Should Sex Matter? (with Agata Sagan) 150 God and Woman in Iran 154 Doing Good The One- Percent Solution 159 Holding Charities Accountable 163 Blatant Benevolence 167 Good Charity, Bad Charity 171 Heartwarming Causes Are Nice, But Let's Give to Charity with Our Heads 175 The Ethical Cost of High-Price Art 179 Preventing Human Extinction (with Nick Beckstead and Matt Wage) 182 Happiness Happiness, Money, and Giving It Away 191 Can We Increase Gross National Happiness? 195 The High Cost of Feeling Low 199 No Smile Limit 202 Happy, Nevertheless 205 Politics Bentham's Fallacies, Then and Now 211 The Founding Fathers' Fiscal Crisis 215 Why Vote? 219 Free Speech, Muhammad, and the Holocaust 222 The Use and Abuse of Religious Freedom 225 An Honest Man? 229 Is Citizenship a Right? 232 The Spying Game 236 A Statue for Stalin? 239 Should We Honor Racists? 243 Global Governance Escaping the Refugee Crisis 249 Is Open Diplomacy Possible? 253 The Ethics of Big Food 257 Fairness and Climate Change (with Teng Fei) 260 Will the Polluters Pay for Climate Change? 264 Why Are They Serving Meat at a Climate Change Conference? (with Frances Kissling) 268 Dethroning King Coal 273 Paris and the Fate of the Earth 277 Science and Technology A Clear Case for Golden Rice 283 Life Made to Order 287 Rights for Robots? (with Agata Sagan) 291 A Dream for the Digital Age 295 A Universal Library 298 The Tragic Cost of Being Unscientific 302 Living, Playing, Working How to Keep a New Year's Resolution 307 Why Pay More? 310 Tiger Mothers or Elephant Mothers? 313 Volkswagen and the Future of Honesty 317 Is Doping Wrong? 321 Is It OK to Cheat at Football? 324 A Surfing Reflection 328 Index 331