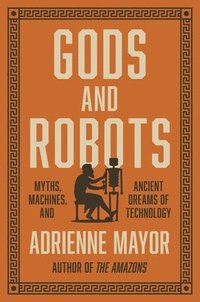 På topplistor
Fler böcker inom
Format

Inbunden (Hardback)

Språk

Engelska

Antal sidor

304

Utgivningsdatum

2018-10-23

Förlag

Originalspråk

English

Illustratör/Fotograf

Illustrationer

75 black & white illustrations<br>11 color illustrations

Dimensioner

241 x 165 x 25 mm

Vikt

653 g

Antal komponenter

1

ISBN

9780691183510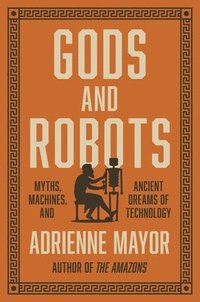 Gods and Robots
Myths, Machines, and Ancient Dreams of Technology
Skickas inom 2-5 vardagar.
Fri frakt inom Sverige för privatpersoner.
The fascinating untold story of how the ancients imagined robots and other forms of artificial life--and even invented real automated machines The first robot to walk the earth was a bronze giant called Talos. This wondrous machine was created not by MIT Robotics Lab, but by Hephaestus, the Greek god of invention. More than 2,500 years ago, long before medieval automata, and centuries before technology made self-moving devices possible, Greek mythology was exploring ideas about creating artificial life--and grappling with still-unresolved ethical concerns about biotechne, "life through craft." In this compelling, richly illustrated book, Adrienne Mayor tells the fascinating story of how ancient Greek, Roman, Indian, and Chinese myths envisioned artificial life, automata, self-moving devices, and human enhancements--and how these visions relate to and reflect the ancient invention of real animated machines. As early as Homer, Greeks were imagining robotic servants, animated statues, and even ancient versions of Artificial Intelligence, while in Indian legend, Buddha's precious relics were defended by robot warriors copied from Greco-Roman designs for real automata. Mythic automata appear in tales about Jason and the Argonauts, Medea, Daedalus, Prometheus, and Pandora, and many of these machines are described as being built with the same materials and methods that human artisans used to make tools and statues. And, indeed, many sophisticated animated devices were actually built in antiquity, reaching a climax with the creation of a host of automata in the ancient city of learning, Alexandria, the original Silicon Valley. A groundbreaking account of the earliest expressions of the timeless impulse to create artificial life, Gods and Robots reveals how some of today's most advanced innovations in robotics and AI were foreshadowed in ancient myth--and how science has always been driven by imagination. This is mythology for the age of AI.
Passar bra ihop
+
Recensioner i media
"Adrienne Mayor entertainingly re-examines the various versions of these myths that survive in written and visual form and speculates about their origins."--The Economist "The Greeks thought of everything, including sci-fi tropes such as androids and artificial intelligence, according to this lively study of mythology and technology. . . . Mayor's exploration of the endless inventiveness of the Greek imagination makes for an engrossing read."--Publishers Weekly "[A] brilliant book."--Enlightened Economist "An eye-opening tour of humankind's fascination with robots, androids, and automata from prehistory to now, Gods and Robots explores how our feelings about artificial life have always been intertwined with our feelings about humanity."--A. E. Stallings, poet and translator of Hesiod's Works and Days "Beautifully written and elegantly argued, Gods and Robots reminds us that we are not the first to experience the uncanny awe that comes with the thought that our technology might produce something like nature. Equally attuned to real objects and mythic imagination, Adrienne Mayor offers surprising insights about both antiquity and our hopes and fears in the face of today's efforts to make autonomous machines."--Peter T. Struck, author of Divination and Human Nature: A Cognitive History of Intuition in Classical Antiquity "Gods and Robots is a hugely enjoyable book. Adrienne Mayor tackles a fascinating area of ancient experience and imagination that has barely been explored hitherto, and she does so with originality and vigor."--Armand D'Angour, University of Oxford "Teeming with living statues, mechanical soldiers, divine beings, astonishing craftsmen, and canny sorceresses, God and Robots is an evocative account of the ancient Greeks' fascination with artificial life--one that reveals many resonances between ancient thinking and current debates around robotics and AI."--E. R. Truitt, author of Medieval Robots "This brilliant and incomparable book will astonish readers by showing the real technologies that lie behind ancient mythology. Adrienne Mayor presents fascinating and entertaining stories for pondering the deep questions of artificial life. Gods and Robots is a beautiful book."--M. Norton Wise, University of California, Los Angeles "Vivid and exhilarating, Gods and Robots shows that humanity has been grappling with the idea of artificial life since the dawn of history, repeatedly running up against the same ethical conundrums. With uncanny timing, the book reveals how antiquity illuminates much of today's debates about AI, human-machine collaboration, and transhumanism."--George Zarkadakis, author of In Our Own Image: Savior or Destroyer? The History and Future of Artificial Intelligence "If you think robot ethics is only a modern problem, think again. As this fascinating book explains, robots have been envisioned--and feared--for thousands of years. Adrienne Mayor teleports us back to the ancient world, connecting the dots between mythology, ancient machines, and today's robots and other emerging technologies--and helping us understand our visions and anxieties about automation and what it means to be human."--Patrick Lin, coeditor of Robot Ethics 2.0: From Autonomous Cars to Artificial Intelligence "In Gods and Robots, Adrienne Mayor describes how, more than 2,500 years before the modern computer, people told tales of autonomous machines that could labor, entertain, kill and seduce. . . . 'The age-old stories, ' she writes, 'raise questions of free will, slavery, the origins of evil, man's limits, and what it means to be human.'"---Matthew Hutson, Washington Post "A fascinating unpacking of ancient myths that feature robots and other lifelike beings, some of which bear an eerie resemblance to modern technology. . . . In her insightful analyses of these tales, Mayor is approachable and engaging, and she infus
Bloggat om Gods and Robots
Övrig information
Adrienne Mayor is the author, most recently, of The Amazons: Lives and Legends of Warrior Women across the Ancient World and The Poison King: The Life and Legend of Mithradates, Rome's Deadliest Enemy, which was a finalist for the National Book Award (both Princeton). She is a research scholar in classics and the history of science at Stanford University and lives in Palo Alto, California.