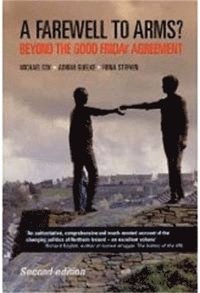 Fler böcker inom
Format

Inbunden (Hardback)

Språk

Engelska

Antal sidor

576

Utgivningsdatum

2006-01-01

Upplaga

2 ed

Förlag

Medarbetare

Guelke, Adrian

Antal komponenter

1

ISBN

9780719071140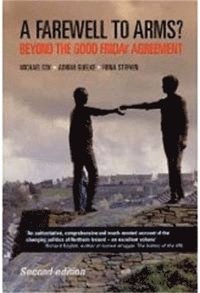 A Farewell to Arms?
Beyond the Good Friday Agreement
Skickas inom 7-10 vardagar.
Fri frakt inom Sverige för privatpersoner.
Finns även som
Skickas inom 10-15 vardagar
The signing of the Good Friday Agreement in 1998 appeared to open up a new phase in the history of Northern Ireland and indeed world politics generally. Hailed from the outset as a model that would inspire peace processes in other countries, it sought through careful negotiation and delicate compromise to bring to a conclusion a conflict that had cost over 3600 lives, damaged Britain's international position and at times come very close to undermining relations between the UK and Ireland. While the peace has held it is obvious that serious divisions continue to make a final settlement of the Northern Irish question very difficult. This comprehensive and original study is the first to explain in detail how the Good Friday Agreement ran into trouble, why we are still some way from a final settlement, but why a return to war is most unlikely - even in an age where global terror now threatens world order more seriously than at any time in the past. This new edition of an established, authoritative text will be essential reading for students, researchers and academics of Irish politics, conflict and peace studies, and international relations. -- .
Passar bra ihop
+
Recensioner i media
"'... an authoritative, comprehensive and much-needed account of the changing politics of Northern Ireland - an excellent volume.' Richard English, author of Armed struggle: The history of the IRA"
Bloggat om A Farewell to Arms?
Övrig information
Michael Cox is Professor of International Relations at the LSE. Adrian Guelke is Professor of Comparative Politics and Director of the Centre for the Study of Ethnic Conflict at The Queen's University of Belfast. Fiona Stephen has recently completed a study on the politics of integrated education in Northern Ireland based on her doctoral research undertaken at The Queen's University of Belfast -- .
Innehållsförteckning
Introduction: A farewell to arms? Beyond the Good Friday Agreement - Michael Cox, Adrian Guelke, and Fiona Stephen PART ONE. From 'Long War' to long peace 1. Lost lives: Victims and the construction of victimhood' in Northern Ireland - Marie Smyth 2. The background to the Irish peace process - Martin Mansergh 3. From war to uneasy peace in Northern Ireland - Caroline Kennedy-Pipe 4. Myths of consociationalism: From Good Friday to political impasse - Paul Bew PART TWO. The politics of the Good Friday Agreement 5. Polarisation or new moderation? Party politics since the Good Friday Agreement - Jon Tonge 6. The 1998 Agreement: Three unionist anxieties - Arthur Aughey 7. The SDLP- governing with uncertainty - Sean Farren 8. Irish republicanism and the peace process: From revolution to reform - Roger MacGinty 9. Noises off: Loyalists after the Agreement - Gordon Gillespie PART THREE. Agreement at the crossroads 10. A farewell to arms? Decommissioning and the peace process - Colin McInnes 11. New beginnings? Policing and human rights after the conflict - Brice Dickson 12. The totality of relationships? The British / Irish Council - Stephen Hopkins 13.`A 'most difficult and unpalatable part' - the release of politically motivated violent offenders - Michael von Tangen Page 14. A truce rather a treaty? The effect of violence on the Irish peace process - John Darby PART FOUR. Civil Society 15. Segregation, ethno-sectarianism and the 'new' Belfast - Peter Shirlow 16. Constitutionalism, civil society and democratic renewal in Northern Ireland - John Morison 17. Two cheers for the NGOs: Building peace from below in Northern Ireland - Feargal Cochrane 18. Integrated schools: Myths, hopes and prospect - Fiona Stephen 19 Whatever happened to the women? Gender and peace in Northern Ireland - Kate Fearon 20 From 'long war' to 'war of the lillies': 'Post-conflict' territorial compromise and the return of cultural politics - Cathal McCall PART FIVE. Bringing in the international 21 From Anglo-Irish to British-Irish relations - Paul Gillespie 22 Europe and the europeanisation of the Irish Question - Elizabeth Meehan 23 The new American connection: President George W. Bush and Northern Ireland - John Dumbrell 24 Political comparisons: From Johannesburg to Jerusalem - Adrian Guelke 25 Learning from other places: Northern Ireland, the Basque Country and Corsica - Francesco Letamendia and John Loughlin 26 Peace processes in the late twentieth century and beyond a mixed record - Fred Halliday 27. Rethinking the international: A critique - Paul Dixon 28. Rethinking the international: A defence - Michael Cox Conclusion: Peace after the Good Friday Agreement? - Adrian Guelke, Michael Cox, and Fiona Stephen Appendices 1. Chronology of Northern Ireland from war to peace 2. The Good Friday Agreement (Belfast Agreement) 10 April 1998 3. 'Towards A Lasting Peace', Sinn Fein document, 1992 (extract) 4. Joint Declaration on Peace (Downing Street Declaration), 15 December 1993 5. A personal message from Rt. Hon. Sir Patrick Mayhew, December 1993 6. The TUAS (Tactical Use of Armed Struggle) document circulated by Republican leadership, summer 1994 7. IRA ceasefire statement, 31, August 1994 8. Combined Loyalist Military Command (CLMC) ceasefire statement, 13 October 1994 9. A new framework for agreement 1995 10. The Mitchell principles, January 1996 (extract) 11. IRA ceasefire statement, 19 July 1997 12. 'Propositions on Heads of Agreement' issued by British and Irish governments, 12 January 1998 13. The Hillsborough statement, 1 April 1999 14. 'The Way Forward' joint statement by British and Irish governments at Stormont, 2 July 1999 15. Statement issued by the IRA, 21 July 1999 16. Statement by Senator George Mitchell concluding the review of the Northern Ireland peace process, 18 November 1999 17. 'IRA Statement on Arms Inspection' 26 June 2000. 18. Joint statement by British and Irish governments, 25 June 2004 19. Gerry Adams review of the Goo