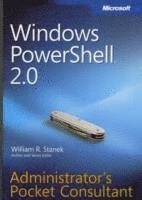 Fler böcker inom
Format

Häftad (Paperback)

Språk

Engelska

Antal sidor

482

Utgivningsdatum

2009-05-27

Upplaga

1

Förlag

Illustrationer

black & white illustrations

Dimensioner

203 x 139 x 28 mm

Vikt

600 g

Antal komponenter

1

ISBN

9780735625952
Windows PowerShell 2.0 Administrators Pocket Consultant: Administrator's Pocket Consultant
Slutsåld
Portable and precise, this pocket-sized guide delivers ready answers for automating everyday system-administration tasks with Windows PowerShell. Zero in on core commands and techniques using quick-reference tables, instructions, and lists. Youll get the focused information you need to save time and get the job done-whether at your desk or in the field.
Get fast facts to:
Run core cmdlets-singly or in sequence-to streamline daily tasks
Execute remote commands and background jobs
Inventory computers; tweak configurations; manage domains
Configure server roles, role services, and features
Manage and troubleshoot TCP/IP networking
Administer file systems, directories, and print services
Implement security settings, event logs, and auditing
Read and write registry values
Automate system monitoring and performance tuning
Extend Windows PowerShell with snap-ins and module extensions
Bloggat om Windows PowerShell 2.0 Administrators Poc...
Övrig information
<p>William R. Stanek has over 20 years of hands-on experience with advanced programming and development. He has written nearly 100 books including: Microsoft Windows Vista Administrator's Pocket Consultant, Windows Server 2008 Inside Out, Microsoft Exchange Server 2007 Administrator's Pocket Consultant 2nd Edition, and Microsoft IIS 7.0 Administrator's Pocket Consultant (all from Microsoft Press). He also wrote MCSE Core Exams in a Nutshell and Windows Vista: The Definitive Guide for O'Reilly.
Innehållsförteckning
Introduction; Who Is This Book For?; How Is This Book Organized?; Conventions Used in This Book; Find Additional Content Online; Support; Chapter 1: Introducing Windows PowerShell; Getting Started with Windows PowerShell; Running Windows PowerShell; Working with Cmdlets and Scripts; Chapter 2: Getting the Most from Windows PowerShell; Initializing the Environment; Understanding Command Input, Parsing, and Output; Writing and Formatting Output; Chapter 3: Managing Your Windows PowerShell Environment; Using Profiles; Navigating Windows PowerShell Extensions; Chapter 4: Using Sessions, Jobs, and Remoting; Enabling Remote Commands; Executing Remote Commands; Establishing Remote Sessions; Establishing Remote Background Jobs; Working Remotely Without WinRM; Chapter 5: Navigating Core Windows PowerShell Structures; Working with Expressions and Operators; Working with Variables and Values; Working with Strings; Working with Arrays and Collections; Chapter 6: Mastering Aliases, Functions, and Objects; Creating and Using Aliases; Creating and Using Functions; Working with Objects; Working with COM and .NET Framework Objects; Working with WMI Objects and Queries; Chapter 7: Managing Computers with Commands and Scripts; Getting More from Your Scripts and Profiles; Creating Transcripts; Creating Transactions; Common Elements in Scripts; Chapter 8: Managing Roles, Role Services, and Features; Server Manager Essentials; Checking Installed Roles, Role Services, and Features; Installing Roles, Role Services, and Features; Uninstalling Roles, Role Services, and Features; Chapter 9: Inventorying and Evaluating Windows Systems; Getting Basic System Information; Examining the System Configuration and the Working Environment; Evaluating System Hardware; Chapter 10: Managing File Systems, Security, and Auditing; Managing PowerShell Drives, Directories, and Files; Working with File Contents; Accessing Security Descriptors; Configuring File and Directory Permissions; Configuring File and Directory Auditing; Chapter 11: Managing Shares, Printers, and TCP/IP Networking; Managing Network Shares; Managing Printers; Managing TCP/IP Networking; Configuring Windows Firewall; Chapter 12: Managing and Securing the Registry; Understanding Registry Keys and Values; Navigating the Registry; Managing Registry Keys and Values; Comparing Registry Keys; Viewing and Managing Registry Security Settings; Auditing the Registry; Chapter 13: Monitoring and Optimizing Windows Systems; Managing Windows Events and Logs; Managing System Services; Managing Computers; Creating and Using System Restore Checkpoints; Chapter 14: Fine-Tuning System Performance; Managing Applications, Processes, and Performance; Performance Monitoring; Detecting and Resolving Performance Issues Through Monitoring; Appendix : About the Author;