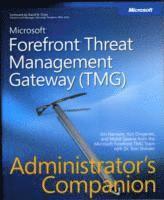 Fler böcker inom
Format

Mixed media product

Språk

Engelska

Antal sidor

1011

Utgivningsdatum

2010-02-18

Upplaga

1

Förlag

Medarbetare

Diogenes, Yuri

Illustratör/Fotograf

Illustrationer

illustrations

Dimensioner

228 x 186 x 45 mm

Vikt

1500 g

Antal komponenter

2

Komponenter

Paperback (1), CD-ROM (1)

ISBN

9780735626386
Microsoft ForeFront Threat Management Gateway (TMG) Administrator's Companion Book/CD Package
Slutsåld
Get your Web security, network perimeter security, and application layer security gateway up and running smoothly. This indispensible, single-volume reference details the features and capabilities of Microsoft Forefront Threat Management Gateway (TMG). You'll gain the real-world insights, implementation and configuration best practices, and management practices you need for on-the-job results. Discover how to:
Implement TMG
integrated security features
Analyze your Web and perimeter security requirements and infrastructure
Plan, install, and configure TMG
Implement network intrusion prevention, proxy, caching, filtering
Configure security for the Web, Microsoft Exchange Server, and SharePoint Products and Technologies
Implement remote access and site-to-site VPNs
Select and configure clients
Monitor and troubleshoot protected systems with Network Monitor 3 and other tools
Use scripting to configure systems and automate administration
Plus, get a fully searchable eBook on the companion CD
A Note Regarding the CD or DVD
The print version of this book ships with a CD or DVD. For those customers purchasing one of the digital formats in which this book is available, we are pleased to offer the CD/DVD content as a free download via O'Reilly Media's Digital Distribution services. To download this content, please visit O'Reilly's web site, search for the title of this book to find its catalog page, and click on the link below the cover image (Examples, Companion Content, or Practice Files). Note that while we provide as much of the media content as we are able via free download, we are sometimes limited by licensing restrictions. Please direct any questions or concerns to booktech@oreilly.com.
Fler böcker av författarna
Bloggat om Microsoft ForeFront Threat Management Gat...
Övrig information
Yuri Diogenes is a Microsoft senior support escalation engineer specializing in Forefront Edge Security. He is coauthor of the Forefront Community Site "Tales from the Edge", writes Forefront security articles for Microsoft TechNet Magazine, and is a primary contributor to the Microsoft ISA Server Team Blog. Before joining Microsoft, Yuri was a network advisor for a Microsoft Gold Partner and taught Network and Operating System disciplines at the University in Brazil. Jim Harrison is a program manager on the Microsoft Forefront Edge Security Team who also designs integrated security solutions for Microsoft extranets and intranets. He is the coauthor of Microsoft's Forefront Community Page "Tales from the Edge". Jim is a former tester on the Microsoft ISA Server Sustained Engineering Team, and prior to that, served as an electronics technician for the US Navy. Mohit Saxena is a senior technical lead on the Microsoft Forefront Edge Security Team. He advises Microsoft Support Escalation Engineers on Forefront Edge Security support issues, bugs, and design changes.
Innehållsförteckning
Foreword; Acknowledgments; From "The Collective"; From Jim; From Yuri; From Mohit; Introduction; The Target Audience; Organization and Usage; Terminology; Companion CD; System Requirements; Feedback and Support for This Book; Part I: A New Era for the Microsoft Firewall; Chapter 1: What's New in TMG; 1.1 Introducing TMG; 1.2 Beyond the Firewall; 1.3 What's New?; 1.4 Summary; Chapter 2: What Are the Differences Between TMG and UAG?; 2.1 Enabling Anywhere Access; 2.2 Understanding IAG 2007; 2.3 IAG 2007 Integration with ISA Server 2006; 2.4 Forefront UAG: The Next Generation of IAG 2007; 2.5 What's New in UAG?; 2.6 Aligning UAG with Security Needs; 2.7 Designing Network Protection; 2.8 Summary; Part II: Planning for TMG; Chapter 3: System Requirements; 3.1 Hardware Requirements; 3.2 Software Requirements; 3.3 General Recommendations; 3.4 Deploying in Virtual Environments; 3.5 Summary; Chapter 4: Analyzing Network Requirements; 4.1 Determining Your Traffic Profile; 4.2 TMG Deployment Options; 4.3 Addressing Complex Networks; 4.4 Configuring TMG Networks; 4.5 Understanding How Name Resolution Impacts TMG; 4.6 Summary; Chapter 5: Choosing the Right Network Topology; 5.1 Choosing the Network Template; 5.2 Examining High Availability; 5.3 Joining the Firewall to a Domain or Workgroup; 5.4 Summary; Chapter 6: Migrating to TMG; 6.1 General Considerations; 6.2 Scenarios; 6.3 Example Checklists; 6.4 Example Migration from ISA 2006 SE to TMG 2010 EE Forward Proxy Scenario; 6.5 Summary; Chapter 7: Choosing a TMG Client Type; 7.1 Web Proxy Client; 7.2 SecureNET Client; 7.3 Forefront TMG Client; 7.4 Choosing the Right Client for Your Environment; 7.5 Summary; Part III: Implementing a TMG Deployment; Chapter 8: Installing TMG; 8.1 Final Considerations Before Installing TMG; 8.2 Installing TMG MBE; 8.3 Installing TMG 2010; 8.4 Summary; Chapter 9: Troubleshooting TMG Setup; 9.1 Understanding Setup Architecture; 9.2 Setup Options; 9.3 What to Look for When Setup Fails; 9.4 Summary; Chapter 10: Exploring the TMG Console; 10.1 TMG Medium Business Edition; 10.2 Updates for TMG 2010; 10.3 New Wizards; 10.4 Summary; Part IV: TMG as Your Firewall; Chapter 11: Configuring TMG Networks; 11.1 Understanding Network Relationships; 11.2 Creating Networks; 11.3 Configuring Your Protected Networks; 11.4 Summary; Chapter 12: Understanding Access Rules; 12.1 Traffic Policy Behavior; 12.2 Understanding Policy Re-Evaluation; 12.3 Troubleshooting Access Rules; 12.4 Summary; Chapter 13: Configuring Load-Balancing Capabilities; 13.1 Multiple Paths to the Internet; 13.2 Implementing ISP Redundancy; 13.3 Understanding and Implementing NLB; 13.4 Summary; Chapter 14: Network Inspection System; ...