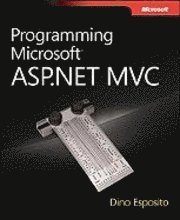 Fler böcker inom
Format

Häftad (Paperback)

Språk

Engelska

Antal sidor

568

Utgivningsdatum

2010-06-01

Upplaga

1

Förlag

Illustrationer

illustrations

Dimensioner

230 x 185 x 35 mm

Vikt

1120 g

Antal komponenter

1

ISBN

9780735627147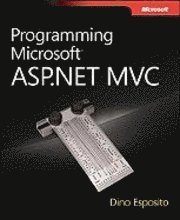 Programming Microsoft ASP.NET MVC: Covers ASP.NET MVC 2 And Microsoft Visual Studio 2010
Slutsåld
Delve into the features, principles, and pillars of the ASP.NET MVC framework-deftly guided by Web development luminary Dino Esposito. ASP.NET MVC forces developers to think in terms of distinct components-model, view, controller-that make it easier to manage application complexity. Plunge into the framework's internal mechanics and gain a practical, what-why-how perspective behind each ASP.NET MVC building block. You'll understand how and when to use this programming model as an alternative to Web Forms-to gain full control of HTML, simplify testing and extensibility, and design better Web sites and experiences. As always, Esposito provides the detailed, insightful guidance and illustrative code samples you need to get productive quickly.
Bloggat om Programming Microsoft ASP.NET MVC: Covers...
Övrig information
Dino Esposito is a well-known ASP.NET, AJAX, and Microsoft Silverlight(R) expert who has written or cowritten several popular books, including MICROSOFT ASP.NET AND AJAX: ARCHITECTING WEB APPLICATIONS and PROGRAMMING MICROSOFT ASP.NET 3.5. He is a regular contributor to MSDN(R) Magazine and speaks at industry events such as DevConnections and Microsoft TechEd.
Innehållsförteckning
Acknowledgments; Introduction; ASP.NET MVC and Web Forms; Who Is This Book For?; Companion Content; Hardware and Software Requirements; Support for This Book; Part I: The Programming Paradigm; Chapter 1: Goals of ASP.NET MVC and Motivation for Its Development; 1.1 The Deep Impact of ASP.NET; 1.2 The ASP.NET Age of Reason; 1.3 ASP.NET MVC at a Glance; 1.4 Summary; Chapter 2: The Runtime Environment; 2.1 The ASP.NET Runtime Machinery; 2.2 The ASP.NET MVC Run-Time Shell; 2.3 Summary; Chapter 3: The MVC Pattern and Beyond; 3.1 The Original MVC Pattern; 3.2 The Model2 Pattern; 3.3 Presentation-Oriented Variations of MVC; 3.4 The ASP.NET MVC Project Template; 3.5 Summary; Part II: The Core of ASP.NET MVC; Chapter 4: Inside Controllers; 4.1 The Role of Controllers and the Motivation for Using Them; 4.2 Anatomy of an ASP.NET MVC Controller; 4.3 Writing a Controller; 4.4 Special Capabilities; 4.5 Controllers and Testability; 4.6 Summary; Chapter 5: Inside Views; 5.1 Views and Controllers; 5.2 Anatomy of an ASP.NET MVC View; 5.3 Writing a View; 5.4 Summary; Chapter 6: Inside Models; 6.1 What's the Model, Anyway?; 6.2 Domain Model and View-Model; 6.3 Model Binding; 6.4 Summary; Part III: Programming Features; Chapter 7: Data Entry in ASP.NET MVC; 7.1 The Select-Edit-Save Pattern; 7.2 Data Validation; 7.3 Summary; Chapter 8: The ASP.NET MVC Infrastructure; 8.1 Routing; 8.2 Error Handling; 8.3 Localization; 8.4 Dependency Injection; 8.5 Summary; Chapter 9: AJAX Capabilities; 9.1 AJAX in ASP.NET; 9.2 AJAX in ASP.NET MVC; 9.3 Summary; Chapter 10: Testability and Unit Testing; 10.1 Testability and Design; 10.2 Basics of Unit Testing; 10.3 Unit Testing in ASP.NET MVC; 10.4 Summary; Chapter 11: Customizing ASP.NET MVC; 11.1 The Controller Factory; 11.2 Action Filters; 11.3 Action Results and Rendering; 11.4 Summary; ReSharper and the Power of Tools; IntelliSense Extensions; Static Analysis to Detect Missing Views and Actions; Coding Assistants; Navigation; Conclusion;