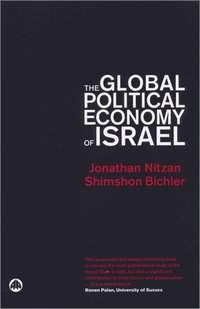 Fler böcker inom
Format

Häftad (Paperback / softback)

Språk

Engelska

Antal sidor

424

Utgivningsdatum

2002-08-01

Upplaga

illustrated ed

Förlag

Medarbetare

Bichler, Shimshon

Illustratör/Fotograf

Illustrationer

45 figures/10 tables

Dimensioner

230 x 150 x 20 mm

Vikt

600 g

Antal komponenter

1

ISBN

9780745316758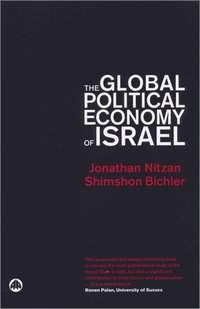 The Global Political Economy of Israel
From War Profits to Peace Dividends
Tillfälligt slut – klicka "Bevaka" för att få ett mejl så fort boken går att köpa igen.
'This accessible but deeply disturbing book is not only the most authoritative study of the Israeli State to date, but also a significant contribution to state theory and globalisation ...A masterpiece.' Ronen Palan, Professor of International Political Economy, University of Sussex. 'A 'Must' read for anyone interested in the debate about globalization and its discontents.' Joseph H.H. Weiler, Jean Monnet Professor of Law, NYU School of Law 'Undoubtedly the most riveting and outstanding political-economy book you would have read this year.' Globe Over the past century, Israel has been transformed from an agricultural colony, to a welfare-warfare state, to a globally integrated "market economy" characterised by great income disparities. What lies behind this transformation? In order to understand capitalist development, argue Bichler and Nitzan, we need to break the artificial separation between "economics" and "politics", and think of accumulation itself as "capitalisation of power". Applying this concept to Israel, they reveal the big picture that never makes it to the news. Diverse processes - such as regional conflicts and energy crises, ruling class formation and dominant ideology, militarism and dependency, inflation and recession, the politics of high-technology and the transnationalisation of ownership - are all woven into a single story. The result is a fascinating account of one of the world's most volatile regions.
Fler böcker av författarna
Capital as Power

Jonathan Nitzan, Shimshon Bichler

Conventional theories of capitalism are mired in a deep crisis: after centuries of debate, they are still unable to tell us what capital is. Liberals and Marxists both think of capital as an `economic' entity that they count in universal units of ...
Recensioner i media
"One of the characteristics of much academic writing is an obsession with theory at the expense of empirical investigation. It is rare to find a book that combines genuinely novel theoretical exploration with rigorous empirical study, the more so in fields such as political science where abstraction seems to have become the norm. It is for this reason that "The Global Political Economy of Israel" is such a gripping read. A remarkable investigation into the concrete workings of the Israeli and U.S. economies that avoids the fatuous generalities of much of the globalization literature, it presents a challenging theoretical framework that not only clarifies the past but also seeks to understand the present. The authors end with a speculation. They raise the open question of whether we are now seeing a shift back towards a global regime of accumulation through depth, with its attendant features of war and conflict. The analysis offered by Nitzan and Bichler offers a powerful conceptual framework for understanding this latest crisis in the global political economy. It also points to a way out of the crisis by asking the simple question: Who really gains?" -- Monthly Review"Professional academics will, of course, hate it. They will say it is not 'science' and they will say it is not scholarship, it will be called 'journalism' and all that. But you guys knew of course what you were doing. And I am glad you did it this way, because I would have never even opened the book if it were classical scholarship. Life is too short. I found it a good read, a very good read, illuminating, very funny at times, and even when I did not agree (because my views on life, social justice, political organization,are very different than yours), I found it challenging and engaging. I also loved, just loved, all the gossipy snippets. A 'Must' read for anyone interested in the debate about globalization and its discontents, this book pricks and deflates all hot air balloons in sight." -- Joseph H.H. Weiler, Jean Monnet Professor of Law, NYU School of Law"This fine and careful study provides an enlightening account of the development of the Israeli economy within the context of the contemporary version of economic international integration ("globalization"), regional planning and developments, and internal conflicts and confrontations. It is rich in insights and far-reaching in its broader implications." -- Noam Chomsky"A must-read for anyone interested in global and Middle-East economics and politics." -- Professor Moshi Machover, London School of Economics"Nitzan and Bichler brilliantly excavate the direct link between Israeli aggression and oil companies' drive to boost their profits through war-induced higher oil prices. The popular responses to this 'blood for oil' dynamic include democratic internationalism and its terrorist antithesis." -- Terisa E. Turner, Professor, University of Guelph, Canada" (This book) is hard to review without superlatives...I read it as a desert traveler who has finally reached an oasis. It is full of details, flatters the reader, but demands an intellectual effort. In return, it explains not only the 'how' but also the 'why.' Bichler and Nitzan have put aside the justifications, the misleading terminology, the dis-information, the speculation in blood. They came to the party with their cameras, only that instead of conventional film, they used x-rays." -- HaimBaram, Kol Ha'eer"The reader will find in this book a whole world, Kafkaesque in nature and scope...Naturally, it deserves attention from economists...but it could also be read as a first-class cultural document. Above all, it is a grand, perpetual deconstruction of Israel's material reality, a penetrating, sarcastic and well-written study of 'where we live.' Rarely does a single book transform the entire worldview of a reader. This book does it. Eye opening. Depressing." -- Dror Bu
Bloggat om The Global Political Economy of Israel
Övrig information
Jonathan Nitzan teaches political economy at York University in Toronto. Shimshon Bichler teaches political economy at colleges and universities in Israel.
Innehållsförteckning
1. Introduction 2. Capital and Power: Breaking the Dualism of 'Economics' and 'Politics' 3. The History of Israel's Power Structure 4. The Making of Stagflation 5. The Weapondollar-Petrodollar Coalition 6. From Foreign Investors to Transnational Ownership References Index