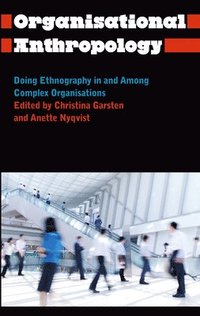 Fler böcker inom
Format

Inbunden (Hardback)

Språk

Engelska

Antal sidor

272

Utgivningsdatum

2013-05-10

Förlag

Dimensioner

235 x 155 x 18 mm

Vikt

527 g

Antal komponenter

1

ISSN

1351-5403

ISBN

9780745332475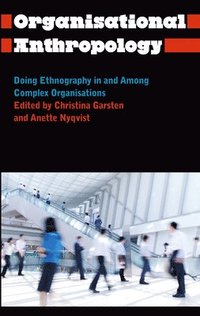 Organisational Anthropology
Doing Ethnography in and Among Complex Organisations
Bokens leverantör håller tillfälligt stängt på grund av Coronapandemin. Klicka "Bevaka" för att få ett mejl när boken går att beställa igen eller välj ett annat format nedan.
Organisational Anthropology is a pioneering analysis of doing ethnographic fieldwork in different types of complex organisations, focusing on the process of initiating contact, establishing rapport and gaining the trust of an organisation's members. The thirteen contributors work from the premise that doing fieldwork in an organisation shares essential characteristics with fieldwork in more 'classical' anthropological environments, but that it also poses some particular challenges to the ethnographer, with barriers including the ideological or financial interests of the organisations, protection of resources and competition between organisations. A number of organisational contexts - including corporations, EU policy arenas, think tanks and the public sector - are explored in case studies from the UK, Japan, Norway, Sweden, Mexico and the USA.
Recensioner i media
'An indispensable summary of contemporary organisational anthropology, presenting methodological challenges, theoretical discussion and insight into what it is like to embark on research in this area' -- Rachel Jane Wile, UCL Institute of Education (London) 'The engagement between organisation studies and anthropology is both long standing and rapidly developing. In this fascinating volume some of the leading exponents of organisational anthropology reflect on its history and future directions; its potentials and pitfalls' -- Christopher Grey, Professor of Organization Studies, Royal Holloway, University of London. 'Lively first hand accounts of carrying out ethnographic fieldwork in contemporary organisational settings - from convenience stores to high tech firms, from think tanks to advertising companies. This is a work that will appeal not only to anthropologists but also to all those with a scholarly or practical interest in culture and organisation' -- John Van Maanen, Erwin Schell Professor of Organization Studies atMIT, author of Tales of the Field 'This vital and vibrant collection is sure to appeal to graduate students in anthropology and sociology as well as those in organizational psychology. Highly Recommended.' -- CHOICE 'This excellent and timely book shows that the anthropological gaze continues to shed light on all things human in surprising ways' -- Thomas Hylland Eriksen, Professor of Social Anthropology at the University of Oslo
Bloggat om Organisational Anthropology
Övrig information
Christina Garsten is Professor at the Department of Social Anthropology at Stockholm University and Chair of the Stockholm Centre for Organisational Research. She is the co-editor of Organisational Anthropology (Pluto, 2014), Ethical Dilemmas in Management Organizing (2009) and Transnational Accountability (2008) and author of Workplace Vagabonds: Career and Community in Changing Worlds of Work (2008). Anette Nyqvist is an Assistant Professor in the Department of Social Anthropology at Stockholm University and holds a research position at Stockholm Centre for Organisational Research. She is the co-editor of Organisational Anthropology (Pluto, 2014) and the author of Opening the Orange Envelope: Risk and Responsibility in the Remaking of Sweden's National Pension System (2008).
Innehållsförteckning
Acknowledgements Series Preface 1. Entries: Engaging Organisational Worlds - Christina Garsten and Anette Nyqvist Part I: Corporate Corridors 2. Counter Intelligence: The Contingencies of Clerkship at the Epicentre of Convenience Culture - Gavin Hamilton Whitelaw 3. Counter-Espionage: Fieldwork among Culture Experts in Bang & Olufsen - Jakob Krause-Jensen 4. When Life Goes to Work: Authenticity and Managerial Control in the Contemporary Firm - Peter Fleming 5. Oblique Ethnography: Engaging Collaborative Complicity among Globalised Corporate Managers - Emil A. Royrvik Part II: Policy Arenas 6. Access to all Stages?: Studying through Policy in a Culture of Accessibility - Anette Nyqvist 7. Punctuated Entries: Doing Fieldwork in Policy Meetings in the European Union - Renita Thedvall 8. The Instrumental Gaze: The Case of Public Sector Reorganisation - Halvard Vike Part III: Working the Network 9. All about Ties: Think Tanks and the Economy of Connections - Christina Garsten 10. Working Connections, Helping Friends: Fieldwork, Organisations and Cultural Styles - Brian Moeran 11. Messy Logic: Organisational Interactions and Joint Commitment in Railway Planning - Asa Boholm Part IV: Opaque Worlds 12. The Profane Ethnographer: Fieldwork with a Secretive Organisation - Lilith Mahmud 13. Communicative Nature of Money: Aligning Organisational Anthropology with Technocratic Experiments - Douglas R. Holmes 14. Not Being There: The Power of Strategic Absence in Organisational Anthropology - Tara A. Schwegler 15. Momentum: Pushing Ethnography Ahead - Christina Garsten and Anette Nyqvist Notes on Contributors Index