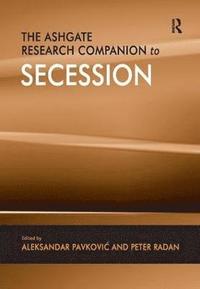 Fler böcker inom
Format

Inbunden (Hardback)

Språk

Engelska

Antal sidor

592

Utgivningsdatum

2011-11-28

Upplaga

New ed

Förlag

Medarbetare

Pavkovic, Aleksandar (red.)

Illustrationer

Includes 6 b&w illustrations

Dimensioner

247 x 171 x 44 mm

Vikt

1406 g

Antal komponenter

1

ISBN

9780754677024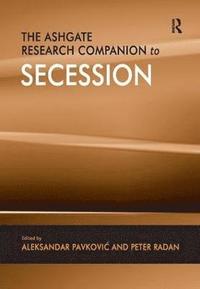 The Ashgate Research Companion to Secession
Skickas inom 5-8 vardagar.
Fri frakt inom Sverige för privatpersoner.
Secession is a detachment of a territory from an existing state with the aim of creating a new state on the detached territory. Secession is usually an outcome of the political mobilization of a population on the territory to be detached and, as a political phenomenon, is a subject of study in the social sciences. Its impact on inter-state relations is a subject of study in international relations. But secession is also subject to regulation both in the constitutional law of sovereign states and in international law. Following a spate of secessions in the early 1990s, legal scholars have proposed a variety of ways to regulate the international responses to attempts at secessions. Moreover, since the 1980s normative justification of secession has been subject to an intense debate among political theorists and moral philosophers. This research companion has the following three complementary aims. First, to offer an overview of the current theoretical approaches to secession in the social sciences, international relations, legal theory, political theory and applied ethics. Second, to outline the current practice of international recognition of secession and current domestic and international laws which regulate secession. Third, to offer an account of major secessionist movements - past and present - from a comparative perspective. In their accounts of past secessions and current secessionist movements, the contributors to this volume focus on the following four components: the nature and source of secessionist grievances, the ideologies and techniques of secessionist mobilization, the responses of the host state or majority parties in the host state, and the international response to attempts at secession. This provides a basis for identification of at least some common patterns in the otherwise highly varied processes of secession.
Passar bra ihop
+
Recensioner i media
'Secessionist movements - often referred to by euphemisms such as "wars of national liberation", "remedial" responses to massive human rights violations, "unique" situations, or simply "dissolutions" of existing states - continue to disrupt the stability of the international order. This volume helps us to engage in an honest and necessary debate about ways of changing current borders, since demands for such changes will inevitably continue.' Hurst Hannum, Tufts University, USA 'From Scotland to Puntland, and from South Ossetia to South Sudan, secession raises fundamental questions for national states and the international community. This uniquely comprehensive survey of current arguments and pressing prospects by political scientists, international lawyers, historians and political philosophers marks a major advance in an increasingly sophisticated field and will be the starting-point for future research.' David Armitage, Harvard University, USA 'Given the secessionist tendencies unleashed by events like the demise of the Soviet Union, and breakup of Yugoslavia, secession literature is finally approaching the critical mass it has always deserved. This research companion is a most welcome addition to that accumulation. Its 45 individually authored subtopics combine to offer perhaps the best restatement of the subject in the world... Every library offering International Law or Relations material, every diplomatic establishment, and all academics in search of an authoritative text for advanced research would be wise to obtain this particular publication. It offers as complete a picture of secessionist settings and analysis as can be found between any two covers.' American Society of International Law Newsletter
Bloggat om The Ashgate Research Companion to Secession
Övrig information
Aleksandar Pavkovic is Associate Professor in Politics and International Relations, Macquarie University, Australia and also at the University of Macau, China. Peter Radan is Professor in Law, Macquarie University, Australia.
Innehållsförteckning
Contents: Preface; Introduction: what is secession?, Aleksandar Pavkovic and Peter Radan; Part I Introduction to Secession: Secession and international order, James Mayall; The history of secession: an overview, Bridget L. Coggins; Explaining secession, David S. Siroky; Changing borders by secession: normative assessment of territorial claims, Frank Dietrich. Part II Secessions: Past and Present: Introduction to part II; An attempt at secession from an early nation-state: the Confederate States of America, Don H. Doyle; The UN principle of self-determination and secession from decolonized states: Katanga and Biafra, Joshua Castellino; Constitutional politics of secession: travelling from Quebec to Montenegro (and back?), Zoran Oklopcic; Secession as a way of dissolving federations: the USSR and Yugoslavia, Richard Sakwa and Aleksandar Pavkovic; Kosovo: a secession under UN supervision, Keiichi Kubo. Part III Secession in Context: Introduction to part III; Secession from an economic perspective: what is living and what is dead in the economic interpretations of secession, Lloyd Cox; Secession and ethnic conflict, Keiichi Kubo; Secession and political violence, Sinisa Malesevic and Neill O Dochartaigh; International involvement in secessionist conflict: from the 16th century to the present, Mikulas Fabry; The international relations of secession, Stephen M. Saideman; Secession and contested states, Deon Geldenhuys. Part IV Secession: Legal Perspectives: Introduction to part IV; Secession and territorial borders: the role of law, Marta C. Johanson; International law and the right of unilateral secession, Peter Radan; Secession in constitutional law, Peter Radan; To constitutionalize or not? Secession as materiae constitutionis, Miodrag A. Jovanovic; Secession and state succession, Tom Grant. Part V Secession: Normative Approaches: Introduction to part V; Internal self-determination, Michel Seymour; Remedial theories of secession, Reinold Schmucker; Choice theories of secession, David D. Speetzen and Christopher Heath Wellman; Secession and domination, John McGarry and Margaret Moore; The right to secede: do we really need it?, Aleksandar Pavkovic. Part VI Secessions and Secessionist Movements in the World: Introduction to part VI; Asia: Aceh: the secession that never was, Edward Aspinall; Bangladesh: secession aided by military intervention, Peter Radan; Kashmir: separatism as possible trigger for inter-state conflict?, Matthew J. Webb; Separatism in Mindanao, Damien Kingsbury; Myanmar/Burma: secession and the ethnic conundrum, Renaud Egretau; Singapore: expulsion or negotiated secession, Bill K.P. Chou; Taiwan-China: a case of secession or a divided nation?, Jean-Pierre Cabestan; Tibet: secession based on the collapse of an imperial overlord, Robbie Barnett; West Papua: secessionism and/or failed decolonization?, Damien Kingsbury. Africa: Eritrea; a belated post-colonial secession, Kathryn Sturman; Somaliland: an escape from endemic violence, Kathryn Sturman; Southern Sudan's secession from the North, Petrus de Kock. Europe: Basque secession: from bullets to ballots, Marc Sanjaume i Calvet; Peaceful secessions: Norway, Iceland and Slovakia, Aleksander Pavkovic; Scotland's independence, Michael Keating; The Serb Krajina: an unsuccessful secession from Croatia, Peter Radan. Rest of the World: Abhkazia, South Ossetia, and Transdniestria: secessions in the post-Soviet space, Mikahail Ilyin; Chechnya: a military suppression of secession at a cost, Kristin M. Bakke; Kurdistan: a suspended secession from Iraq, Peter Slugett; Yemen: the resurgent secessionism in the south, Iain Walker; Index.