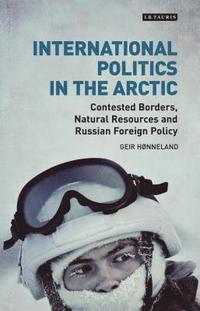 Fler böcker inom
Format

Häftad (Paperback / softback)

Språk

Engelska

Antal sidor

416

Utgivningsdatum

2019-12-26

Förlag

Illustrationer

2 Maps

Dimensioner

216 x 138 x 33 mm

Vikt

556 g

ISBN

9780755601110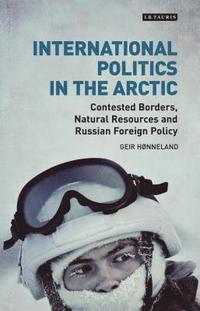 International Politics in the Arctic
Contested Borders, Natural Resources and Russian Foreign Policy
Ännu ej utkommen – klicka "Bevaka" för att få ett mejl så fort boken boken går att köpa.
Finns även som
Skickas inom 10-15 vardagar
As the ice around the Arctic landmass recedes, the territory is becoming a flashpoint in world affairs. New trade routes, cutting thousands of miles off journeys, are available, and the Arctic is thought to be home to enormous gas and oil reserves. The territorial lines are new and hazy. This book looks at how Russia deals with the outside world vis a vis the Arctic. Given Russia's recent bold foreign policy interventions, these are crucial issues and the realpolitik practiced by the Russian state is essential for understanding the Arctic's future.Here, Geir Honneland brings together decades of cutting-edge research - investigating the political contexts and international tensions surrounding Russia's actions. Honneland looks specifically at 'region-building' and environmental politics of fishing and climate change, on nuclear safety and nature preservation, and also analyses the diplomatic relations surrounding clashes with Norway and Canada, as well as at the governance of the Barents Sea. The Politics of the Arctic is a crucial addition to our understanding of contemporary International Relations concerning the Polar North.
Bloggat om International Politics in the Arctic
Övrig information
Geir Honneland is Research Director at the Fridtjof Nansen Institute and Adjunct Professor of Political Science at the Arctic University in Norway. He has published widely in Norwegian and in English on territory disputes and environmental factors in the Polar North. He gained his PhD from the University of Oslo in 2000 and is one of the most respected commentators in the field of Arctic Studies.
Innehållsförteckning
Part I Background Introduction 1. Identity Formation in the Barents Euro-Arctic Region Introduction: The Creation of the Barents Region The Region-building Approach Self and Other in Identity Formation Alleged We-hood: The Return from a Historical Parenthesis The Fragility of We-hood 'The Cultural Counter-argument' 'The Identity of Contrasts' Conclusion Part II Environmental Discourse in the European Arctic 2. Fish Discourse: Norway, Russia and the Northeast Arctic Cod Introduction The Concept of Discourse Analysis 28 The Study of Environmental Discourse 30 Scientific Recommendations and Established Quotas Since 1990 33 Defining Major Discourses 34 Conclusion 45 3. East Meets West: Deliberations on the Environment 48 Introduction 48 The Study of Environmental Discourse 49 Environmental Issues in the European Arctic 51 Defining Major Discourses 53 Brokering Scientific Knowledge 63 Storylines and Metaphors 65 Embeddedness and Discourse Classification 66 Conclusion 69 Part III Implementing International Environmental Agreements in the Russian North 4. From Air Pollution Control to Nuclear Safety: Why Implement? 75 Introduction 75 Implementation: The 'What's, 'Why's and 'How's 76 What's the Problem? 80 What's to be Implemented? 83 Implementation Performance and Target Compliance 86 Implementation Activities 87 Discussion 93 Conclusion 99 5. Implementing Global Nature Protection Agreements 102 Introduction 102 The Global Nature Protection Regimes 104 Implementation of the Agreements in Russia 106 Domestic Implementation Activities 113 Conclusion 122 Part IV Combating Communicable Diseases in Northwest Russia 6. Western vs Post-Soviet Medicine: Donors and Dilettantes 127 Introduction 127 DOTS in Russia and the Baltic states 129 General Receptiveness to Western Ideas 139 Conclusion 146 vi INTERNATIONAL POLITICS IN THE ARCTIC 7. Patriots, Doctors and Happy Soviets 149 Introduction 149 Interpreting Qualitative Interviews 150 Health Initiatives from the West 152 The Interview Scene: 'Cast' and Interpretation 153 Part V Russians in the Borderlands 8. How to be a Northerner 165 Borderlands, Identity, Narrative 165 Interview 1: 'When I told them how I lived, they went all misty-eyed' 169 Interview 2: 'If you'd asked me last year, I would have said Murmansk was the best place in the world' 172 Interview 3: 'The north is like a bottomless pit dragging you down' 174 Negotiating Stereotypes about North and South 176 The Vocabulary Available - Identity as Narrative 181 Changing Borders? 185 Conclusions 187 9. How to be a Russian 190 Introduction 190 Interview 1: 'Their eyes are always wide open' 190 Interview 2: 'As nations, they're on the decline' 191 Interview 3: 'Everything over there predisposes them to equanimity' 192 Exploring Stereotypes about Scandinavians 193 The Words to Say It - Identity as Narrative 201 New Borderlands? 204 Narrative Juggling 209 Part VI Post-Agreement Bargaining in the Barents Sea 10. Making Russia Comply: Bargaining Precautionary Fisheries Management in the Barents Sea 215 Introduction 215 Approaches to State Compliance with International Treaties 217 Post-agreement Bargaining 219 CONTENTS vii The Norwegian - Russian Fisheries Management Regime in the Barents Sea 222 Norwegian - Russian Bargaining Experiences 225 Why does Russia Comply? 229 Post-agreement Bargaining Revisited 235 11. Fishing Field Deliberations 237 An Observer's Account 238 Russian Fishers' Accounts in the late 1990s 246 Russian Fishers' Accounts Ten Years Later 250 Bargaining Dynamics 254 Bargaining Results 258 Post-agreement Bargaining Revisited 262 Part VII Arctic Talk, Russian Politics 12. 'The Global Fight against Canada in the Arctic' 267 Identity and Foreign Policy 267 All the Way to the Pole 270 'The Global Fight' 274 'The Arctic is our Everything' 281 Our Ocean, Our Future, Our Foes 285 13. 'They'll Squeeze us Out, it'