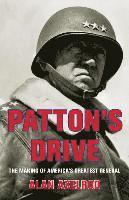 Format

Häftad (Paperback / softback)

Språk

Engelska

Antal sidor

304

Utgivningsdatum

2010-10-05

Förlag

Illustratör/Fotograf

Illustrationer

black & white halftones

Dimensioner

222 x 146 x 25 mm

Vikt

362 g

Antal komponenter

1

ISBN

9780762761319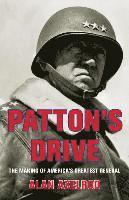 Patton's Drive
The Making Of America's Greatest General
Specialorder (osäker tillgång). Skickas inom 11-20 vardagar.
Fri frakt inom Sverige för privatpersoner.
Patton's Drive tells the story of how a young man born to war-who believed himself the literal incarnation of all great warriors past-became a modern American general: in terms of enemy killed or captured, territory taken, and people liberated, the greatest field commander of World War II.
Passar bra ihop
+
Recensioner i media
Praise for Alan Axelrod's Patton on Leadership: "The most powerful truth I learned from combat in WWII and Korea is that you simply cannot be a successful leader - and thus will not prevail - without 'integrity, integrity, integrity.' Leaders in Business, as well as the military, will find Patton on Leadership exceptionally helpful."--C. R. "Jack" Kopp, Chairman and CEO (Ret.), Leo Burnett Co. Inc. "I have no doubt but that the leadership skills and personal attitude practiced by General Patton can be used effectively in both corporate and government managerial positions. Current and future leaders would do well to master those skills and to practice the vital requisites of honesty and integrity for which General Patton was noted and without which, leadership is highly suspect."--William A. Burke, Major General (Ret.) U.S. Army "Never thought you could compare General Patton with corporate management. But this book does it and does it well."--Karl Malden, Actor, renowned for his portrayal of General Omar Bradley in the movie Patton Praise for Alan Axelrod's Patton: A Biography: "Axelrod has cut through the politics and chaff to get to the man."--Robert K. Wilcox, best-selling author of First Blue and Wings of Fury "Axelrod has written an excellent and compelling biography of an American aristocrat of violence . . ."--Col. Ernest Fisher (USA, ret.), former senior historian, U.S. Army Praise for Alan Axelrod's Miracle at Belleau Wood: "Axelrod is one America's great military historians. He's done it this time with riveting non-stop action that reads like the best of Hemingway's frontline reports plus the Marine Corps novels of W.E.B. Griffin. Axelrod pushes you right into the action, onto the battlefield, and never lets up. You become a firsthand witness to one of the world's great battles, proud and heart-pounding as the elite force, the Devil Dogs, are born in a small forest outside Paris. This is one book I wish I'd written!"--Paul B. Farrell, J.D., Ph.D., syndicated columnist for Dow Jones' MarketWatch. He is the author of The Lazy Person's Guide to Investing, a former investment banker with Morgan Stanley, and a former Staff Sergeant in the US Marine Corps. "Alan Axelrod has perfectly captured the embodiment of U.S. Marines and their unparalleled Esprit de Corps in his new book, 'Miracle at Belleau Wood.' As a former Marine, I find Axelrod's descriptions of the combat in that bloody battle for which the Corps became legendary -- and which is the foundation of its mythic lore -- compelling and gut-wrenching. Axelrod's re-telling of the tales -- some from the letters, diaries and personal accounting of those who fought there -- more than does justice to Marines at Bois de la Brigade de Marine, as Belleau Wood became known to honor the Devil Dogs who fought and died there. More heroes and legends grew from Belleau Wood than from any other battle in the Corps's history. The names ring out in Axelrod's book -- Daly, Blanchfield, Lee. Legends one and all. Axelrod brings it all to life for the reader. Though a historical accounting of the battle, 'Miracle at Belleau Wood' puts the reader in the front row -- 'inches of real estate were purchased with gallons of blood' -- as you witness the heroism and ups and downs endured by the Marines as they defeated the Germans at overwhelming odds. As Axelrod writes, '...created...in 1775, the United States Marine Corps was born in that French forest...in 1918.' A must read!"--Jay Kopelman, author of the best-selling From Baghdad with Love, and a former Lt. Colonel in the U.S. Marine Corps "Axelrod brings us back vividly to the shocking casualties of 'the war to end all wars,' opening up fresh insights into the nature of the fighting and the decisions that shaped a generation."--Bing West is a correspondent for The Atlantic and the award-winning author of two books on the Iraq war. He is a former
Bloggat om Patton's Drive
Övrig information
After receiving his Ph.D. (with emphasis on American literature and culture) from the University of Iowa in 1979, and serving in the core curriculum of that Big 10 school as a graduate teaching assistant, Alan Axelrod taught at Lake Forest College (Lake Forest, Illinois) during 1979-80 and at Furman University (Greenville, South Carolina) from 1980 to 1982. He entered publishing in 1982 as associate editor with the Henry Francis du Pont Winterthur Museum (Winterthur, Delaware). After a brief stint as associate editor at Van Nostrand Reinhold (New York) in 1984, he became senior editor at Abbeville Press (New York) during 1984-91 and then vice president of Zenda, Inc., a consulting firm to museums and cultural institutions. In 1994, he left Zenda to become director of development (chief acquisitions editor) for Turner Publishing, Inc. (Atlanta), a subsidiary of Turner Broadcasting System, Inc. In 1997, he founded The Ian Samuel Group, Inc., a creative services and book-packaging firm, and is its president. Axelrod has served as consultant to numerous museums and cultural institutions, including the Margaret Woodbury Strong Museum (Rochester, New York), the Airman Memorial Museum (Suitland, Maryland), and the Henry Francis du Pont Winterthur Museum (Winterthur, Delaware). He has been a creative consultant for (and on-camera personality in) The Wild West television documentary series (Warner Bros., 1993) and Civil War Journal (A&E Network, 1994), and he served as historical consultant for The Discovery Channel. PUBLISHED WORKS Miracle at Belleau Wood: The Birth of the Modern U.S. Marine Corps (Lyons Press, 2007) (A Main Selection of the Military Book Club)Horrid Pit: The Battle of the Crater, the Civil War's Cruelest Mission (Carroll & Graf, 2007) Blooding at Great Meadows: Young George Washington and the Battle that Shaped the Man (Running Press, 2006) Profiles in Audacity: Great Decisions and How They Were Made (Sterling, 2006)Patton: A Biography (Palgrave Macmillan's Great Generals Series, 2006), series editor General Wesley K. ClarkThomas Jefferson (Alpha "Critical Lives" series biography, 2001)Benito Mussolini (Alpha "Critical Lives" series biography, 2001)Astronomy (Oryx Frontiers of Science Series) (with Christopher De Pree) (Oryx, 2000)Complete Idiot's Guide to Criminology (Macmillan/Alpha, 2002)Complete Idiot's Guide to World War I (Macmillan/Alpha, 2000)Complete Idiot's Guide to the 20th Century (Macmillan/Alpha, 1999)Complete Idiot's Guide to the American Revolution (Macmillan/Alpha, 1999)Complete Idiot's Guide to Jazz (Macmillan/Alpha, 1999)Complete Idiot's Guide to Astronomy (with Christopher De Pree) (Macmillan/Alpha, 1999; Second Edition, 2001)Complete Idiot's Guide to the Civil War (Macmillan/Alpha, 1998)Complete Idiot's Guide to Mixing Drinks (Macmillan/Alpha, 1998)Complete Idiot's Guide to American History (Macmillan/Alpha, 1996; Second Edition, 2000)My Brother's Face: Portraits of the Civil War (with Charles Phillips; Chronicle Books, 1993)What Everyone Should Know About the 20th Century: 200 Events That Shaped Our Time (with Charles Phillips; Adams, 1993)Songs of the Wild West (Simon and Schuster/Metropolitan Museum of Art, 1992)The War between the Spies: A History of Espionage During the American Civil War (Atlantic Monthly Press, 1992)A Chronicle of the Indian Wars: From Colonial Times to Wounded Knee (Prentice-Hall Press, 1992)What Every American Should Know About American History: 200 Events That Shaped the Nation (with Charles Phillips; Adams, 1992)Art of the Golden West (Abbeville Press, 1991)
Innehållsförteckning
Table of Contents Introduction Noli Me Tangere ix Chapter 1"I Am Destined to Achieve Some Great Thing" 1 Chapter 2"A Very Timid Operation" 24 Chapter 3Giving Cobra its Venom 39 Chapter 4From Breakout to Breakthrough 65 Chapter 5"I Wish I Were Supreme Commander" 89 Chapter 6"Don't Be Fatuous, George!" 112 Chapter 7"I Belong to a Different Class" 139 Chapter 8Sierra Blanca 160 Chapter 9The Punitive Expedition 184 Chapter 10The Dogs of War 207 EpiloguePatton in Hell 250A Note on Sources 272Bibliography 273Index 277About the Author 288