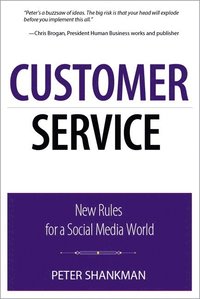 Fler böcker inom
Format

Häftad (Paperback)

Språk

Engelska

Antal sidor

208

Utgivningsdatum

2011-01-24

Upplaga

1

Förlag

Illustratör/Fotograf

Illustrationer

illustrations

Dimensioner

228 x 158 x 12 mm

Vikt

290 g

Antal komponenter

1

ISBN

9780789747099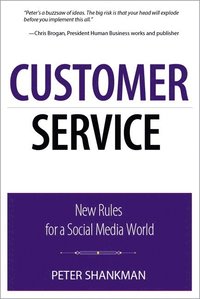 Customer Service: New Rules For A Social Media World
Skickas inom 3-6 vardagar.
Fri frakt inom Sverige för privatpersoner.
Use Social and Viral Technologies to Supercharge your Customer Service!

 

Using social media, you can deliver amazing customer serviceand generate an army of fans wholl promote you in good times, and rescue you from disaster. Now, legendary online marketing expert Peter Shankman shows you exactly how to do all thatwithout spending a fortune! Shankman draws on his immense experience as founder of the online growth company HARO and marketing consultant to multiple Fortune500 clients. He presents straight-to-the-point solutions for building customer loyalty, trust, and credibility onlineand rebuilding it when catastrophe strikes. Companies around the world are driving enormous value from online customer service at remarkably low cost. You can, too. Peter Shankman will show you howstep-by-step, right now!

 

Youll learn how to:

 

Organize a small, powerful social media team on a tight budget

Listen to what your customers, advisors, and markets are really saying

Make prospects feel like rock stars from the moment they find you

Choose online media that make the most sense for you

Avoid wasting time with platforms that wont help you

Earn your customers loyalty, trust, and credibility

Learn from other companies viral disasters

Rebuild your credibility after youve taken a public hit online

Make sure everyone hears your customers when they compliment you

Capture all your customer knowledgeand use it in real time

Keep people talkingand not just about you

 
Passar bra ihop
+
Recensioner i media
As a major voice in the travel space, Im no stranger to poor customer serviceand how to fix it. Peter has proven multiple times that its the little things you do before the meltdown occurs that will save your company. I encourage anyone working with clients or customers to read this bookmultiple times!
Christopher Elliott
Consumer advocate
Ombudsman
National Geographic Traveler
Ive always said the three most important things in business are customer service, customer service, and customer service. Now Ill add a fourthread this book!
Dayna Steele
Speaker, business consultant, and author of
Rock to the Top:What I Learned about Success from the Worlds Greatest Rock Stars
There is no question that customer service and, even more, customer perception can make or break your business. I am glad that social media ber-guru Peter Shankman has finally deigned to share his secrets with the rest of us. This book belongs in every businesspersons library. Its in mine!
Charles Justiz
Retired NASA pilot and author of Specific Impulse
Peters a buzzsaw of ideas. The big risk is that your head will explode before you implement this all. The beauty of a book is that you can read it slowly. Peters mind moves so fast that, were you to receive these ideas in person, you couldnt possibly write fast enough to keep up.
Chris Brogan
President, Human Business Works, and publisher
chrisbrogan.com
Peter Shankman gets his kicks jumping out of perfectly good airplanes. As it turns out, that avocation may be an apt analogy for the world of social media. It is rising up to meet youfastand if you dont pull the tweet chord in time, you are destined to crater. Shankman offers a compelling, engaging, humorous checklist of dos and donts for those who are still in a freefalla bit dazedwondering what happened to all the tried-and-true rules of advertising, marketing, and PR. Shankman knows the answer, and he can barely contain his enthusiasm in sharing his insights. He is a leading social networking evangelizerthat is why so many blue-chip companies seek him out. And that is why I selected him to be on the NASA Advisory Council Education and Public Outreach Committee. His advice is not rocket science, but it isnt always what you might predict. As skydivers like to say, youll be fine so long as you dont do anything stupid. Read this book and you will know how to be smartin 140 characters or less!
Miles OBrien
formerly of CNN
Ill give you my favorite piece of advice from Peter right here: dont have a goal of making something viral. Make it good, and it will go viral. Peter shares my belief: dont treat your customers well after something has gone wrong. Treat them well at every interaction.
Franco Bianchi<...
Bloggat om Customer Service: New Rules For A Social ...
Övrig information
Peter Shankman--PR Week Magazine has described Peter as "redefining the art of networking," and Investor's Business Daily has called him "crazy, but effective." Peter Shankman is a spectacular example of what happens when you harness the power of Attention Deficit Hyperactivity Disorder (ADHD) and make it work to your advantage. An entrepreneur, author, speaker, and worldwide connector, Peter is recognized worldwide for radically new ways of thinking about social media, PR, marketing, advertising, creativity, and customer service. Peter is perhaps best known for founding Help A Reporter Out (HARO), which in under a year has become the de-facto standard for thousands of journalists looking for sources on deadline, offering them more than 125,000 sources around the world looking to be quoted in the media. HARO is currently the largest free source repository in the world, sending out over 1,500 queries from worldwide media each week. HARO's tagline, "Everyone Is an Expert at Something," proves over and over again to be true, as thousands of new members join at helpareporter.com each week. In addition to HARO, Peter is the founder and CEO of The Geek Factory, Inc., a boutique social media and marketing strategy firm located in New York City, with clients worldwide. His blog (www.shankman.com), which he launched as a website in 1995, both comments on and generates news and conversation. Peter's PR and social media clients have included the Snapple Beverage Group, NASA, The U.S. Department of Defense, Walt Disney World, The Ad Council, American Express, Discovery Networks, New Frontier Media, Napster, Juno, Dream Catcher Destinations Club, Harrah's Hotels, and many others. In addition, he sits on the board of the Scott-e-Vest, the world's first technologically enabled clothing line. Peter is the author of Can We Do That?! Outrageous PR Stunts That Work and Why Your Company Needs Them (Wiley and Sons 2006) and is a frequent keynote speaker and workshop presenter at conferences and tradeshows worldwide, including The Public Relations Society of America, The International Association of Business Communicators, CTIA, CTAM, CES, PMA, OMMA, Mobile Marketing Asia, and the Direct Marketing Association. A marketing pundit for several national and international news channels, including Fox News, CNN, and MSNBC, Peter is frequently quoted in major media and trade publications, including The Wall Street Journal, Los Angeles Times, New York DailyNews, Associated Press, Reuters, CNN, and USA Today. Peter started his career in Vienna, Virginia, with America Online as a senior news editor. He helped found the AOL Newsroom and spearheaded coverage of the Democratic and Republican 1996 conventions, which marked the first time an online news service covered any major political event. Born and raised in New York City, Peter still lives there with his two psychotic cats, Karma and NASA, who consistently deny his repeated requests to relinquish the couch. In the few hours of spare time Peter has per month, he's a frequent runner, with 13 completed marathons and countless triathlons to his credit, and is a "B" licensed skydiver, specializing in free-flying.
Innehållsförteckning
Introduction 1
1 Putting Together a Social Media Team 11
Meet Your Team 12
The Customer Service People 13
The PR Person 13
The High-Level Exec 14
The Marketing Guys 15
The Guy from Accounting Who Has a Facebook Page 15
The Flip Side: Meet Your Audience 16
The One-time Complainer 16
The Constant Complainer 16
The Axe-to-Grind 17
The Happy Customer 17
The Prima Donna 17
End result 17
2 Examples of When It Doesnt Work (and What Happens) 19
Hope for the Best, Plan for the Worst 24
Always Be AwareIts the Thing You Dont Think of
that Can Kill You 25
Trust Your Instincts 27
Cooler Heads Prevail 28
Doing Something Is Better Than Doing Nothing 31
Your Audience Is Smarter Than You Are 33
Never Deceive Your Audience 34
3 Before the Explosion: Winning Your Customer 37
Before the Customer Is Even a Customer 38
Driving Revenue 39
Find Out Where Your Customers Are 39
Pay Attention 41
Devise a Plan to Reach Your Customers 44
Case Studies 49
Solematescom 49
HARO 50
4 Customer Service Is a Way of Life 53
Self-Promotion Versus Helping 59
Case Study: Bravo! Italian Restaurant and Bar 61
Case Study: Risdall Integration Group 61
Case Study: Law Offices of Daniel R Rosen, PC 62
Background 62
A New Approach 63
From Invisible to the First Page 63
Case Study: Grasshopper 63
Case Study: Peter Kuhns Food Truck 65
Case Study: Inclind, Inc 66
Case Study: Which Wich Superior Sandwiches 67
Summary (and a Challenge) 69
5 Social Media Damage Control: Stopping Small Problems from Becoming Big Ones 71
First Things First: Different Types of Comp...