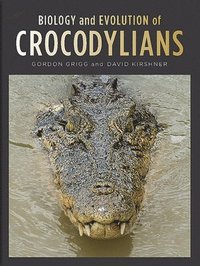 Fler böcker inom
Format

Inbunden (Hardback)

Språk

Engelska

Antal sidor

672

Utgivningsdatum

2015-04-15

Förlag

Medarbetare

Shine, Rick (foreword)

Illustratör/Fotograf

Illustrationer

more than500 color photographs and black-and-whiteillustrations

Dimensioner

264 x 216 x 41 mm

Vikt

2247 g

Antal komponenter

1

ISBN

9780801454103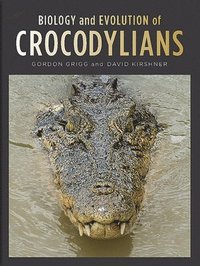 Biology and Evolution of Crocodylians
Skickas inom 10-15 vardagar.
Fri frakt inom Sverige för privatpersoner.
Crocodiles, alligators, caimans, and gharials-the Crocodylia, known collectively as crocodylians (or crocodilians)-are the world's largest living reptiles. The largest of them, probably the estuarine or saltwater crocodile, Crocodylus porosus, can grow to almost twenty feet and weigh more than two thousand pounds. Crocodylians are creatures of great contrast. They can remain patiently still for ages, yet can also move like lightning to snap up a meal. They are formidably strong, active predators, with jaws that can tear apart large prey items, yet a mother or a father can gently assist hatchlings out of the eggs, and carry them to the water between their teeth. Because large crocodylians can (and do) eat people, they invite fear and loathing, but they also inspire curiosity and admiration. Biology and Evolution of Crocdylians is a comprehensive review of current knowledge about the world's largest and most famous living reptiles. Gordon Grigg's authoritative and accessible text and David Kirshner's stunning artwork and color photographs combine expertly in this contemporary celebration of crocodiles, alligators, caimans, and gharials. This book showcases the skills and capabilities that allow crocodylians to live how and where they do. It covers the biology and ecology of the extant species, conservation issues, crocodilian-human interaction, and the evolutionary history of the group. Richly illustrated with more than five hundred color photographs and black-and-white illustrations, this book will be a benchmark reference work for crocodylian biologists, herpetologists, and vertebrate biologists for years to come.
Passar bra ihop
+
Fler böcker av författarna
Recensioner i media
"The author, Gordon Grigg, and illustrator, David Kirshner, have written a wonderful, beautifully illustrated, all-inclusive treatise on the Crocodylia that has already become (and will remain for the foreseeable future) the most important compilation of information and references yet attempted. It will be invaluable to both current researchers and future generations of crocodylian biologists.... [D]espite working in the area of crocodylian evolutionary biology for over 35 years, I learned more about these animals than I ever imagined by reading this volume.... Overall, this is a most remarkable publication, one that surely will stand the test of time and be remembered as one of the most important contributions ever in the history of crocodylian research." -- Llewellyn D. Densmore * The Quarterly Review of Biology * "Biology and Evolution of Crocodyliansis an expensive book, but it is one that will serve any paleontologist seeking a detailed review of all aspects of modern crocodylian biology. The photographs and illustrations also make it a very attractive book for any natural history enthusiast." -- Adam Pritchard * Palaeontologica Electronica *
Bloggat om Biology and Evolution of Crocodylians
Övrig information
Gordon Grigg is Emeritus Professor of Biological Sciences at the University of Queensland. David Kirshner has illustrated several books on wildlife. Rick Shine AM FAA is a Laureate Fellow of the Australian Research Council and Professor of Biological Sciences at the University of Sydney.
Innehållsförteckning
Foreword Preface Acknowledgements1. INTRODUCTION Introducing crocodylians The living species of crocodylians The growth of scientific knowledge about crocodylians Body size and age2. THE CROCODYLIAN FAMILY TREE The modern crocodylians and their relationships Extinct Crocodylia and other crocodile-like reptiles; crocs in 'deep time' Summary3. CROCODYLIANS CLOSER UP The external features of crocodylians Skull and musculoskeletal system4. LOCOMOTION, BUOYANCY, AND TRAVEL Crocodylians on land Crocodylians in the water Buoyancy Stomach stones (gastroliths) Capacity for long distance travel5. SENSORY SKILLS AND BRAIN Vision Hearing, movement and balance Brain and cranial nerves Olfaction and gustation (chemosensation) Sense organs of the skin Cognitive capacities and learning6. FEEDING, DIGESTION, AND NUTRITION What do crocodylians eat? Prey capture and handling Digestion Nutrition7. ENERGY SUPPLY AND DELIVERY The metabolic engines: crocodylian biochemistry and metabolism Whole body metabolism (anaerobic and aerobic) The respiratory system The circulatory system8. THE WORLD'S MOST EXTRAORDINARY HEART A tour of the crocodylian heart Non-shunting and shunting patterns of blood flow What is the significance of pulmonary by-pass shunting in crocodylians?9. DIVING AND SUBMERGENCE BEHAVIOUR AND PHYSIOLOGY When? Why? How deep? How, and how for so long? Diving behaviour of crocodylians in the wild Physiological support for crocodylian diving What are the longest submergences by crocodylians that can be supported aerobically?10. THERMAL RELATIONS Introduction: crocodylians are not like other reptiles Daily and seasonal patterns of body temperature Behaviours that modify body temperature Physiological mechanisms of thermoregulation Thermal acclimatization Crocodylians may have endothermic ancestry Could even the basal archosaurs have been endothermic?11. SALT AND WATER BALANCE Salt and water balance in Crocodylus porosus: an introduction to crocodylian osmoregulation Salt and water balance in other crocodylians Living out of water, 'aestivation' Salt glands and implications for crocodylian evolutionary history12. REPRODUCTION Introduction: they're more like birds Oviducts, ovulation, fertilisation and the gravid stage13. POPULATIONS AND POPULATION ECOLOGY Populations (and species) Population dynamics: changes through time Case Histories14. CONSERVATION, COMMERCIALISATION, AND CONFLICT Introduction Historical perspective The future for crocodylians?INDEX