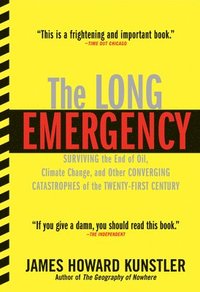 Format

Häftad (Paperback / softback)

Språk

Engelska

Antal sidor

324

Utgivningsdatum

2006-03-01

Förlag

Medarbetare

Kunstler, James Howard (afterword)

Dimensioner

230 x 150 x 20 mm

Vikt

420 g

Antal komponenter

1

ISBN

9780802142498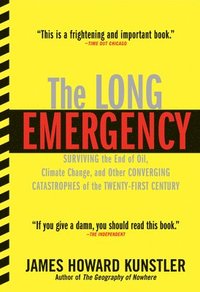 The Long Emergency
Surviving the End of Oil, Climate Change, and Other Converging Catastrophes of the Twenty-First Cent
Skickas inom 3-6 vardagar.
Fri frakt inom Sverige för privatpersoner.
A controversial hit that sparked debate among businessmen, environmentalists, and bloggers, The Long Emergency by James Howard Kunstler is an eye-opening look at the unprecedented challenges we face in the years ahead, as oil runs out and the global systems built on it are forced to change radically.
Passar bra ihop
+
Recensioner i media
"It used to be that only environmentalists and paranoids warned about the world running out of oil and the future it could bring: crashing economies, resource wars, social breakdown, agony at the pump. Not anymore. . . . America's dependence on oil is too pervasive to undo quickly, [Kunstler] warns. . . . In the meantime, we'll have our hands full dealing with . . . the soaring temperatures, rising sea levels and mega-droughts brought by global climate change. Not long ago, a Jeremiah like Kunstler would have been dismissed as a kook. . . . As brilliant as it is baleful . . . and we disregard it at our peril." --The Washington Post "This is a frightening and important book." --Time Out Chicago "If you give a damn, you should read this book." --Colin Tudge, The Independent "What sets The Long Emergency apart...is its comprehensive sweep--its powerful integration of science, technology, economics, finance, international politics and social change, along with a fascinating attempt to peer into a chaotic future. Kunstler is such a compelling and sometimes eloquent writer that the book is hard to put down." -American Scientist "[A] popular blueprint for surviving the end of oil." --Paul Greenberg, The New York Times Book Review "Funny, irreverent, and blunt." -The Globe and Mail "An especial strength of this book is its break with some of the more pernicious strands in the contemporary left, specifically the left's kneejerk rejection of America acting militarily in its national interest. . . . There are hints of Malthus here, and of Oswald Spangler's Decline of the West as well. Mr. Kunstler's book is a jeremiad, driven by authorial presence. Pithy, entertaining descriptions of historical phenomena like the Soviet Union . . . enliven the text, allowing the veteran commentator to expound on themes that might read leaden by a less facile wordsmith. . . . The book succeeds as an accessible primer to a looming crisis that could end the American way of life." --A.G. Gancarski, Washington Times "Kunstler is an amusing and engaging observer and polemicist, and the terrain he surveys is unforgiving and perilous." --Robert Birnbaum, The Morning News "Novelist and journalist James Howard Kunstler is the leading popular voice of peak oil, the theory that says we have gone through more than half the world's supply of this much-needed resource. Kunstler's regular Monday morning posts foretell a world beset by oil shortages, which he believes will lead to everything from financial shenanigans (sound familiar?) to food riots, not to mention attacks on the wealthy, abandoned suburban housing developments and a forced return to small-town living." --Helaine Olen, Portfolio "Kunstler displays a kind of macabre wit about the unpleasantness and strife that await us all. . . . His assertions have a neat way of doubling back to anticipate your critiques. If you express doubt about his views, then you may well be among the deluded masses too addicted to your McSUV and McSuburb to accept the reality that lies ahead." --Katharine Mieszkowski, salon.com "Kunstler is America's version of an Old Testament prophet, a stinging social critic who warns of dark days ahead if we do not change the way we live." --Brian Kaller, Pulse "Kunstler's book was shockingly readable and engaging....He covers a vast array of topics...I felt like I'd taken a crash course on Big Oil, Global Warming, and Geopolitics just to name a few."--Romi Lassally, Huffington Post "James Howard Kunstler's The Long Emergency may be destined to become the Dante's Inferno of the twenty-first century. It graphically depicts the horrific punishments that lie ahead for Americans for more than a century of sinful consumption and sprawling communities, fueled by the profligate use of cheap oil and gas. Its central message--that the country will pay dearly
Bloggat om The Long Emergency