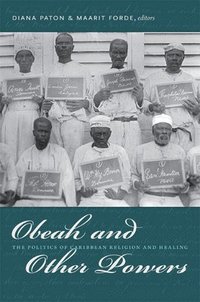 Format

Häftad (Paperback / softback)

Språk

Engelska

Antal sidor

376

Utgivningsdatum

2012-04-13

Förlag

Illustrationer

9 illustrations

Dimensioner

234 x 152 x 25 mm

Vikt

521 g

Antal komponenter

1

ISBN

9780822351337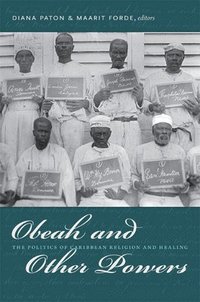 Obeah and Other Powers
The Politics of Caribbean Religion and Healing
Skickas inom 7-10 vardagar.
Fri frakt inom Sverige för privatpersoner.
In Obeah and Other Powers, historians and anthropologists consider how marginalized spiritual traditions-such as obeah, Vodou, and Santeria-have been understood and represented across the Caribbean since the seventeenth century. In essays focused on Cuba, Haiti, Jamaica, Martinique, Puerto Rico, Trinidad and Tobago, and the wider Anglophone Caribbean, the contributors explore the fields of power within which Caribbean religions have been produced, modified, appropriated, and policed. The "other powers" of the book's title have helped to shape, or attempted to curtail, Caribbean religions and healing practices. These powers include those of capital and colonialism; of states that criminalize some practices and legitimize others; of occupying armies that rewrite constitutions and reorient economies; of writers, filmmakers, and scholars who represent Caribbean practices both to those with little knowledge of the region and to those who live there; and, not least, of the millions of people in the Caribbean whose relationships with one another, as well as with capital and the state, have long been mediated and experienced through religious formations and discourses. Contributors. Kenneth Bilby, Erna Brodber, Alejandra Bronfman, Elizabeth Cooper, Maarit Forde, Stephan Palmie, Diana Paton, Alasdair Pettinger, Lara Putnam, Karen Richman, Raquel Romberg, John Savage, Katherine Smith
Passar bra ihop
+
Recensioner i media
"Obeah and Other Powers... is likely to stimulate much interest and debate as scholars continue the difficult task of sifting through hostile representations of Caribbean religious beliefs and practices to better understand those beliefs and practices on their own terms." -- Randy M. Browne * History: Reviews of New Books * "In bringing together such a strong group of scholars to consider the production and reproduction of Caribbean ritual, spiritual practices, Paton and Forde have made a significant contribution to advancing scholarly understanding of this important subject and indeed to Caribbean history and studies more generally." -- Juanita De Barros * Journal of Colonialism and Colonial History * "A clear introduction and the well-developed, carefully composed chapters redeem the book.... [T]he book offers a great deal. Smith's chapter would be a welcome addition to a gender and women's studies classroom. Likewise, Savage's contribution would work well in a history of medicine course. Putnam's essay is required reading for students interested in Atlantic history. Finally, Richman's chapter would fit well in a religious studies course." -- Karol K. Weaver * Bulletin of the History of Medicine * "Each and every chapter of Obeah and Other Powers is a gem in its own right, and yet this splendid collection is also much more than simply the sum of its parts. Indeed, the volume achieves an impressive level of sophistication in Caribbeanist historical anthropology and Black Atlantic religious studies, and its release - along with the publication of Jerome Handler and Kenneth Bilby's Enacting Power - makes 2012 something of a watershed moment in the study of the dynamic and rather unruly set of spiritual beliefs and ritual practices so often glossed as obeah in Afro- Atlantic studies." -- Keith E. McNeal * Hispanic American Historical Review * "The contributors to this outstanding collection share the refreshing ambition to historicize local knowledge and to embrace the opacity and persisting mystique of Caribbean spiritual realities-from the colonial occult to enchanted modernities."-Richard Price, author of Travels with Tooy and Rainforest Warriors "Obeah and Other Powers is an excellent and welcome contribution to scholarship on Caribbean religions. Too few works explicitly address the three themes taken up in this collection, the significance of state power in shaping the environment in which Caribbean religions were practiced, the role of practitioners in shaping their religious traditions, and the role of mobility and the permeability of borders in shaping the definition and interpretation of obeah, Vodou, Santeria, and Candomble. This last premise enables the contributors to analyze these religions in conjunction with one another and as overlapping, rather than separate, phenomena."-Aisha Khan, author of Callaloo Nation: Metaphors of Race and Religious Identity among South Asians in Trinidad
Bloggat om Obeah and Other Powers
Övrig information
Diana Paton is a Reader in Caribbean history at Newcastle University. She is the author of No Bond but the Law: Punishment, Race, and Gender in Jamaican State Formation, 1780-1870 and editor of A Narrative of Events, since the First of August, 1834, by James Williams, an Apprenticed Labourer in Jamaica and, with Pamela Scully, Gender and Slave Emancipation in the Atlantic World, all also published by Duke University Press. Maarit Forde is a Lecturer in the Department of Liberal Arts at the University of the West Indies, St. Augustine.
Innehållsförteckning
Foreword / Erna Brodber ix Acknowledgments xiii Introduction / Maarit Forde and Diana Paton 1 Part I. Powers of Representation 1. An (Un)natural Mystic in the Air: Images of Obeah in Caribbean Song / Kenneth Bilby 45 2. "Eh! eh! Bomba, hen! hen!": Making Sense of a Vodou Chant / Alasdair Pettinger 80 3. On Swelling: Slavery, Social Science, and Medicine in the Nineteenth Century / Alejandra Bronfman 103 4. Atis Rezistans: Gede and the Art of Vagabondaj / Katherine Smith 121 Part II. Modernity and Tradition in the Making 5. Slave Poison / Slave Medicine: The Persistence of Obeah in Early Nineteenth-Century Martinique / John Savage 149 6. The Trials of Inspector Thomas: Policing and Ethnography in Jamaica / Diana Paton 172 7. The Moral Economy of Spiritual Work: Money and Rituals in Trinidad and Tobago / Maarit Forde 198 8. The Open Secrets of Solares / Elizabeth Cooper 220 Part III. Powers on the Move 9. Rites of Power and Rumors of Race: The Circulation of Supernatural Knowledge in the Greater Caribbean, 1890-1940 / Lara Putnam 243 10. The Vodou State and the Protestant Nation: Haiti in the Long Twentieth Century / Karen Richman 268 11. The Moral Economy of Brujeria under the Modern Colony: A Pirated Modernity? / Raquel Romberg 288 Afterword. Other Powers: Tylor's Principle, Father Williams's Temptations, and the Power of Banality / Stephan Palmie 316 Contributors 341 Index 345