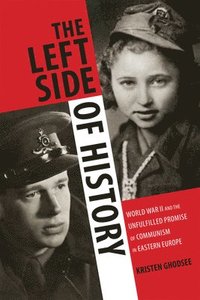 Fler böcker inom
Format

Inbunden (Hardback)

Språk

Engelska

Antal sidor

256

Utgivningsdatum

2015-02-20

Förlag

Illustrationer

57 illustrations

Dimensioner

228 x 158 x 19 mm

Vikt

498 g

Antal komponenter

1

ISBN

9780822358237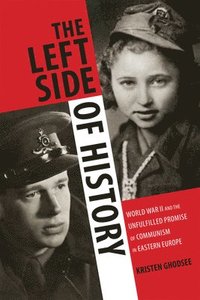 The Left Side of History
World War II and the Unfulfilled Promise of Communism in Eastern Europe
Skickas inom 5-8 vardagar.
Fri frakt inom Sverige för privatpersoner.
In The Left Side of History Kristen Ghodsee tells the stories of partisans fighting behind the lines in Nazi-allied Bulgaria during World War II: British officer Frank Thompson, brother of the great historian E.P. Thompson, and fourteen-year-old Elena Lagadinova, the youngest female member of the armed anti-fascist resistance. But these people were not merely anti-fascist; they were pro-communist, idealists moved by their socialist principles to fight and sometimes die for a cause they believed to be right. Victory brought forty years of communist dictatorship followed by unbridled capitalism after the fall of the Berlin Wall in 1989. Today in democratic Eastern Europe there is ever-increasing despair, disenchantment with the post-communist present, and growing nostalgia for the communist past. These phenomena are difficult to understand in the West, where "communism" is a dirty word that is quickly equated with Stalin and Soviet labor camps. By starting with the stories of people like Thompson and Lagadinova, Ghodsee provides a more nuanced understanding of how communist ideals could inspire ordinary people to make extraordinary sacrifices.
Passar bra ihop
+
Recensioner i media
"This book benefits from Ghodsee's creativity and raconteurism. It reads less like a traditional history book and more like a captivating piece of fiction. Ghodsee's seamless and engaging writing allows the reader to become so invested in each of the people she writes about to the extent that one is moved when any one of them experience misfortune or success. Moreover, this book is a credit to Ghodsee's career as a social and gender historian as it sheds an important light on the role of women in the communist Eastern Bloc." -- Matthew Martin * Slovo * "The Left Side of History is ... not a typical academic book in so far as it is highly readable, and at times hard to put down." -- Rachel Applebaum * Social History * "[A] beautifully written and passionately argued narrative.... The book does not romanticize the Communist regime. Instead, it presents us with biographies of extraordinary individuals who sacrificed a great deal, including their own lives, for ideas that were transformed into policy and practice sometimes at odds with those ideas. It is a call to reengage with the memory and legacies of the Communist regime through a more nuanced framework that allows for both a critical and an appreciative analysis of its accomplishments." -- Maria Bucur * Nationalities Papers * "Kristen Ghodsee tells a tragic and beautiful story. She leaves aside broader political and diplomatic history and concentrates on personal stories. In this way she makes interesting contributions to the existing academic studies regarding the resistance movement in Bulgaria and the period of communist rule." -- Vasil Paraskevov * History * "[Ghodsee's] skills as a seasoned ethnographer and "part-time" Bulgarian resident shine in her astute analysis of the cultural and social circumstances that account for what has become the convoluted and highly controversial history of communism. ... The Left Side of History is a remarkable account of Bulgaria's current history of triumph and despairs, wrapped in the aspirations, hopes, and tragic failures of humans. It is told with astute historical accuracy and striking intimacy concerning the personal stories of Bulgarian communist activists, as well as ordinary people whose lives were indelibly marked by the rise and demise of communism." -- Elza Ibroscheva * H-SAE, H-Net Reviews * "The Left Side of History is a stimulating study and a delightful read. It should provoke other fearless ones to collaborate in solving the major mysteries of our time: what was communism really like, and why did it end in an array of countries, but not everywhere?" -- Joan Roelofs * Counterpunch * "History meets ethnography, all delivered in an absorbing, novelistic style." -- Donny Gluckstein * Socialist Review * "Wonderful.... History looks very different if you fought for national liberation and human progress under the banner of Communism.... To understand ... modern Bulgarians ..., you must enter their world of human self-sacrifice." -- Freeman Dyson * New York Times Book Review * "Ghodsee turns Thompson's life and the equally heroic story of three Bulgarian brothers and their 14-year-old sister, who were also part of the resistance, into a gentle, reflective exploration of the idealism that drove them, despite the barbarity that many communists had already glimpsed in Stalin's Soviet Union." -- Robert Legvold * Foreign Affairs *
Bloggat om The Left Side of History
Övrig information
Kristen Ghodsee is Professor of Gender and Women's Studies at Bowdoin College and a former Guggenheim Fellow. She is the author of Lost in Transition: Ethnographies of Everyday Life after Communism, also published by Duke University Press.
Innehållsförteckning
List of Maps and Illustrations ix Prologue. Communism 2.0? xi A Note on Transliteration xxi Part I. The Way We Remember the Past Determines Our Dreams for the Future 1. The Mysterious Major Frank Thompson 3 2. A Communist by Any Other Name . . . 11 3. "I Simply Want to Fight" 21 4. The Brothers Lagadinov 34 5. A Failed Petition 41 6. Lawrence of Bulgaria? 49 7. Ambushed in Batuliya 57 8. Guerillas in the Mist 63 9. Everyday Life as a Partisan 69 10. Blood of a Poet 84 11. The Head Hunted 90 12. Words of One Brother on the Death of Another 97 Part II. The Remains of the Regime 13. The Retired Partisan 101 14. A Woman's Work Is Never Done 113 15. History Is Written by the Victors 126 16. On Censorship and the Secret Police 134 17. The Politics of Truth 144 18. Cassandra's Curse 151 19. The Red Samaritan 155 20. The Past Is a Foreign Country 165 21. A Moment of Redemption 176 Conclusion. On the Outskirts of Litakovo 187 Acknowledgments 201 Notes 205 Selected Bibliography 219 Index 225