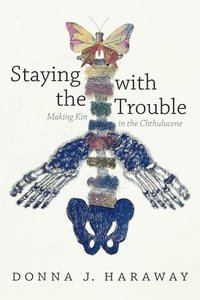 Fler böcker inom
Format

Häftad (Paperback / softback)

Språk

Engelska

Antal sidor

312

Utgivningsdatum

2016-09-19

Förlag

Illustratör/Fotograf

Illustrationer

31 illustrations, incl. 2 in color

Dimensioner

222 x 152 x 19 mm

Vikt

500 g

Antal komponenter

1

Komponenter

,

ISBN

9780822362241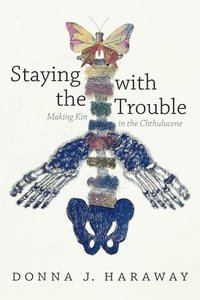 Staying with the Trouble
Making Kin in the Chthulucene
Skickas inom 2-5 vardagar.
Fri frakt inom Sverige för privatpersoner.
In the midst of spiraling ecological devastation, multispecies feminist theorist Donna J. Haraway offers provocative new ways to reconfigure our relations to the earth and all its inhabitants. She eschews referring to our current epoch as the Anthropocene, preferring to conceptualize it as what she calls the Chthulucene, as it more aptly and fully describes our epoch as one in which the human and nonhuman are inextricably linked in tentacular practices. The Chthulucene, Haraway explains, requires sym-poiesis, or making-with, rather than auto-poiesis, or self-making. Learning to stay with the trouble of living and dying together on a damaged earth will prove more conducive to the kind of thinking that would provide the means to building more livable futures. Theoretically and methodologically driven by the signifier SF-string figures, science fact, science fiction, speculative feminism, speculative fabulation, so far-Staying with the Trouble further cements Haraway's reputation as one of the most daring and original thinkers of our time.
Passar bra ihop
+
Recensioner i media
"As always [Haraway's] work is capacious, sharp, inventive, and informed." -- Kyla Tompkins * American Quarterly * "Haraway's kinships offer a brave opening in feminist theory.... Haraway has a long history of making brave moves-and winning feminism over." -- Paulla Ebron and Anna Tsing * Feminist Studies * "For anthropologists Haraway's book will read as an invitation to think and write in terms that allow for symbiosis throughout.... Readers may not find clear road maps that guide them to struggle for more just flourishings or to understand the powerful and violent articulations of economies and ecologies in the Capitalocene. But they will perhaps rethink and expand the diverse relationalities that constitute the very preconditions of collective action. This is an invitation both to theorize and to make unexpected collaborations." -- Caterina Scaramelli * American Ethnologist * "In advancing an approach that is at once hopeful but grounded, attuned to the realities of history but open to the possibility of alternative futures-in other words, in adamantly insisting on 'staying with the trouble' of the present-Haraway provides a ray of light in an otherwise- gloomy world of Anthropocene scholarship." -- Leah Aronowsky * Endeavor * "Staying with the Trouble is a kind of Whole Earth Catalogue of thought devices for attuning our senses to the damaged ecosystem of the still-blue planet. It makes It makes inspiring and imaginative use of science fiction, art projects, geology, evolutionary theory, developmental biology, science and technology studies, anthropology, environmental activism, philosophy, feminism, horticulture, linguistics, pigeon fancying, and many other ways of thinking and knowing about ourselves, our worlds, and the many imbricate relations through which life on earth comes into being and dies." -- Sarah Franklin * American Anthropologist * "Haraway is probably as aware as a writer can be that what she has to offer at the moment is nowhere near enough to engage with all the `trouble' that needs to be engaged with. All she can do, she seems to be saying, is to stay with it a while, worrying at the very edges of her capacity, and then pass it on. `We need each other's risk-taking support, in conflict and collaboration, big time,' is how she ends that infamous two-page endnote. `The answer to the trust of the held-out hand', as she also puts it. `Think we must.'" -- Jenny Turner * London Review of Books * "The book enacts different forms of analysis and activism. It is not only that the book transcends disciplinary boundaries of biology, sciences studies, art history, philosophy and dense descriptions of political activism most often found in social sciences. These approaches are interwoven in a very rich and exquisite manner for which the author is well known." -- Waltraud Ernst * Angelaki * "Haraway models like few others deep intellectual generosity and curiosity. Staying with the Trouble cites students, thinks with community activists and artists, and writes alongside scientists and fiction writers. Haraway does not want you to read her; she wants you to read with her. She also insists on conversations with all kinds of storytellers: academics or not, humans or not, environmental humanities scholars or not." -- Astrida Neimanis * Australian Feminist Studies * "[W]e should take seriously the implications of kin versus family, of kin as encompassing all non-human relations. There is an ethics here, on a micro and macro level. Haraway is no moralist, but replacing 'human relations' with 'kin' arguably brings about a transformation in our hierarchies and priorities - why not care as much about a wildflower as you do about your niece? If it is not a zero-sum game, and let us hope it is not, we can make room for all kinds of lives, and all kinds of ways of living. Staying with the trouble is also a matter of sticking with all the things
Bloggat om Staying with the Trouble
Övrig information
Donna J. Haraway is Distinguished Professor Emerita in the History of Consciousness Department at the University of California, Santa Cruz, and the author of several books, most recently, Manifestly Haraway.
Innehållsförteckning
List of Illustrations ix Acknowledgments xi Introduction 1 1. Playing String Figures with Companion Species 9 2. Tentacular Thinking: Anthropocene, Capitalocene, Chthulucene 30 3. Sympoiesis: Symbiogenesis and the Lively Arts of Staying with the Trouble 58 4. Making Kin: Anthropocene, Capitalocene, Plantationocene, Chthulucene 99 5. Awash in Urine: DES and Premarin in Multispecies Response-ability 104 6. Sowing Worlds: A Seed Bag for Terraforming with Earth Others 117 7. A Curious Practice 126 8. The Camille Stories: Children of Compost 134 Notes 169 Bibliography 229 Index 265