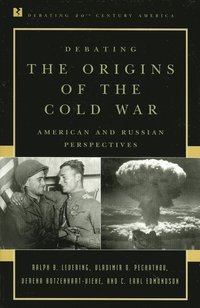 Format

Häftad (Paperback / softback)

Språk

Engelska

Antal sidor

208

Utgivningsdatum

2002-03-01

Upplaga

208

Förlag

Medarbetare

etc.

Illustrationer

bibliography, index

Dimensioner

222 x 146 x 12 mm

Vikt

294 g

Antal komponenter

1

Komponenter

vi, 200 p., 8 p. of plates :

ISBN

9780847694082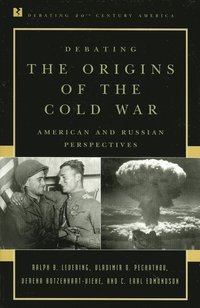 Debating the Origins of the Cold War
American and Russian Perspectives
Skickas inom 5-8 vardagar.
Fri frakt inom Sverige för privatpersoner.
Debating the Origins of the Cold War examines the coming of the Cold War through Americans' and Russians' contrasting perspectives and actions. In two engaging essays, the authors demonstrate that a huge gap existed between the democratic, capitalist, and global vision of the post-World War II peace that most Americans believed in and the dictatorial, xenophobic, and regional approach that characterized Soviet policies. The authors argue that repeated failures to find mutually acceptable solutions to concrete problems led to the rapid development of the Cold War, and they conclude that, given the respective concerns and perspectives of the time, both superpowers were largely justified in their courses of action. Supplemented by primary sources, including documents detailing Soviet espionage in the United States during the 1930s and 1940s and correspondence between Premier Josef Stalin and Foreign Minister V. M. Molotov during postwar meetings, this is the first book to give equal attention to the U.S. and Soviet policies and perspectives.
Passar bra ihop
+
Recensioner i media
The interpretative essays are thoughtful. They are judicious. They possess analytical elegance. The selection of Soviet and U.S. documents is exactly right, giving both a flavor of the times and a revealing glimpse into the quality of thought in Moscow and Washington. This first-rate book will appeal to university students and to specialists in Cold War history. -- David Mayers, Boston University Brings fresh perspectives to an important question. It is genuinely and uniquely bi-national in its approach. The co-authored essays provide insight into the complex issues in Soviet-American relations, and the documents are well-chosen. Especially valuable are those documents from the Soviet side, which help immensely in understanding Moscow's strategic concerns and objectives. -- Gary R. Hess, Bowling Green State University Based on recently released Soviet as well as American documentation, Debating the Origins of the Cold War is an excellent introduction to a contentious subject, filled with fresh insights and sure to be of interest both to first-time students and to experienced historians. -- John Lewis Gaddis, Yale University A very useful book. * Political Studies Review * Combining American and Russian scholarship in each essay, this unique approach provides an insightful and intriguing look at American and Soviet perceptions by using a framework of combinations. Through both perspectives, the authors create a balanced, thorough, and thoughtful synthesis that offers students a clear and concise picture of the various factors that contributed to the beginning of this long, odd, and potentially catastrophic conflict. * History Teacher * Debating the Origins of the Cold War is a highly original synthesis of recent discoveries and scholarship. The book casts new light on Stalin's motivations and strategies, and examines the early Cold War through the eyes of both Western and Soviet leaders. Debating the Origins of the Cold War will be useful to instructors teaching this controversial and important subject. -- Robert E. Herzstein, University of South Carolina, author of <I>Henry R. Luce: A Political Portrait<I> An intelligent, judicious, and cautious narrative. It focuses as much on the quality of American leadership and the relevant aspects of American society and culture as on the international situation. -- Abbott Gleason, Brown University
Bloggat om Debating the Origins of the Cold War
Övrig information
Ralph B. Levering teaches U.S. diplomatic history at Davidson College in North Carolina. Vladimir O. Pechatnov is chair of the Department of European and American Studies at Moscow State Institute of International Relations. Verena Botzenhart-Viehe teaches at the Hotchkiss school. C. Earl Edmondson is chair of the Department of History at Davidson College in North Carolina.
Innehållsförteckning
Part 1 Part I: The American Perspective Chapter 2 The Atlantic Charter, August 14, 1941 Chapter 3 Comment on the Results of the Decisions Made at the Yalta Conference Chapter 4 Secretary of State James Byrne's Speech in Stuttgart on Germany's Future, September 6, 1946 Chapter 5 Speech by J. Edgar Hoover, Director, Federal Bureau of Investigations, at the Annual Convention of the American Legion in San Francisco, September 30, 1946 Chapter 6 George K. Kennan's Long Telegram, February 1946 Chapter 7 Henry A. Wallace's Speech in New York City, September 12, 1946 Part 8 Part II: The Russian Perspective Chapter 9 Stalin to Politburo Four (Vyacheslav Molotov, Lavrenti Beria, Mikoyan, and Malenkov), Ciphered Telegram, December 9, 1945 Chapter 10 A Compilation of [Written] Comments on Draft Treaties Regarding Demilitarization and Disarmament of Germany and Japan Proposed by [U.S. Secretary of State James] Byrnes Chapter 11 The Minister of State Security Appeals for Measures to Close Down British Propaganda in the U.S.S.R. Chapter 12 President Harry S. Truman's Speech to Congress, March 12, 1947 Chapter 13 Instructions for the Soviet Delegation to the Meeting of Foreign Ministers in Paris, June 25, 1947 Chapter 14 Record of J[osef]. V[issarionivich]. Stalin's Conversation with the Czechoslovak Government Delegation on the Issue of Their Position Regarding the Marshall Plan and the Prospects for Economic Cooperation with the U.S.S.R. Chapter 15 Record of the Meeting of Comrade J[osef]. V[issarionivich]. Stalin with the Secretary of the Central Committee of the French Communist Party [Maurice] Thorez Chapter 16 Report by L. P. Beria and I. V. Kurchatov to J. V. Stalin on Preliminary Data Received during the Atomic Bomb Test Chapter 17 The [Nikolai] Novikov Report [Telegram]