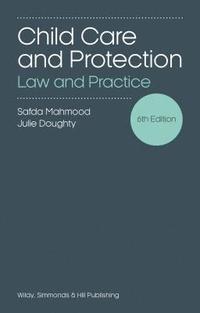 Fler böcker inom
Format

Häftad (Paperback / softback)

Språk

Engelska

Antal sidor

302

Utgivningsdatum

2019-08-16

Upplaga

6 Revised edition

Förlag

ISBN

9780854902682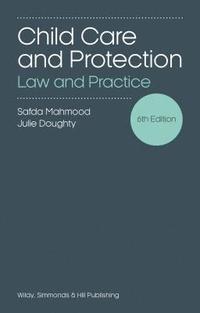 Child Care and Protection: Law and Practice
Skickas inom 2-5 vardagar.
Fri frakt inom Sverige för privatpersoner.
Child Care and Protection: Law and Practice provides a practical and concise guide to the areas surrounding the Children Act 1989 and subsequent child protection legislation, guidance and case law. In addition to explaining the general principles of the law relating to child care and protection, the authors provide valuable insights into assessments, care planning, expert evidence, taking instructions, case preparation and courtroom skills. Extensively updated, the sixth edition looks at all significant developments since the introduction of the Single Family Court in 2014, including the new procedures on control of expert evidence, duration of care proceedings, changes to children's care plans, as well as the introduction of the Revised Practice Direction 12A (Care and Supervision Proceedings and other Part 4 Proceedings: Guide to Case Management), introduction of `child arrangements orders', the Child Arrangements Programme (PD 12(B), with accompanying new forms and documents, and the Revised PD12J - Domestic Abuse and Child Arrangements.
Passar bra ihop
+
Fler böcker av författarna

Bloggat om Child Care and Protection: Law and Practice
Övrig information
Safda Mahmood has extensive experience in family law private practice and local government and currently practises as a solicitor, manager, and team leader in advocacy with Coventry City Council, Legal Services Department. He also runs training courses including Professional Development training for, amongst others, members of the Law Society Children Law Accredited Scheme, as well as various professional course providers. Julie Doughty has practice experience as a former solicitor and guardian ad litem panel manager, and currently she is a lecturer in law at Cardiff University. Julie writes widely in journals on child law topics and is a trustee of The Transparency Project and Family Mediation Cymru.
Innehållsförteckning
Preface Acknowledgements List of Abbreviations List of Figures and Tables 1 GLOSSARY AND LEGISLATIVE FRAMEWORK 1.1 Glossary of basic definitions 1.2 Orders available under the Children Act 1989 1.3 Introduction to the Children Act 1989 1.4 Changes to the Children Act 1989 introduced with the new Family Court 2 PRINCIPLES UNDERLYING THE CHILDREN ACT 1989 2.1 Paramountcy of the welfare of the child 2.2 Delay is deemed prejudicial to child's interests (the impact of the Public Law Outline) 2.3 No order unless necessary in the interests of the child 3 PARENTAL RESPONSIBILITY 3.1 Definition, powers and duties of parental responsibility 3.2 Legal position of child's birth mother 3.3 Legal position of child's father 3.4 Acquisition and loss of parental responsibility by child's birth father 3.5 Acquisition of parental responsibility by others 4 EVERY CHILD MATTERS: CHILD PROTECTION PROCEDURES IN HEALTH AND SOCIAL WORK 4.1 Safeguarding Partners, Child Safeguarding Practice Review and Child Death Review Partners 4.2 Hierarchy within social services departments 4.3 Referral procedures and preliminary investigations 4.4 Child protection conferences 4.5 Assessment of risk 4.6 Child protection plan 4.7 Child and Family Court Advisory Support Service 4.8 Local authority duty to promote welfare of children in its area 5 EMERGENCY PROTECTION ORDERS 5.1 Effects of order 5.2 Duration 5.3 Grounds for application 5.4 Practice and procedure 5.5 Contact, accommodation and the rights of the child 5.6 Variation and discharge 5.7 Exclusion requirement under emergency protection order 5.8 How do `without notice' orders and Article 6 of the ECHR fit together? 5.9 Emergency applications and new born children 6 CHILD ASSESSMENT ORDERS 6.1 Effects of order 6.2 Grounds for application 6.3 Practice and procedure 6.4 Contact, accommodation and the rights of the child 6.5 Appeals, variation and discharge 7 CARE AND SUPERVISION PROCEEDINGS 7.1 Care order - definitions 7.2 Grounds for application for a care or supervision order 7.3 Significant harm 7.4 Practice and procedure 7.5 Interim orders 7.6 Effects of care order 7.7 Public Law Outline - principles, `split hearings', issues resolution, interim and final hearings 7.8 Assessments and care planning 7.9 Effects of supervision order 7.10 Removal of child from care 7.11 Variation, discharge and appeals 7.12 Effects of the Human Rights Act 1998 on care and supervision proceedings 8 SECURE ACCOMMODATION 8.1 Restricting liberty with a secure accommodation order 8.2 How long can a child be kept in secure accommodation? 8.3 Grounds for application 8.4 Practice and procedure 8.5 Role of the children's guardian 8.6 Contact 8.7 Rights of the child 8.8 Appeals and the Human Rights Act 1998 9 EDUCATION SUPERVISION ORDERS 9.1 Effects of an education supervision order 9.2 Duration 9.3 Grounds for application 9.4 Practice and procedure 9.5 Rights of the child 9.6 Variation, discharge and appeals 10 POLICE POWERS UNDER THE CHILDREN ACT 1989 10.1 Police powers and responsibilities 10.2 Contact with child 11 INSTRUCTIONS AND CASE PREPARATION IN FAMILY PROCEEDINGS 11.1 Action plan on receipt of instructions from an adult or local authority 11.2 Interviewing clients 11.3 Preparation of the case 11.4 Burden of proof and standard of proof in child law cases 11.5 Special evidence rules in child law cases 11.6 Court procedure at the hearing 11.7 Courtroom skills 12 CHILDREN'S RIGHTS 12.1 To accept or refuse medical treatment 12.2 To accept or refuse medical or psychiatric assessment 12.3 To make his or her own application to the court 12.4 To request confidentiality and, in the event of disagreement with the children's guardian, to instruct a solicitor separately 12.5 Rights of a child in care 12.6 UN Convention on the Rights of the Child 13 OTHER ORDERS AVAILABLE TO THE COURT IN FAMILY PROCEEDINGS 13.1 Orders in family proceedings 13.2 Section 8 orders 13.3 Contact (spending time with, or otherwise having contact with)