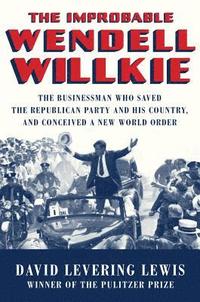 Fler böcker inom
Format

Inbunden (Hardback)

Språk

Engelska

Antal sidor

400

Utgivningsdatum

2018-09-18

Utmärkelser

Long-listed for Plutarch Award 2019

Förlag

Illustrationer

30 illustrations

Dimensioner

241 x 165 x 31 mm

Vikt

743 g

Antal komponenter

1

ISBN

9780871404572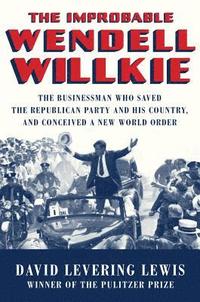 The Improbable Wendell Willkie
The Businessman Who Saved the Republican Party and His Country, and Conceived a New World Order
Skickas inom 7-10 vardagar.
Fri frakt inom Sverige för privatpersoner.
In the wake of one of the most tumultuous Republican conventions ever, the party of Lincoln nominated in 1940 a prominent businessman and former Democrat who could have saved America's sclerotic political system. Although Wendell Lewis Willkie would lose to FDR, acclaimed biographer David Levering Lewis demonstrates that the corporate chairman-turned-presidential candidate must be regarded as one of the most exciting, intellectually able, and authentically transformational figures to stride the twentieth-century American political landscape. Born in Elwood, Indiana, in 1892, Willkie was certainly one of the most unexpected, if not unlikely, candidates for the presidency, only somewhat less unlikely than Barack Hussein Obama. Although previously marginalized by journalists like Theodore H. White and David Halberstam as a political invention of rich newspaper publishers, the Willkie who emerges here is a man governed by principles who seldom allowed rigid categories to stand in his way. Even as a young man, he quickly distinguished himself as a reform-minded lawyer, whose farm-boy haircut, hayseed manners, and sartorial indifference bespoke common-man straightforwardness but concealed an ambition that propelled him at forty to chairman of Commonwealth and Southern, the country's third-largest private utility holding company. It was Willkie's vehement opposition to government regulation of the free-market economy and his success in wrenching a fabulous monetary settlement from the Tennessee Valley Authority that attracted the attention of Republican leaders, who, like Willkie, felt that FDR was turning the office into an imperial presidency. Successful at outwitting the isolationist wing of his own party, Willkie took on Roosevelt during one of the nation's darkest periods, creating an unlikely alliance of supporters, including anti-big-government business leaders and black voters, who rightly felt excluded from New Deal benefits. Despite receiving the largest percentage of Republican votes in a generation, Willkie lost but, in the process, proposed sweeping civil rights reform a full generation before the civil rights era and a progressive "new conception of the world" that remains inspirational at a time when our own national belief system has become alarmingly immoral and rudderless. Rather than continue a political battle that could have weakened the nation during its darkest hour, a defeated Willkie reconciled with the president and embraced the war effort, while writing One World, a visionary credo that hoped to instigate an international movement for the betterment of the world's people. In rejecting America's penchant for exceptionalism, Willkie championed this internationalism more passionately than any American politician before him, creating a sovereign philosophy of liberalism that balanced free enterprise with social responsibility. His untimely death at fifty-two in 1944 left this prophetic vision tragically stillborn.
Passar bra ihop
+
Recensioner i media
"In 1940, Roosevelt was deciding whether to run for a third term, a war in Europe was raging, inflaming debate about whether the U.S. should join, and the Republican Party was looking desperately for a candidate who could take back the presidency. The man they chose was Indiana-born Wendell Willkie (1892-1944), a wealthy businessman with no political experience but considerable charm and who only recently had changed party affiliation. Pulitzer Prize-winning historian Lewis, who was awarded the National Humanities Medal, draws on abundant archival and published material to create a spirited portrait of the charismatic, outspoken Willkie.... Lewis recounts Willkie's prescient views of the postwar world as well as his staunch civil rights advocacy. A thoroughly researched biography of a remarkable figure." -- Kirkus Reviews "Filled with surprising new information and stunning insights, David Levering Lewis has gifted us with the global vision and politics of Wendell Willkie-needed, useful, and heartening during these difficult dangerous times." -- Blanche Wiesen Cook, author of Eleanor Roosevelt, Volumes 1-3 "Two-time Pulitzer Prize-winning biographer Lewis (God's Crucible) breathes new life into the onetime Republican standard bearer.... Those looking for parallels to recent elections featuring moguls-turned-politicians will be disappointed; Willkie took a globalist stance and favored bipartisanship to further his political missions.... [a] swift, thoughtful biography." -- Publishers Weekly "Written passionately with the literary and research skills that only David Levering Lewis commands, here is the definitive biography of Wendell Willkie." -- Irwin F. Gellman, author of The President and the Apprentice "A nuanced, deeply researched account of Willkie, who despite his loss to the Democratic incumbent, Franklin D. Roosevelt, was arguably one of the most consequential public figures of the 20th century.... Much as Willkie was a godsend to the country, so too is David Levering Lewis for offering us this instructive story of courage and bipartisanship at a time when both are in very short supply." -- Richard Moe, American Scholar "Readers will delight in Lewis's sparkling prose and eagerly turn the pages as Willkie is explained in his many dimensions-a man for all seasons and a timely reminder of the ordinary decency and inspired commitments that have occasionally animated American politics and politicians." -- David Mayers, author of America and the Postwar World "This engrossing and enlightening appraisal by a master biographer shows why and how Wendell Willkie mattered. We gain virtuoso access to a thoughtful leader who demonstrated that effective political opposition need not descend into coarse demagoguery or shrill combat." -- Ira Katznelson, author of Redemption "Lewis... provide[s] deeper insights into Willkie's promotion of racial equality.... As Lewis writes, 'Willkie foresaw the postwar promise and peril for the United States as a beacon of democracy in a world of decaying empires, rising expectations, vast oil deposits, and flammable Islam.'" -- Dennis J. McGrath, Minneapolis Star-Tribune "In this gorgeously written biography of Wendell Willkie, David Levering Lewis forces us to reconsider everything we thought we knew about Franklin Roosevelt, the New Deal, and America's rise to global power in the twentieth century." -- David Nasaw, author of Andrew Carnegie and The Patriarch: The Remarkable Life and Turbulent Times of Joseph P. Kennedy "At a time when our political system seems alarmingly immoral and rudderless, David Levering Lewis' The Improbable Wendell Willkie offers a powerful reminder of practical bipartisanship, visionary internationalism, and committed civil liberties and civil rights." -- Katrina vanden Heuvel, Editor & Publisher, The Nation "Meticulously researched and brilliantly written... Lewis
Bloggat om The Improbable Wendell Willkie
Övrig information
David Levering Lewis, the author of God's Crucible, is professor emeritus of history at New York University. A recipient of the National Humanities Medal, Lewis received the Pulitzer Prize for each volume of his W.E.B. Du Bois biography. He lives in New York City.