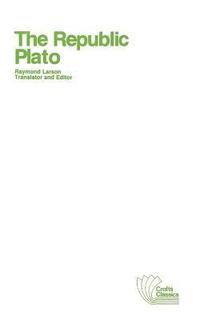 Fler böcker inom
Format

Häftad (Paperback / softback)

Språk

Engelska

Antal sidor

288

Utgivningsdatum

1979-01-01

Upplaga

New ed

Förlag

Översättare

Raymond Larson

Originalspråk

Greek, Modern (1453-)

Medarbetare

Brann, Eva T. H. (introd.)

Illustrationer

black & white illustrations

Dimensioner

196 x 133 x 19 mm

Vikt

317 g

Antal komponenter

1

Komponenter

20:B&W 5 x 8 in or 203 x 127 mm Perfect Bound on White w/Gloss Lam

ISBN

9780882951188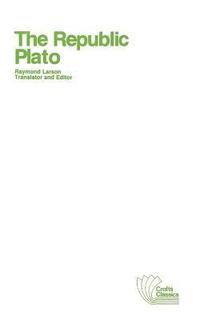 The Republic
Skickas inom 5-8 vardagar.
Fri frakt inom Sverige över 159 kr för privatpersoner.
This highly regarded volume features a modern translation of all ten books of The Republic along with a synoptic table of contents, a prefatory essay, and an appendix on The Spindle of Necessity by the translator and editor, Raymond Larson. Also included are an introduction by Eva T. H. Brann, a list of principal dates in the life of Plato, and a bibliography.
Passar bra ihop
+
Innehållsförteckning
Preface and background to the Republic xiii Introduction xxiii Principal Dates xlvii Current Opinions of Justice Refuted (Book 1) 1 Introductory Dialogue (Socrates and Cephalus, 328c-331d) 2 First Definition (Cephalus, 331a-d) 5 Refutation (332c-335d) 6 Third Definition (Thrasymachus, 338c-343a) 13 Refutation (339b-e) 14 Redefinition of Ruler (340d-341a) 15 Refutation (341c-343a) 16 New Argument (343a-348a) 18 Refutations of (a): i) 345b-348a) 20 Refutation of (b), 352d-354a 28 Conclusion (354a-c) 30 Justice Reexamined, in the State and in the Individual (Books 2-4) 31 Adeimantus (362d-367e) 35 The Problem Examined and Solved (368c-445e) 40 Second State of the State (372d-427c) 44 Elementary Education of the guardians (376c-415d) 48 Gymnastics (physical education), 403c-412b 73 Instilling and testing patriotism and leadership, 412c-415d 81 Living arrangements of guardians and auxiliaries (415d-427c) 85 Conclusion (427c-434d) 94 Wisdom = the knowledge of the guardians (428a-429a) 95 Courage = the auxiliaries opinion of what is and is not to be feared (429a-30c) 96 Temperance = agreement of all three classes about who should rule and be ruled (430d-432b) 97 Justice = each of the three classes tending its own business and not preempting the work of another (432b-434d) 99 Composition of the Soul (434d-441c) 101 Conclusion (441d-444e) 109 Degeneration Regimes and Souls, Interrupted (445b-449a) 113 Digression: The Best Regime and Men (Books 5-7) 114 Organization of the Best Regime (451c-461e) 116 Women and children will not be private possessions but common to all of the men. Marriage arrangements, eugenics (457c-461e) 122 The Superiority and Possibility of Such a City (462a-473e) 126 Excursus: regulations for warfare (466e-471c) 131 Such a city is not impossible (471e-473c) 136 Reminder that the best state is only a model, not completely realizable in practice (472b-473b). It is possible only if philosophers become kings or kings philosophers (473c-3), 138 The Best Men: Philosopher Kings (Guardians), Book 5, 474b-Book 7 139 The Philosophic Nature (485a-503e) 147 Higher Education of the Guardians (504a-535a) 165 The Simple of the Sun (506e-509b) 168 The Simile of the Divided Line (509d-511e) 171 The Simile of the Cave (514a-521b) 174 Curriculum (521c-535a) 181 Plane geometry, 526c-527c 186 Harmonics, 530d-531c 190 Selection of the Guardians (535a-540c) 195 Brief Excursus (540d-541b) 200 Degenerate Regimes and Souls, Resumed From Book 5 (Books 8 and 9) 201 Cause of Change or Decline in a State: Civil War (545c-547c) 203 Degenerate Regimes and Men, Described and Compared (547c-592b) 205 Oilgarchy (rule of the wealthy few) and the oligarchic man (550c-555b) 208 Democracy (rule of the people) and the democratic man (555b-562a) 213 Tyranny (dictatorship) and the tyrannical man (562a-580a) 220 The five types are judged for their goodness and happiness and ranked in the order in which they were presented: Aristocracy and the aristocratic man are the best and happiness; tyranny and the tyrant are the worst and most miserable (580a-588a) 237 Conclusion: The aristocrat is just, the tyrant unjust. Therefore justice makes a man happy, injustice makes him unhappy (588b-592b) 247 Denunciation of Imitative Poetry (Book 10, 595a-608b) 251 Imitative poetry appeals to the emotions rather than to the mind (602c-605c) 259 Imitative poetry deforms character (605c-608b) 263 Immortality and the Rewards of Justice (608b-End) 265 Rewards of Justice and Punishments of Injustice in This Life (612b-614a) 269 Rewards and Punishments After Death (614a-621d) 271 Appendix: The Spindle of Necessity 279 Bibliography 283