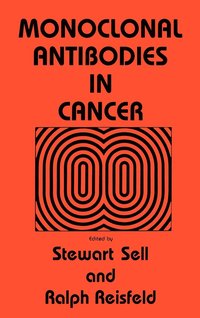 Fler böcker inom
Format

Inbunden (Hardback)

Språk

Engelska

Antal sidor

428

Utgivningsdatum

1985-04-01

Upplaga

1985 ed.

Förlag

Medarbetare

Reisfeld, Ralph A.

Illustrationer

XVIII, 428 p.

Antal komponenter

1

Komponenter

1 Hardback

ISBN

9780896030688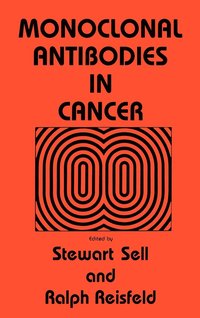 Monoclonal Antibodies in Cancer
Skickas inom 10-15 vardagar.
Fri frakt inom Sverige för privatpersoner.
This represents the third volume in a series on cancer markers pub- lished by the Humana Press. The first volume, published in 1980, stressed the relationship of development and cancer as reflected in the production of markers by cancer that are also produced by normal cells during fetal development. The concept that cancer represents a problem of differentiation was introduced by Barry Pierce in describing differenti- ation of teratocarcinomas. Highlighted were lymphocyte markers, alphafetoprotein, carcinoembryonic antigen, ectopic hormones, enzymes and isozymes, pregnancy proteins, and fibronectin. The second volume, published in 1982 and coedited with Britta Wahren, focused on the diagnostic use of oncological markers in human cancers, which were systematically treated on an organ by organ basis. At that time, the application of monoclonal antibodies to the identification of cancer markers was still in a very preliminary stage. A general introduc- tion to monoclonal antibodies to human tumor antigens was given there by William Raschke, and other authors included coverage of those mark- ers then detectable by monoclonal antibodies in their chapters.
Passar bra ihop
+
Bloggat om Monoclonal Antibodies in Cancer
Innehållsförteckning
1 Monoclonal Antibody Defined Antigens on Animal Tumors.- 1. Introduction.- 2. Antigen Expression on Chemically Induced Tumors.- 2.1. Murine Tumors.- 2.2. Rat Tumors.- 2.3. Guinea Pig Tumors.- 3. Use of Monoclonal Antibodies in Tumor Localization and Therapy.- 3.1. In Vivo Localization of Monoclonal Antibodies in Experimental Tumors.- 3.2. Serotherapy Using Antitumor Monoclonal Antibodies.- 3.3. Therapy Using Antitumor Monoclonal Antibodies Conjugated to Cytotoxic Agents.- 4. Conclusion.- References.- 2 Monoclonal Carcinoembryonic Antigen Antibodies.- 1. Introduction.- 2. The Development of Monoclonal CEA Immunoassays.- 2.1. General Concepts of Monoclonal Antibody Methodology.- 2.2. Experimental and Clinical Experience with Monoclonal CEA Antibodies.- 3. Monoclonal Antibodies in the Immunohistological Evaluation of CEA.- 4. Monoclonal Anti-CEA Antibodies in Tumor Imaging.- 5. Immunotherapy with Monoclonal CEA Antibodies.- 6. Summary.- References.- 3 Monoclonal Antibodies to Alphafetoprotein and Regulation of AFP Gene Expression.- 1. Introduction.- 2. Monoclonal Antibodies to AFP.- 2.1. ELISA Using Monoclonal Antibodies.- 2.2. Immune Localization Using Anti-AFP.- 2.3. Radioimmunescintigraphy.- 2.4. Immunotherapy.- 3. Control of AFP Gene Expression.- 3.1. AFP and Albumin Gene Expression During Development.- 3.2. AFP and Albumin Gene Structure.- 3.3. AFP and Albumin Gene Expression and Methylation.- 4. Summary.- References.- 4 Human Chorionic Gonadotropin Detection with Monoclonal Antibodies.- 1. Introduction: hCG Chemistry and Immunochemistry with Antisera.- 2. Description of Monoclonal Antibodies to hCG.- 2.1. Affinity, Isotype, Subclass, and Cross-Reactivity of Antibodies.- 2.2. Topological Mapping of Monoclonal Antibodies: Relative Orientation of Epitopes.- 2.3. Biological Effects of Monoclonal Antibodies Against hCG.- 2.4. Special Properties of Monoclonal Antibodies to hCG: Synergistic Effects.- 3. Immunoassays with Monoclonal Antibodies to hCG.- 3.1. Description of Commercial Immunoassays for hCG Employing Monoclonal Antibodies.- 3.2. Research Immunoassays for hCG.- 4. In Vivo Immunodetection of Tumors.- 5. Immunocytochemistry with Monoclonal Antibodies to hCG.- 6. Summary.- References.- 5 Products of the Major Histocompatibility Complex on Tumor Cells.- 1. Introduction.- 2. Variable Expression of MHC Antigens by Tumor Cells.- 2.1. Inducible MHC Antigens on Murine Tumors Cells.- 2.2. Inducible MHC Antigens on Human Tumors.- 2.3. Implications for Human Tumor Immunology.- 3. Abnormal Expression of MHC Antigens by Tumor Cells.- 3.1. Abnormal Expression of MHC Antigens on Murine Tumor Cells.- 3.2. Abnormal Expression of MHC Antigens on Human Tumor Cells.- 4. Conclusions.- References.- 6 Monoclonal Antibodies: Probes for the Study of Malignant T Cells.- 1. Introduction.- 2. Monoclonal Antibodies as Probes for the Study of Malignant T Cells.- 3. Normal T-Cell Maturation as Defined by Monoclonal Antibodies.- 4. Phenotypic Analysis of Malignant T Cells in Defined Clinical Syndromes.- 4.1. T-Cell Acute Lymphoblastic Leukemia.- 4.2. T-Cell Lymphoblastic Lymphoma.- 4.3. T-Cell Prolymphocytic Leukemia.- 4.4. Cutaneous T-Cell Lymphoma.- 4.5. T-Cell Chronic Lymphocytic Leukemia.- 4.6. IgG Fc Receptor Beraing (TG) Lymphoproliferative Disease.- 4.7. Hairy Cell Leukemia.- 4.8. HTLV-Associated Japanese, Caribbean, and American Adult T-Cell Leukemia/Lymphoma (ATL).- 4.9. Diffuse Lymphomas.- 4.10. T-Cell "Premalignant" Proliferative Disease.- 4.11. Thymoma.- 5. Summary and Conclusions.- References.- 7 Antigenic Markers on Normal and Malignant B Cells.- 1. Introduction.- 2. Antigenic Markers on Normal B Cells.- 3. Antigenic Markers on Malignant B Cells.- Bibliography for Further Reading.- 8 Nonlymphoblastic Leukemia-Associated Antigens Identified by Monoclonal Antibodies.- 1. Introduction.- 2. Myeloid-Associated Antigens Expressed by Normal Hematopoietic Cells and Cell Lines.- 2.1. Monoclonal Antibodies to Antigens Expressed Primarily