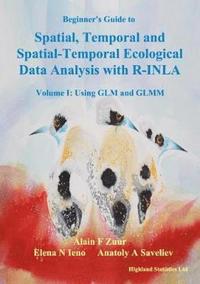 Fler böcker inom
Format

Häftad (Paperback / softback)

Språk

Engelska

Antal sidor

374

Utgivningsdatum

2017-02-28

Förlag

Volymtitel

Volume I Using GLM and GLMM

ISBN

9780957174191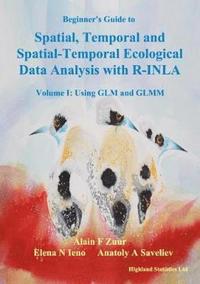 Beginner's Guide to Spatial, Temporal and Spatial-Temporal Ecological Data Analysis with R-INLA: Volume I Using GLM and GLMM
Specialorder
(osäker tillgång). Skickas inom 11-20 vardagar.
Fri frakt inom Sverige för privatpersoner.
Boken kan tyvärr inte levereras innan julafton.
In Chapter 2 we discuss an important topic: dependency. Ignoring this means that we have pseudoreplication. We present a series of examples and discuss how dependency can manifest itself. We briefly discuss frequentist tools that are available for the analysis of temporal and spatial data in Chapters 3 and 4, and we will conclude that their application is rather limited, especially if non-Gaussian distributions are required. We will therefore consider alternative models, but these require Bayesian techniques. In Chapter 5 we discuss linear mixed-effects models to analyse hierarchical (i.e. clustered or nested) data, and in Chapter 6 we outline how we add spatial and spatial-temporal dependency to regression models via spatial (and/or temporal) correlated random effects. In Chapter 7 we introduce Bayesian analysis, Markov chain Monte Carlo techniques (MCMC), and Integrated Nested Laplace Approximation (INLA). INLA allows us to apply models to spatial, temporal, or spatial-temporal data. In Chapters 8 through 16 we present a series of INLA examples. We start by applying linear regression and mixed-effects models in INLA (Chapters 8 and 9), followed by GLM examples in Chapter 10. In Chapters 11 through 13 we show how to apply GLM models on spatial data. In Chapter 14 we discuss time-series techniques and how to implement them in INLA. Finally, in Chapters 15 and 16 we analyse spatial-temporal models in INLA.
Passar bra ihop
+
Recensioner i media
Once again, the authors have succeeded in translating a complex subject into a clear and comprehensible text, suitable for any scientist with numerical skills. They introduce the consequences of spatial and temporal correlation on the statistical model and illustrate how to handle them using R and INLA. Thierry Onkelinx, Research Institute for Nature and Forest (INBO), Brussels, Belgium
Bloggat om Beginner's Guide to Spatial, Temporal and...
Övrig information
Alain F Zuur is senior statistician and director of Highland Statistics Ltd., a statistics consultancy based in the UK. He is the author of ten books on the analysis of ecological data. He has extensive experience teaching statistical methods to ecologists and environmental scientists in academic and non-academic courses worldwide. Elena N Ieno is senior marine biologist at Highland Statistics Ltd. She is the author of eight books on the analysis of ecological data. She teaches data analysis to ecologists and environmental scientists worldwide and is adept at bridging the gap between the two disciplines to dispel the fear of statistics. Anatoly A Saveliev is a professor at the Institute of Ecology and Geography at Kazan Federal State University, Russian Federation, where he teaches GIS and statistics. He also provides consultancy in statistics, GIS and remote sensing, and spatial modelling, and software development in these areas.
Innehållsförteckning
1 OVERVIEW OF THIS BOOK 1 1.1 VOLUMES I AND II 1 1.1.1 Volume I 1 1.1.2 Volume II 1 1.2 WHAT TYPE OF SPATIAL DATA DO WE ANALYSE IN THIS BOOK? 1 1.2.1 Areal and lattice data 1 1.2.2 Geostatistical data 2 1.2.3 Spatial point pattern data 3 1.3 OUTLINE OF THIS BOOK 3 1.4 PREREQUISITES 4 1.5 AVAILABILITY OF R CODE AND DATA 4 2 RECOGNISING STATISTICAL DEPENDENCY 5 2.1 PSEUDOREPLICATION 5 2.2 LINEAR REGRESSION APPLIED TO SPATIAL DATA 7 2.2.1 Irish pH data 7 2.2.2 Protocol from Zuur et al. (2016) 8 2.2.3 Visualisation of the experimental design 9 2.2.4 Data exploration 9 2.2.5 Dependency 12 2.2.6 Statistical model 15 2.2.7 Fit the model 16 2.2.8 Model validation 17 2.3 GAM APPLIED TO TEMPORAL DATA 21 2.3.1 Subnivium temperature data 21 2.3.2 Sources of dependency 22 2.3.3 The model 23 2.3.4 Model validation 24 2.4 GLMM APPLIED ON HIERARCHICAL AND SPATIAL DATA 26 2.5 TECHNICALITIES 28 2.5.1 Matrix notation 28 2.5.2 How is dependency causing problems? 31 2.6 DISCUSSION 32 3 TIME SERIES AND GLS 33 3.1 OSPREYS 33 3.2 COVARIANCE AND CORRELATION COEFFICIENTS 33 3.3 LINEAR REGRESSION MODEL 35 3.4 FOCUSSING ON THE RESIDUAL COVARIANCE MATRIX 35 3.5 DEPENDENCY AND THE COVARIANCE MATRIX 36 3.6 GLS: DEALING WITH TEMPORAL DEPENDENCY 39 3.6.1 Adelie penguins 39 3.6.2 Do we have dependency? 40 3.6.3 Formulation of the linear regression model 40 3.6.4 Application of the linear regression model 41 3.6.5 R code for acf and variogram 45 3.6.6 Formulation of the GLS model 46 3.6.7 Implementation using the gls function 50 3.7 MULTIPLE TIME SERIES 51 3.8 DISCUSSION 53 4 SPATIAL DATA AND GLS 55 4.1 VARIOGRAM MODELS FOR SPATIAL DEPENDENCY 55 4.2 APPLICATION ON THE IRISH PH DATA 57 4.3 MATERN CORRELATION FUNCTION 59 5 LINEAR MIXED EFFECTS MODELS AND DEPENDENCY 61 5.1 WHITE STORKS 61 5.2 CONSIDERING THE DATA (WRONGLY) AS ONE-WAY NESTED 62 5.3 FITTING THE ONE-WAY NESTED MODEL USING LMER 65 5.4 MODEL VALIDATION 67 5.5 SKETCHING THE FITTED VALUES 68 5.6 CONSIDERING THE DATA (CORRECTLY) AS TWO-WAY NESTED 69 5.7 APPLICATIONS TO SPATIAL AND TEMPORAL DATA 72 5.8 DIFFERENCE WITH THE AR1 PROCESS APPROACH 72 6 MODELLING SPACE EXPLICITLY 73 6.1 MODEL FORMULATION 73 6.2 COVARIANCE MATRIX OF THE SPATIAL RANDOM EFFECT 75 6.3 SPATIAL-TEMPORAL CORRELATION* 79 7 INTRODUCTION TO BAYESIAN STATISTICS 83 7.1 WHY GO BAYESIAN? 83 7.2 GENERAL PROBABILITY RULES 84 7.3 THE MEAN OF A DISTRIBUTION* 85 7.4 BAYES' THEOREM AGAIN 87 7.5 CONJUGATE PRIORS 88 7.6 MARKOV CHAIN MONTE CARLO SIMULATION 93 7.6.1 Underlying idea 93 7.6.2 Installing JAGS and R2jags 94 7.6.3 Flowchart for running a model in JAGS 94 7.6.4 Preparing the data for JAGS 95 7.6.5 JAGS code 96 7.6.6 Initial values and parameters to save 98 7.6.7 Running JAGS 99 7.6.8 Accessing numerical output from JAGS 100 7.6.9 Assess mixing 100 7.6.10 Posterior information 101 7.7 INTEGRATED NESTED LAPLACE APPROXIMATION* 103 7.7.1 Joint posterior distribution 103 7.7.2 Marginal distributions 105 7.7.3 Back to high school 107 7.7.4 INLA 109 7.8 EXAMPLE USING R-INLA 110 7.9 DISCUSSION 114 8 MULTIPLE LINEAR REGRESSION IN R-INLA 115 8.1 INTRODUCTION 115 8.2 DATA EXPLORATION 116 8.3 MODEL FORMULATION 117 8.4 LINEAR REGRESSION RESULTS 117 8.4.1 Executing the model in R-INLA 117 8.4.2 Output for the betas 117 8.4.3 Output for the hyper-parameters 119 8.4.4 Fitted model 123 8.5 MODEL VALIDATION 123 8.6 MODEL SELECTION 126 8.6.1 Should we do it? 126 8.6.2 Using the DIC 126 8.6.3 Out of sample prediction 131 8.6.4 Posterior predictive check 133 8.7 VISUALISING THE MODEL 135 9 MIXED EFFECTS MODELLING IN R-INLA TO ANALYSE OTOLITH DATA 139 9.1 OTOLITHS IN PLAICE 139 9.2 MODEL FORMULATION 140 9.3 DEPENDENCY 140 9.4 DATA EXPLORATION 141 9.5 RUNNING THE MODEL IN R-INLA 143 9.6 MODEL VALIDATION 146 9.7 MODEL SELECTION 149 9.8 MODEL INTERPRETATION 149 9.8.1 Option 1 for prediction: Adding extra data 150 9.8.2 Option 2 for prediction: Using the inla.make.lincombs 153 9.8.3 Adding extra data or inla.make.lincombs? 155 9.9 MULTIPLE RANDOM EFFECTS 155