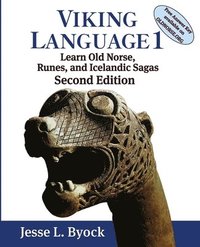 Fler böcker inom
Format

Häftad (Paperback / softback)

Språk

Engelska

Antal sidor

366

Utgivningsdatum

2018-09-11

Upplaga

2nd Smaller Book Size ed.

Förlag

Illustrationer

50 Illustrations

Dimensioner

235 x 190 x 20 mm

Vikt

720 g

Antal komponenter

1

Komponenter

3:B&W 7.5 x 9.25 in or 235 x 191 mm Perfect Bound on White w/Gloss Lam

ISBN

9780988176416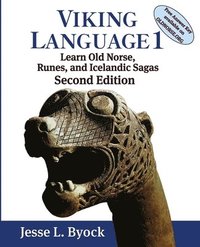 Viking Language 1
Learn Old Norse, Runes, and Icelandic Sagas
Skickas inom 10-15 vardagar.
Fri frakt inom Sverige för privatpersoner.
Finns även som
Skickas inom 1-2 vardagar
Viking Language 1: Learn Old Norse, Runes, and Icelandic Sagas, 2nd upgraded edition. New, smaller book size with same content. Everything necessary to learn and teach Old Norse. Graded lessons, saga readings, runic inscriptions, grammar exercises, and pronunciation. With study guides and vocabulary. 15 lessons open the door to Scandinavian myth, legend, and Viking history. -- Download FREE ANSWER KEY on www.oldnorse.org ? NOW AVAILABLE, ?Viking Language 2: The Old Norse Reader? with complete sagas, and eddic poems of gods, heroes, and runes, with Readings and vocab designed to go with the lessons in Viking Language 1. ALSO AVAILABLE 2 specially prepared audio MP3 download PRONUNCIATION ALBUMS. ?VIKING LANGUAGE 1: AUDIO LESSONS 1-8: (Pronounce Old Norse, Runes, and Icelandic Sagas)? and Viking Language 1: ?Audio Lessons 9-15." Search under Amazon ?all departments? and ?MP3 music.? Also on itunes and CDbaby. -- VISIT www. oldnorse.org and vikinglanguage.com for more information on the ?Viking Language Series? and sample audio readings.
Passar bra ihop
+
Recensioner i media
jesse byock's viking language series consists of two printed volumes. the first, "viking language 1:learn old norse," leads you into the language. the second, "viking language 2: the old norse reader", has longer selections up to the entire saga of "hrafnkel priest of frey". two download audio albums found on itunes and amazon music accompany… these are all anyone needs for a thorough knowledge of old norse and runes, with the considerable bonus of acquiring a natural modern native-speaker pronunciation. byock's course is a delight on every level. it will surely far increase old norse students and satisfy a widely felt demand. it is the biggest reinforcement to philological studies, combining language and literature, since tolkien. both tolkien and his friend gordon would be delighted to see it, hear it and use it... if only such a work had existed, when this reviewer was struggling. modern students have every reason to be grateful. prof. tom shippey, author of the road to middle earth and beowulf, the critical heritage.
teaching old norse with viking language 1 and 2 by jesse byock is a real joy, and students love them. impressive in breadth and depth. the reference grammar will be thoroughly worn out by all readers. a masterful work. i can´t praise it enough. prof. robert bjork, director of the center for medieval and renaissance studies
an absolutely wonderful book! definitely not a traditional language-learning book. i bought it and so glad i did. i've always wanted to learn old norse. well, this series is the answer, providing best of both worlds. i get to learn old norse, so that i can read my beloved sagas in their original language, and i get to learn modern icelandic at the same time! but the proof is in the pudding: in less than a week i've been able to read and understand some text from sagas, and i have a good understanding of old norse-icelandic grammar and syntax. musica nova
at long last, we have a respectable modern textbook for old norse. all previous resources were either out of print and prohibitively expensive used, or reprints of archaic grammars with outdated instruction methods. as an experienced language learner, i see everything here that i look for in a textbook. it reminds me a great deal of wheelock's renowned textbook for latin in both its structure and teaching strategies. for those not in the know, that is a very good thing… pickings are slim for old norse and such a giant leap forward in the field, by one of the world's most respected translators of old norse literature no less, deserves all the approbation it can get. ian mcleod
the best resource on old norse i've found. byock is great at incorporating history into the language which helps give a better understanding of all the 'why's you might ask as you're learning how to use the language. he is excellent at introducing vocab and each new subject at the right time and ...
Bloggat om Viking Language 1
Övrig information
Jesse Byock is Professor of Old Norse and Medieval Scandinavian Studies in the Scandinavian Section at UCLA (the University of California, Los Angeles). He received his Ph.D. from Harvard University. An archaeologist and specialist in Old Norse and the Viking Age, he is Professor at UCLA's Cotsen Institute of Archaeology. In Iceland, he is the Director of the Mosfell Archaeological Project (MAP), excavating a Viking Age valley. The Mosfell excavations include a chieftain's hall, Christian and pagan burial sites, a conversion-age church, and a harbor from the first centuries of Iceland's Viking Age settlement. Prof. Byock also teaches at the University of Iceland (Hskli slands), where he is affiliated with the Department of History and the Programs in Medieval Icelandic and Viking Studies. www.oldnorse.org and www.vikinglanguage.com
Innehållsförteckning
table of contents, viking language 1: learn old norse, runes, and icelandic sagas, 2nd edition, jesse l. byock. introduction: vikings and the viking age; sources for the study of old norse; old norse language; icelanders and the rus; vikings and history; end of the viking age; old norse alphabet, spelling, vowels, anglicising personal names; abbreviations; grammar index
lesson 1, sailing west to iceland, greenland, and north america. atlantic seafaring; letters þ, ð, and spelling; old norse, an inflected language; reading, ingolf gives land to herjolf (grænlendinga saga); pronunciation; word frequency 246 most frequent words in sagas; word frequency vocab list 1, most frequent words; grammar toolbox (gt) nouns, personal pronouns, and prepositions; gender, nouns and pronouns masculine, feminine, neuter; gt case, adjectives; exercise, case nominative, accusative, dative, and genitive; apposition, agreement of nouns; old norse and proto-norse words (stems, roots, suffixes, endings); composition of words; exercises
lesson 2, norse settlers in greenland and vinland. norse greenland; reading, 'land-taking' in greenland (landnámabók); selection from landnámabók; vinland (vínland); grammar, definite and indefinite article; proper nouns; grammar toolbox verbs, infinitives; linking verbs vera, verða, heita; subject complements & predicates; introduction to the sagas; more about family and sturlung sagas; adjectives; nouns, strong and weak; gt prepositions in old norse; governing one case; word frequency list; exercises
lesson 3, denmark: runestones an early viking state. culture, runes; reading, the small runestone at jelling, denmark; elder and younger runic alphabets; sounds of the younger futhark; runic sounds of the viking age; runic script; gorm and thyri (óláfs saga tryggvasonar in mesta); gorm the old, the danish jelling dynasty; vera 'to be' present and past; exercise vera; verb hafa, 'to have'; personal pronouns, 1st, 2nd Persons: Sing, Pl, and Dual; 3rd Person; Expressing Possession, hans opposed to sinn; Possession in Old Norse: who possesses what?; Possessive Pronouns Minn and Þinn; Son, Dóttir in Names; List 3 most Frequent Words; Exercises
lesson 4, kings, vikings, sound changes, and weak verbs, the large runestone at jelling
lesson 5, sweden, sigurd the dragon-slayer, and thorstein egilsson, gunnlaug's saga serpent-tongue
reading chapter 1; from the kings' and family sagas. vikings pull down london bridge; saga of st. olaf (óláfs saga helga, heimskringla); chieftains and families from njal's saga; icelandic chieftains, opening chap. njal's saga
lesson 6, sacral kingship in ancient scandinavia. ynglings in sweden and norway; a king sacrificed for better harvests (ynglinga saga); the temple at uppsala and hu...