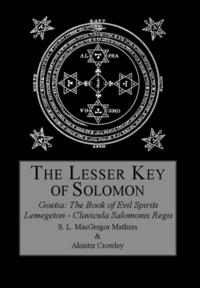 Fler böcker inom
Format

Inbunden (Hardback)

Språk

Engelska

Antal sidor

112

Utgivningsdatum

2016-09-30

Förlag

Medarbetare

Mathers, S.L. MacGregor

Illustrationer

103 Illustrations; Illustrations, black and white

Dimensioner

236 x 164 x 17 mm

Vikt

334 g

Antal komponenter

1

Komponenter

458:B&W 6 x 9 in or 229 x 152 mm Gray Cloth w/Jacket on White w/Matte Lam

ISBN

9780998136417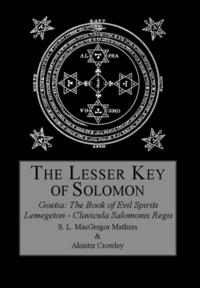 The Lesser Key of Solomon
Skickas från oss inom 3-6 vardagar.

Fri frakt över 199 kr för privatkunder i Sverige.
Finns även som
Läs i DRM-kompatibel e-boksläsare.

Skickas inom 3-6 vardagar
This edition is a fully illustrated reprint of the 1904 publication by Aleister Crowley and Samuel Liddell MacGregor Mathers. This edition of The Lesser Key of Solomon the King contains all of the over 150 seals, sigils, and charts of the original lesser book of Solomon. Beware of other editions that do not contain the Lesser Key of Solomon seals; they were painstakingly researched by Mathers and Crowley, and Solomon's lesser key is enhanced by their inclusion. This edition also contains Crowley's original comments located in over 35 annotations to help the reader understand the lesser keys of Solomon the king. In this work, Crowley and Mathers assemble descriptions and directions for the invocation of over 72 demons or spirits. Included are: illustrations of Solomon's Magic Circle & Triangle, Enochian translations of the Goetia book, step by step guides for invocation, as well as definitions and explanations for the ancient terms seen throughout the Lesser Key of Solomon book. The Lesser Key of Solomon, or the Clavicula Salomonis Regis, or Lemegeton, is a compilation of materials and writings from ancient sources making up a text book of magic or "grimoire." Portions of this book can be traced back to the mid-16th to 17th centuries, when occult researchers such as Cornelius Agrippa and Johannes Trithemisus assembled what they discovered during their investigations into their own great works. As a modern grimoire, the Lesser Key of Solomon has seen several editions with various authors and editors taking liberty to edit and translate the ancient writings and source material. In 1898, Arthur Edward Waite published his The Book of Black Magic and of Pacts, which contained large portions of the Lemegeton. He was followed by Mathers and Crowley in 1904 who published The Goetia: The Lesser Key of Solomon. Many others have assembled their own version of this ancient material since, and it is important to realize that it is the contents rather than the book itself that make up the Lesser Key. Traditionally, the source material is divided into five books: Ars Goetia, Ars Theurgia Goetia, Ars Paulina, Ars Almadel, and Ars Notoria. Mathers and Crowley indicate their edition is a translation only of the first book: Goetia. In the preface to this edition, it is explained that a "Secret Chief" of the Rosicrucian Order directed the completion of the book. The original editor was a G. H. Fra. D.D.C.F. who translated ancient texts from French, Hebrew, and Latin, but was unable to complete his labors because of the martial assaults of the Four Great Princes. Crowley was then asked to step in and finish what the previous author had begun. Traditionally, S. L. MacGregor Mathers is credited as the translator of this edition, and Crowley is given the title of editor. Although impossible to verify, it is often claimed that Mathers did not want to publish this work, but Crowley did so anyway without his permission.
Passar bra ihop
+
Fler böcker av författarna
Övrig information
Aleister Crowley was an English occultist, ceremonial magician, poet, painter, novelist, and mountaineer. He founded the religion of Thelema, identifying himself as the prophet entrusted with guiding humanity into the on of Horus in the early 20th century.

Born to a wealthy Plymouth Brethren family in Royal Leamington Spa, Warwickshire, Crowley rejected this fundamentalist Christian faith to pursue an interest in Western esotericism. He was educated at the University of Cambridge, where he focused his attentions on mountaineering and poetry, resulting in several publications. In 1898 he joined the esoteric Hermetic Order of the Golden Dawn, where he was trained in ceremonial magic by Samuel Liddell MacGregor Mathers and Allan Bennett. Moving to Boleskine House by Loch Ness in Scotland, he went mountaineering in Mexico with Oscar Eckenstein, before studying Hindu and Buddhist practices in India. He married Rose Edith Kelly and in 1904 they honeymooned in Cairo, Egypt, where Crowley claimed to have been contacted by a supernatural entity named Aiwass, who provided him with The Book of the Law, a sacred text that served as the basis for Thelema. Announcing the start of the on of Horus, The Book declared that its followers should adhere to the code of "Do what thou wilt" and seek to align themselves with their Will through the practice of magick.
After an unsuccessful attempt to climb Kanchenjunga and a visit to India and China, Crowley returned to Britain, where he attracted attention as a prolific author of poetry, novels, and occult literature. In 1907, he and George Cecil Jones co-founded a Thelemite order, the AA, through which they propagated the religion. After spending time in Algeria, in 1912 he was initiated into another esoteric order, the German-based Ordo Templi Orientis (O.T.O.), rising to become the leader of its British branch, which he reformulated in accordance with his Thelemite beliefs. In 1920 he established the Abbey of Thelema, a religious commune in Cefal, Sicily where he lived with various followers. His libertine lifestyle led to denunciations in the British press, and the Italian government evicted him in 1923. He divided the following two decades between France, Germany, and England, and continued to promote Thelema until his death. Samuel Liddell MacGregor Mathers was born in 1854 in London, England. He attended Bedford School and, after graduating, began work as a clerk in Dorset. His father died while he was a young boy, and his mother died while he was in his thirties. Shortly after his mother's death, he moved from Dorset to London. He was married to Monia Bergson, the sister of the philosopher Henri Bergson.
Mathers was a freemason - raised as a Master Mason in 1878. In 1882 he was admitted to the Metropolitan College of the Societas Rosicruciana in Anglia (SRIA) as well as a number of fringe Masonic degrees. Working hard both for and in the SRIA, he was awarded an honorary 8th Degree in 1886.
Upon the death o...
Innehållsförteckning
i-PREFACE; iii-PRELIMINARY INVOCATION;1-PART ONE: GOETIA; 2-THE INITIATED INTERPRETATION OF CEREMONIAL MAGIC; 6-PRELIMINARY DEFINITION OF MAGIC ; 6-Lemegeton Vel Clavicula Salomonis Regis; 10-The Whole Lemegeton Or Clavicula; 12-The Book Of Evil Spirits; 13-SHEMHAMPHORASH; 48-OBSERVATIONS; 49-CLASSIFIED LIST OF THE 72 CHIEF SPIRITS OF THE GOETIA, ACCORDING TO RESPECTIVE RANK ; 51-THE MAGICAL CIRCLE; 53-THE MAGICAL TRIANGLE OF SOLOMON; 55-THE HEXAGRAM OF SOLOMON; 56-THE PENTAGRAM OF SOLOMON; 57-THE MAGIC RING OR DISC OF SOLOMON; 58-THE VESSEL OF BRASS; 60-THE SECRET SEAL OF SOLOMON; 68-THE OTHER MAGICAL REQUISITES; 69-THE ADORATION AT THE BATH; 70-THE CONJURATION TO CALL FORTH ANY OF THE AFORESAID SPIRITS; 72-THE SECOND CONJURATION; 74-THE CONSTRAINT; 75-THE INVOCATION OF THE KING; 76-THE GENERAL CURSE, CALLED THE SPIRITS' CHAIN, AGAINST ALL SPIRITS THAT REBEL; 77-THE CONJURATION OF THE FIRE; 78-THE GREATER CURSE; 79-THE ADDRESS UNTO THE SPIRIT UPON HIS COMING; 80-THE WELCOME UNTO THE SPIRIT; 81-THE LICENSE TO DEPART ; 82-PART TWO; 83-EXPLANATION OF CERTAIN NAMES USED IN THIS BOOK LEMEGETON; 86-THE EXPLANATION OF THE TWO TRIANGLES IN THE PARCHMENT; 87-AN EXPLANATION OF SOLOMON'S TRIANGLE; 88-PART THREE: CONJURATIONS; 89-PREAMBLE; 90-ATTE YE BATHES OF ART; 91-ATTE YE INDUYNGE OF YE HOLY VESTURES; 92-YE FYRSTE CONJOURATIOUN; 93-YE SECOUNDE CONJOURATIOUN; 94-YE CONSTRAYNTE; 95-YE POTENT INVOCATIOUN OF HYS KYNGE; 96-YE GENERALL CURSE; 96-Yclept Ye Spirits' Chayne, Against All Spirits Yt Rebelle.; 97-YE CONJOURATIOUN OF YE FYRE; 98-YE GRETER CURSE; 99-YE ADDRESSE UNTO YE SPIRIT ON HYS COMING; 100-YE WELCOME UNTO YE SPIRIT DYGNYTIE; 101-YE LICENSE TO YE SPIRIT YT HE MAYE DEPART