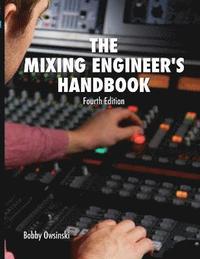 Format

Häftad (Paperback / softback)

Språk

Engelska

Antal sidor

314

Utgivningsdatum

2017-01-11

Upplaga

4th Revised with New Interviews. ed.

Förlag

Illustrationer

105 Illustrations

Dimensioner

10 x 275 x 210 mm

Vikt

748 g

Antal komponenter

1

Komponenter

412:B&W 8.5 x 11 in or 280 x 216 mm Perfect Bound on White w/Matte Lam

ISBN

9780998503349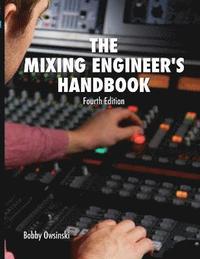 The Mixing Engineer's Handbook 4th Edition
Skickas inom 5-8 vardagar.
Fri frakt inom Sverige för privatpersoner.
Mixing music-the process of combining and shaping the component parts of a song into a polished, completed recording-was once considered an unteachable art. The first edition of Bobby Owsinski's The Mixing Engineer's Handbook destroyed that myth forever, breaking the craft of mixing down into discrete, understandable steps and showing musicians, audio engineers, and producers exactly how to get great results in the studio. The book has since become the go-to text on mixing for recording programs in colleges and universities around the world. Now available in a completely revised fourth edition, The Mixing Engineer's Handbook remains the best, most up-to-date source for mastering the art and science of creating pro-quality mixes Among the many topics covered in the book include: The six main elements of a mix that every engineer must know The secrets of equalization and the "magic frequencies" that make vocals and instruments come to life The rules of arrangement and how they impact your mix in a big way Advanced techniques expected of today's mixer, like track cleanup, adjusting track timing, pitch correction, sound replacement, and automation tricks Tips and tricks for adding effects, sonic layering, calculating delay, and much more The book also features interviews with 25 of the music industry's most successful and celebrated engineers, who share their expertise, insights, and philosophies about mixing the many hits they've worked on. Learn the art of mixing from start to finish, and pick up tips and techniques from the pros, with The Mixing Engineer's Handbook, Fourth Edition.
Passar bra ihop
+
Recensioner i media
"Just got the book yesterday..love it.Got a lot of relavent thoughts and views for the now times.. great job... best of luck with it. And once again, thanks for including me in such an important work." - Jimmy Douglass, Award-winning, multi-platinum engineer and mixer

"Just wanted you to know that I am using your Mix book as REQUIRED text in two of my college classes. It has been working out great!! The kids love it, and it makes my job VERY easy!" - Bruce Tambling

The book is an awesome collection of vital information followed by "how to". It's a book you want by your side at all times through the mixing process. I have the previous versions, but you have to add this version to your collection. It stands on its own merit and is worth three times the cost for what you will learn. Well done Bobby, this one is the tops man!" - Oz Amaro

"The mixing engineer's handbook is the best publication ever on the subject! Every time I've recommended it, they've been delighted." - Eric Barouti

"Possibly the greatest book on mixing ever written. While it doesn't get in-depth about every topic, it probably mentions every single topic there is. Get this book if you're just starting to mix or if you want to learn more." - Dr. Kenneth

"After 30 years of working from bending over the shoulder of other engineers, taking to mastering engineers, intuition, instruction manuals and YouTube videos -- there were plenty of "Aha!" Moments. Favorite was the tip to find panning position by panning with mix in mono." - Frank Rogala

"Bobby Owsinski"s "The Mixing Engineer's Handbook is a veritable gold mine of practical knowledge and advice, that empowers its reader to create higher quality mixes." - Charlotte Wrinch, Canadian Singer-Songwriter

"To your credit, your book on mixing is superb The book really went way beyond simple panning, eq, compression and effects. I like how it addressed the more subtle issues of feel. That kinda stuff is not addressed well in the other books." - Perry Woll

I gotta send you an email praising your mixing engineer book. I give interns your book and I say, "Here, read this and find out how records are REALLY mixed in the REAL world", and then they start to blossom. It is a great book." - LS

"This book gave me exactly the introduction to mixing I was hoping for. Great examples and eye-opening (ear-opening?) interviews with industry legends gave me instant experience and a solid knowledge base from which to draw. Every beginning mixer - heck, ever producer should read this." David Baliestro

"The Mixing Engineer's Handbook by Bobby Owsinski is superb, a must have. Every time I pick it up I learn something. In fact, I just spent a couple hours with it this morning and am now trying out a bunch of the techniques mentioned." - Calgary

"Just bought the book (Mixing Engineer's Handbook 3rd edition) and as much as I've learned about mixing & engineering (which is never enough) I find this book is a great one-stop shop to remind myself of all the...
Bloggat om The Mixing Engineer's Handbook 4th Edition
Innehållsförteckning
Introduction
Meet The Mixers

PART 1
Chapter 1: Some Background
The Evolution of Mixing
Different Mixing Styles
12 Ways Studio Mixing Is Different From Live Mixing
Learning How To Mix

Chapter 2: Monitoring
The Listening Environment
Monitors - Which Ones?
Basic Monitor Setup
Mixing On Headphones
How Loud (Or Soft) Should I Listen?
Listening Techniques

Chapter 3: Mix Preparation
Prepping Your Session
Personal Preparation

Chapter 4: The Mechanics of Mixing
Conceptualizing The Mix
The Overall Approach
The Signs Of An Amateur Mix
The 6 Elements of a Mix
The Intangibles of a Mix

Chapter 5: The Balance Element: The Mixing Part of Mixing
The Arrangement - Where It All Begins
Where to Build the Mix From
Level Setting Methods

Chapter 6: The Panorama Element: Placing the Sound in the Soundfield
The Stereo Picture
Beyond Panning For Placement
Panning In Surround Sound
Mixing Immersive Audio For Virtual Reality

Chapter 7: The Frequency Element: Using The Equalizer
The Goals Of Equalization
EQ Methods
The Relationship Between The Bass And Drums
EQ Techniques

Chapter 8: The Dimension Element - Adding Effects
The 6 Principles For Adding Effects
Using Delays
Using Reverb
Using Modulation
EQing Effects
Layering Effects
Reamping

Chapter 9: The Dynamics Element: Compression and Gating
Types Of Dynamics Control
Using Compression
Using A De-esser
Using A Gate

Chapter 10: The Interest Element - The Key To Great Mixes
The Direction of the Song
Develop The Groove
Find The Most Important Element And Emphasize It
15 Steps To A Better Mix

Chapter 11: Advanced Techniques
Cleanup
Adjust The Timing
Pitch Correction
Sound Replacement
Automation
Gain Staging

Chapter 12: The Master Mix
8 Indicators That Your Mix Is Finished
Competitive Level
Mastering
Mixing Internet Distribution
Alternative Mixes

PART 2 - The Interviews
Chapter 13: Bob Brockman
Chapter 14: Bob Bullock
Chapter 15: Joe Chiccarelli
Chapter 16: Lee DeCarlo
Chapter 17: Richard Chycki
Chapter 18: Jimmy Douglass
Chapter 19: Benny Faconne
Chapter 20: JerryFinn
Chapter 21: Jon Gass
Chapter 22: Don Hahn
Chapter 23: Andy Johns
Chapter 24: Bernie Kirsh
Chapter 25: Nathanial Kunkel
Chapter 26: George Massenburg
Chapter 27: Robert Orton
Chapter 28: Greg Penny
Chapter 29: David Pensado
Chapter 30: Elliot Scheiner
Chapter 31: Andrew Scheps
Chapter 32: Ken Scott
Chapter 33: Ed Seay
Chapter 34: Allen Sides
Chapter 35: Don Smith
Chapter 36: Ed Stasium
Chapter 37: Bruce Swedien

GLOSSARY
ADDENDUM 1 - DELAY TIME CHART