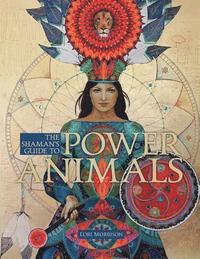 Fler böcker inom
Format

Häftad (Paperback / softback)

Språk

Engelska

Antal sidor

308

Utgivningsdatum

2019-03-19

Förlag

Illustrationer

186 Illustrations; Illustrations, black and white

Dimensioner

280 x 215 x 20 mm

Vikt

727 g

Antal komponenter

1

Komponenter

12:B&W 8.5 x 11 in or 280 x 216 mm Perfect Bound on White w/Gloss Lam

ISBN

9780998737898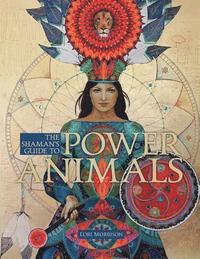 The Shaman's Guide to Power Animals
Skickas inom 10-15 vardagar.
Fri frakt inom Sverige för privatpersoner.
ENTER THE SOUL OF THE ANIMAL KINGDOM.
The Shaman?s Guide to Power Animals
is a cross-cultural journey into the mystical symbolism and stories of over 200 birds, fish, insects, and mammals drawn from ancient and indigenous cultures worldwide. It is a spiritual tool for understanding omens when an animal crosses your path or appears in a dream, or to apply in situations where you need protection or want to chart a course or locate resources. Incorporating channeled messages from the Power Animals, it explains:


What Power Animals are and how to identify yours.


Rituals, prayers, and affirmations you can use to ask a Power Animal for its help.


Archetypal powers associated with different Power Animals and ways to activate them.


How a Power Animal can act as your go-between to the spirit world to communicate with the dead and ancestral spirits or help you to recruit a multidimensional support team.


Why you never need feel alone once you know you belong to the kinship of nature.


Crystals, colors, and physical energy centers that correspond to each Power Animal.


Passar bra ihop
+
Fler böcker av Lori Morrison
Recensioner i media
"soon to be a classic, this book is the ultimate guide to spirit animals. richly researched, the meaning and symbolism of animals pop off the pages. shamanic perspectives from mongolia to machu picchu are woven into this dynamic tapestry of wisdom by a powerful female shaman."
—Betsy Chasse, author of Tipping Sacred Cows, co-writer/co-director/producer of What the Bleep Do We Know!?, and producer of Song of the New Earth
"lori morrison has a profound connection to the spirit world that is evidenced in the contents of this book. she sees between the worlds and knows how to speak to the spirits of the animal nation. she then takes this gift and titrates it into usable form for the reader to glean insightful messages from the spirit world. her book gives an analysis of the physical natures of numerous animals and interprets the meaning of the animal for persons who might encounter them in their spiritual journey. the encyclopedic nature of the work allows for easy reference to scientific fact and metaphysical attributes. as a reference guide it is a valuable assistance to the reader to discover deeper awareness of the messages that animals embody.
—Jan Engels-Smith M.Ed., Sh.D., founder of LightSong School of 21st-Century Shamanism and Energy Medicine, author of Becoming Yourself and Through the Rabbit Hole
"between the covers of this book is a bounty of information from the voices of the animal spirit world. a treasure chest full of enlightenment and wisdom, this book will serve humanity in expanding a connection to the deeper meaning of spirit animals in our world. The Shaman's Guide to Power Animals will encourage our appreciation of Power Animals as mentors and wisdom keepers throughout our spiritual journey."
—Stephanie Phelps, intuitive spiritual guide, healer, teacher, and ceremonialist, owner of White Horse Journeys
"lori morrison's book is the ultimate shaman's handbook to power animals! i look forward to using this book as go-to reference for my work."
—Gogo Ekhaya Esima, sangoma, traditional healer, and writer
Bloggat om The Shaman's Guide to Power Animals
Övrig information
Lori Morrison is a best-selling author, inspirationalist, and mystic. She became part of a rare community of lightning shamans due to a spontaneous awakening of shamanic knowledge by natural force. Her first teachers were Mayan ancestral spirits who took her through a two-year initiation. During this period, she was introduced to four Jaguars who became her guides. Later, through an important ceremony, a Haitian shaman retrieved a powerful Lioness for Lori that she collaborates with to this day. These sacred relationships with Power Animals have enriched her life and spiritual journey. Lori is now honored to deliver messages from the spirits of over 200 different creatures to you. Lori makes her home in Sedona, Arizona, where she has a successful practice dedicated to healing through vibrational medicine.
Innehållsförteckning
preface
part one: the world of shamans and their power animals
the tree of life and the symbolism of the three worlds
nonordinary reality
the three worlds
the shaman
power animals
types of power animals
your power animal
determining your power animal
calling in your power animal
a shamanic journey
indigenous theories and beliefs
shapeshifting
dreams
power
quantum power animal retrieval
energy centers and minerals
the five shamanic elements
summary
part two: a to z guide to power animals
aardvark
albatross
angelfish
ant
anteater
antelope
armadillo
badger
barracuda
bat
bear
beaver
bee
beetle
blackbird
bluebird
blue jay
boar
bobcat
buffalo
butterfly
camel
canary
capybara
cardinal
caribou
carp (goldfish/koi)
cat (domestic)
caterpillar
catfish
cattle—bull
cattle—cow
centipede/millipede
chameleon
cheetah
chickadee
chicken—hen
chicken—rooster
cicada
condor (vulture)
coral
cormorant
cougar (puma)
coyote
crab
crane
cricket
crocodile (alligator * caiman)
cuckoo
deer
dingo
dog (domestic)
dolphin (porpoise)
donkey (ass/burro)
dove
dragon
dragonfly
duck
eagle
earthworm
eel
elephant
elk
emu
falcon
firefly
flea
fly
fox
frog
giraffe
goat
goldfinch
goose
gopher
gorilla
grasshopper
grouse
groundhog
guinea pig
hawk
hedgehog
heron (egret)
hippopotamus
horse
hummingbird
hyena
ibis
jackal
jaguar
javelina
jellyfish
kangaroo
kingfisher (kookaburra)
koala
ladybug
lark
leech
lemur
leopard (black panther)
lion
lizard (chameleon/gecko/gila monster/iguana/komodo dragon)
llama (alpaca/guanaco/vicuna)
manatee
mockingbird (thrasher)
mole
mongoose (meercat)
monkey (baboon/chimpanzee/orangutan)
moose
mosquito
moth
motmot
mouse
musk ox
nighthawk
nuthatch
octopus
opossum
ostrich
otter
owl
panda
parrot (budgie/cockatiel/cockatoo/love bird/macaw/parakeet)
peafowl
pelican
penguin
pheasant
phoenix
pig
platypus
porcupine
prairie dog
praying mantis
puffin
quail
quetzal
rabbit
raccoon
rat
raven (crow)
red panda
rhinoceros
roadrunner
robin
salamander
salmon
sandpiper
scorpio...