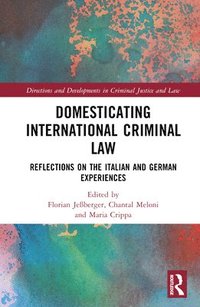 Fler böcker inom
Format

Inbunden (Hardback)

Språk

Engelska

Antal sidor

298

Utgivningsdatum

2023-06-01

Förlag

Dimensioner

234 x 156 x 19 mm

Vikt

631 g

Antal komponenter

1

ISBN

9781032341958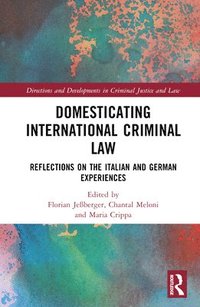 Domesticating International Criminal Law
Reflections on the Italian and German Experiences
Skickas från oss inom 2-5 vardagar.

Fri frakt över 199 kr för privatkunder i Sverige.
Finns även som
Läs i DRM-kompatibel e-boksläsare.

Läs i DRM-kompatibel e-boksläsare.
This book provides an essential and critical overview of the most significant issues concerning the domestication of international criminal law, in particular with regard to the implementation of the ICC Statute. It discusses the most recent proposals for reform of the German Code of Crimes under International Law, the "Vlkerstrafgesetzbuch", 20 years after its entering into force and introduces the project for an Italian code of international crimes drafted by the Committee of experts established in 2022 by the Ministry of Justice. Following the adoption of the ICC Statute, many States, including Germany with the "Vlkerstrafgesetzbuch", introduced specific legislation to incorporate international criminal law into their domestic legal systems and a considerable number of them have been investigating and prosecuting war crimes, crimes against humanity, genocide, and even aggression ever since. Twenty-five years later, however, the process is not completed as other countries, like Italy, are still working on adopting provisions on international crimes. This book opens with a broad overview of the different approaches of the domestication of international criminal law, with a specific focus on the German and the Italian systems. After an assessment of the prerequisites for the domestic implementation of international criminal law, also from a constitutional law perspective, each chapter offers an in-depth analysis of a specific issue, such as: the definition of international crimes (genocide and crimes against humanity, war crimes and aggression); the applicability of and exceptions to the general principles of domestic criminal law; the regulation of individual criminal responsibility; sanctions and sentencing; as well as procedural aspects related to immunities, jurisdiction and prosecutorial discretion. The strong academic perspective of many authors is complemented by an equally strong practitioner perspective of the others, provided by legal scholars in the highest positions in international and national judicial institutions, resulting in a well-informed and critical appraisal of the most recent developments overall in the international criminal justice system. Domesticating International Criminal Law will be of great interest to legal scholars and students, as well as practitioners with an interest in comparative and international law, international criminal law and international relations.
Passar bra ihop
+
Fler böcker av författarna
Övrig information
Florian Jeberger is Professor of Criminal Law at Humboldt- Universitt zu Berlin where he holds the Chair in Criminal Law, Criminal Procedure, International Criminal Law and Modern Legal History and serves as the Director of the Franz von Liszt Institute for International Criminal Justice. He is a Co-Editor of the Journal of International Criminal Justice and published several books and academic articles on international and transnational criminal law, including Principles of International Criminal Law (2020, with G Werle) and Histories of Transnational Criminal Law (2021, ed with N Boister and S Gless). Chantal Meloni is Associate Professor of Criminal Law at the Law Faculty of Universit degli Studi di Milano where she teaches international criminal law. She is a criminal lawyer admitted to the Italian bar and serves as Senior Legal Advisor to the European Center for Constitutional and Human Rights in Berlin. She also represents victims in proceedings before the ICC and was a member of the Commission established in 2022 by the Ministry of Justice to draft an Italian Code of International Crimes. She is the author of numerous academic articles, book chapters and papers on a variety of issues regarding international justice, including the book Command Responsibility in International Criminal Law (2010). Maria Crippa holds a PhD in Juridical Sciences Cesare Beccaria from Universit degli Studi di Milano, with a doctoral thesis on the Italian implementation of the Rome Statute of the International Criminal Court. In 2020 she was Visiting Researcher at Humboldt- Universitt zu Berlin. Her research interests cover the domestic prosecution of international crimes; on these topics she published in various law journals. In 2016 she worked at the International Criminal Court in The Hague as a trainee in the Appeals Chamber and she is a qualified lawyer in Italy.
Innehållsförteckning
Foreword (Marta Cartabia, Former Minister of Justice) Preface (Rosario Aitala, Judge International Criminal Court) 1. Obligations, Options and Obstacles: Implementing the Rome Statute Revisited (Chantal Meloni and Florian Jeberger) 2. Italian Perspectives on the Domestic Implementation of International Criminal Law 2.1. The Domestic Codification of International Crimes: the Private Initiative "Cariplo Project" (Fausto Pocar) 2.2. Previous Italian Legislative Drafts (Marco Pedrazzi) 2.3. Implementation of Substantive Rules of International Criminal Law in Italy: between International Obligations and Constitutional Law Principles (Alessandra Annoni) 2.4. International Criminal Law Implementation and Constitutional Law (Francesco Vigan) 2.5. The Way Forward: an Overview on the Draft "Palazzo-Pocar" of 2022 (Nicola Selvaggi) 3. The Adoption of Domestic Laws on International Criminal Justice: the German Code of Crimes Against International Law (Vlkerstrafgesetzbuch) and the Global Perspective 3.1. Domestic and International Criminal Justice: Challenges Ahead (Andreas Zimmermann and John Schabedoth) 3.2. Between International Solidarity and No Safe Haven: the German Vlkerstrafgesetzbuch 20 Years On (Boris Burghardt) 3.3. Shortcomings and Proposals for Reform of the Vlkerstrafgesetzbuch (Leonie Steinl) 3.4. Domesticating the ICC Statute: a Global Perspective (Antonio Coco) 3.5. Other Examples of Domestic Implementation of the ICC Statute (Kalika Metha) 4. Defining International Crimes in the Domestic Legislation 4.1. How to Implement Crimes Against Humanity and Genocide in the Italian System (Maria Crippa) 4.2. The Italian Legislation on War Crimes: Obligations to Implement and Principle of Legality (Giulio Bartolini and Marco Longobardo) 4.3. Prosecuting Crimes Against Humanity and Genocide as Ordinary Offences: What Consequences? (Luigi Prosperi) 4.4. Domesticating the Sidelined Crime of Aggression (Annegret Hartig) 5. Individual Criminal Responsibility, Sanctions and Sentencing in the Domestic Legislation 5.1. How to Domesticate the Modes of Liability for International Crimes in the Italian System (Chantal Meloni) 5.2. The Implementation of International Criminal Law in Germany: the Approach to Modes of Liability (Volker Nerlich) 5.3. Sanctions and Sentencing for International Crimes in Domestic Legal Systems (Epik Aziz) 5.4. Applying the International Rationales of Sanctioning into the Domestic Criminal System (Alice Riccardi) 6. Immunities, Jurisdiction and Prosecutorial Discretion 6.1. Prosecuting International Crimes Before Domestic Courts and the Question of Immunities (Chiara Ragni) 6.2. The Rejection of Immunities for International Crimes: a Solution for the Survival of the International Criminal Justice Project? (Valeria Vegh Weis) 6.3. Justice of the Powerful: Abusing Prosecutorial Discretion in the Punishment of International Crimes? (Triestino Mariniello) Annex: The Italian Ministry of Justice Proposal for a Code of International Crimes of 2022 ("Palazzo-Pocar Draft") (EN) Index