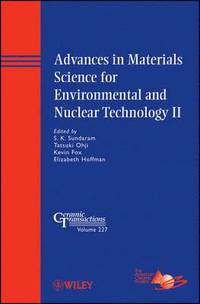 Fler böcker inom
Format

Inbunden (Hardback)

Språk

Engelska

Antal sidor

348

Utgivningsdatum

2011-06-23

Upplaga

Volume 227

Förlag

Illustrationer

Illustrations

Dimensioner

234 x 158 x 19 mm

Vikt

612 g

Antal komponenter

1

ISBN

9781118060001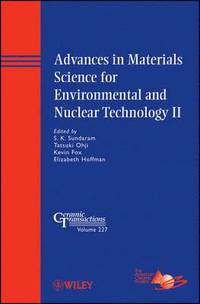 Advances in Materials Science for Environmental and Nuclear Technology II
Ceramic Transactions
Skickas inom 5-8 vardagar.
Fri frakt inom Sverige för privatpersoner.
Boken kan tyvärr inte levereras innan julafton.
This book contains 29 papers from the Clean Energy: Fuel Cells, Batteries, Renewables; Green Technologies for Materials Manufacturing and Processing II; and Materials Solutions for the Nuclear Renaissance symposia held during the 2010 Materials Science and Technology (MS&T'10) meeting, October 17-21, 2010, Houston, Texas. Topics include Batteries; Corrosion and Materials Degradation; Fuel Cells & Electrochemistry; Fossil Energy Materials; Solar Energy; Waste Minimization; Green Manufacturing and Materials Processing; Immobilization of Nuclear Wastes; Irradiation and Corrosion Effects; and Materials Performance in Extreme Environments.
Passar bra ihop
+
Bloggat om Advances in Materials Science for Environ...
Innehållsförteckning
Preface ix CLEAN ENERGY: MATERIALS, PROCESSING, AND MANUFACTURING. Slag Characterization for the Development of New and Improved Service Life Materials in Gasifiers using Flexible Carbon Feedstock 3 James Bennett, Seetharaman Sridhar, Jinichiro Nakano, Kyei-Sing Kwong, Tom Lam, Tetsuya Kaneko, Laura Fernandez, Piyamanee Komolwit, Hugh Thomas, and Rick Krabbe Characterization of Electrochemical Cycling Induced Graphite Electrode Damage in Lithium-Ion Cells 17 Sandeep Bhattacharya, A. Reza Riahi, and Ahmet T. Alpas Titanium-Dioxide-Coated Silica Microspheres for High-Efficiency Dye-Sensitized Solar Cell 27 Devender and Ajay Dangi Effect of Titanium and Iron Additions on the Transport Properties of Manganese Cobalt Spinel Oxide 33 Jeffrey W. Fergus, Kangli Wang, and Yingjia Liu Effect of Hydrogen on Bending Fatigue Life for Materials used in Hydrogen Containment Systems 39 Patrick Ferro Investigation of Secondary Phases Formation Due to PH3 Interaction with SOFC Anode 51 Huang Guo, Gulfam Iqbal, and Bruce Kang PEN Structure Thermal Stress Analysis for Planar-SOFC Configurations under Practical Temperature Field 61 Gulfam Iqbal, Suryanarayana Raju Pakalapati, Francisco Elizalde-Blancas, Huang Guo, Ismail Celik, and Bruce Kang Electroless Coating of Nickel on Electrospun 8YSZ Nanofibers 69 Luping Li, Peigen Zhang, and S.M. Guo Effect of Surface Condition on Spallation Behavior of Oxide Scale on SS 441 Substrate used in SOFC 81 Wenning Liu, Xin Sun, Elizabeth Stephens, and Moe Khaleel Effect of Fuel Impurity on Structural Integrity of Ni-YSZ Anode of SOFCs 87 Wenning Liu, Xin Sun, Olga Marina, Larry Pederson, and Moe Khaleel Strategies to Improve the Reliability of Anode-Supported Solid Oxide Fuel Cells with Respect to Anode Reoxidation 101 Manuel Ettler, Norbert H. Menzler, Georg Mauer, Frank Tietz, Hans Peter Buchkremer, and Detlev Stover Mixed Composite Membranes for Low Temperature Fuel Cell Applications 111 Uma Thanganathan Carbonate Fuel Cell Materials and Endurance Results 119 C. Yuh, A. Hilmi, G. Xu, L. Chen, A. Franco, and M. Farooque MATERIALS SOLUTIONS FOR THE NUCLEAR RENAISSANCE. Characterization of Core Sample Collected from the Saltstone Disposal Facility 135 A.D. Cozzi and A.J. Duncan Incorporation of Mono Sodium Titanate and Crystalline Silicotitanate Feeds in High Level Nuclear Waste Glass 149 K. M. Fox, F. C. Johnson, and T. B. Edwards Radiation Resistance of Nanocrystalline Silicon Carbide 161 Laura Jamison, Peng Xu, Kumar Sridharan, and Todd Allen Performance of a Carbon Steel Container in a Canadian Used Nuclear Fuel Deep Geological Repository 169 Gloria M. Kwong, Steve Wang, and Roger C. Newman Development of Ceramic Waste Forms for an Advanced Nuclear Fuel Cycle 183 A. L. Billings, K. S. Brinkman, K. M. Fox and J. C. Marra, M. Tang, and K. E. Sickafus Determination of Stokes Shape Factor for Single Particles and Agglomerates 195 J. Matyaa, M. Schaible, and J. D. Vienna Glassy and Glass Composite Nuclear Wasteforms 203 Michael I. Ojovan and William E. Lee Advances In Materials Corrosion Research in the Yucca Mountain Project 217 Raul B. Rebak Creep Studies of Modified 9Cr-1 Mo Steel for Very High Temperature Reactor Pressure Vessel Applications 231 Triratna Shrestha, Mehdi Basirat, Indrajit Charit, Gabriel Potirniche, and Karl Rink Developing the Plutonium Disposition Option: Ceramic Processing Concerns 241 Jonathan Squire, Ewan R. Maddrell, Neil C Hyatt, and Martin C. Stennett Pore Structure Analysis of Nuclear Graphites IG-110 and NBG-18 251 G. Q. Zheng, P. Xu, K. Sridharan, and T. R. Allen GREEN TECHNOLOGIES FOR MATERIALS MANUFACTURING AND PROCESSING. Modified Powder Processing as a Green Method for Ferrite Synthesis 263 Audrey Vecoven and Allen W. Apblett Novel Method for Waste Analysis using a Highly Luminescent (II) Octaphosphite Complex as a Heavy Metal Detector 279 NisaT. Satumtira, AN Mahdy,