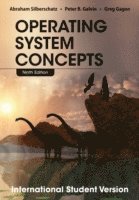 Fler böcker inom
Format

Häftad (Paperback / softback)

Språk

Engelska

Antal sidor

880

Utgivningsdatum

2013-05-10

Upplaga

9th Edition International Student Version

Förlag

Illustratör/Fotograf

Illustrationer

Illustrations (colour)

Dimensioner

255 x 180 x 30 mm

Vikt

1780 g

ISBN

9781118093757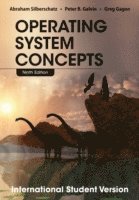 Operating System Concepts
International Student Version
Skickas inom 7-10 vardagar.
Fri frakt inom Sverige för privatpersoner.
The ninth edition of Operating System Concepts continues to evolve to provide a solid theoretical foundation for understanding operating systems. This edition has been updated with more extensive coverage of the most current topics and applications, improved conceptual coverage and additional content to bridge the gap between concepts and actual implementations. A new design allows for easier navigation and enhances reader motivation. Additional end-of-chapter, exercises, review questions, and programming exercises help to further reinforce important concepts. WileyPLUS, including a test bank, self-check exercises, and a student solutions manual, is also part of the comprehensive support package.
Passar bra ihop
+
Kundrecensioner
Det finns 2 recensioner av Operating System Concepts. Har du också läst boken?
Sätt ditt betyg »
Bra och omfattande bok

Boken är rejält tilltagen med fakta och förklaringar. Text och bild hänger ihop och kompletterar varandra bra genom hela boken.

Ibland kan boken bli väldigt detaljerad vilket kan göra att vissa upplever den tungläst.

Boken backas upp av ett omfattande register med kod-exempel, presentationer och övningsuppgifter och ger en bra grund inför fortsatta studier inom datavetenskapliga området.

Just denna upplagan sjunger på sista versen då tekniken springer ifrån faktan i boken. Den kommer inom 5 år upplevas "gammal"

Lite mycket rant runt omkring hur det fungerar och...

Lite mycket rant runt omkring hur det fungerar och inte så mycket pang på "så här fungerar det". Men med lite tankekraft så ger boken en bra bild över operativsystem.
Fler böcker av författarna
Bloggat om Operating System Concepts
Innehållsförteckning
PART ONE OVERVIEW Chapter 1 Introduction 1.1 What Operating Systems Do 4 1.2 Computer-System Organization 7 1.3 Computer-System Architecture 12 1.4 Operating-System Structure 19 1.5 Operating-System Operations 21 1.6 Process Management 24 1.7 Memory Management 25 1.8 Storage Management 26 1.9 Protection and Security 30 1.10 Kernel Data Structures 31 1.11 Computing Environments 35 1.12 Open-Source Operating Systems 43 1.13 Summary 47 Exercises 49 Bibliographical Notes 51 Chapter 2 System Structures 2.1 Operating-System Services 53 2.2 User and Operating-System Interface 56 2.3 System Calls 60 2.4 Types of System Calls 64 2.5 System Programs 72 2.6 Operating-System Design and Implementation 73 2.7 Operating-System Structure 76 2.8 Operating-System Debugging 84 2.9 Operating-System Generation 89 2.10 System Boot 90 2.11 Summary 91 Exercises 92 Bibliographical Notes 98 PART TWO PROCESS MANAGEMENT Chapter 3 Process Concept 3.1 Process Concept 103 3.2 Process Scheduling 108 3.3 Operations on Processes 113 3.4 Interprocess Communication 120 3.5 Examples of IPC Systems 128 3.6 Communication in Client Server Systems 134 3.7 Summary 145 Exercises 147 Bibliographical Notes 158 Chapter 4 Multithreaded Programming 4.1 Overview 161 4.2 Multicore Programming 164 4.3 Multithreading Models 167 4.4 Thread Libraries 169 4.5 Implicit Threading 175 4.6 Threading Issues 181 4.7 Operating-System Examples 186 4.8 Summary 189 Exercises 189 Bibliographical Notes 197 Chapter 5 Process Scheduling 5.1 Basic Concepts 201 5.2 Scheduling Criteria 205 5.3 Scheduling Algorithms 206 5.4 Thread Scheduling 217 5.5 Multiple-Processor Scheduling 218 5.6 Real-Time CPU Scheduling 223 5.7 Operating-System Examples 230 5.8 Algorithm Evaluation 240 5.9 Summary 244 Exercises 245 Bibliographical Notes 250 Chapter 6 Synchronization 6.1 Background 253 6.2 The Critical-Section Problem 256 6.3 Peterson s Solution 257 6.4 Synchronization Hardware 259 6.5 Mutex Locks 262 6.6 Semaphores 263 6.7 Classic Problems of Synchronization 269 6.8 Monitors 273 6.9 Synchronization Examples 282 6.10 Alternative Approaches 288 6.11 Summary 292 Exercises 292 Bibliographical Notes 307 Chapter 7 Deadlocks 7.1 System Model 311 7.2 Deadlock Characterization 313 7.3 Methods for Handling Deadlocks 318 7.4 Deadlock Prevention 319 7.5 Deadlock Avoidance 323 7.6 Deadlock Detection 329 7.7 Recovery from Deadlock 333 7.8 Summary 335 Exercises 335 Bibliographical Notes 340 PART THREE MEMORY MANAGEMENT Chapter 8 Memory-Management Strategies 8.1 Background 345 8.2 Swapping 352 8.3 Contiguous Memory Allocation 354 8.4 Segmentation 358 8.5 Paging 360 8.6 Structure of the Page Table 372 8.7 Example: Intel 32 and 64-bit Architectures 377 8.8 Example: ARM Architecture 382 8.9 Summary 383 Exercises 384 Bibliographical Notes 387 Chapter 9 Virtual-Memory Management 9.1 Background 389 9.2 Demand Paging 393 9.3 Copy-on-Write 400 9.4 Page Replacement 401 9.5 Allocation of Frames 413 9.6 Thrashing 417 9.7 Memory-Mapped Files 422 9.8 Allocating Kernel Memory 428 9.9 Other Considerations 431 9.10 Operating-System Examples 437 9.11 Summary 440 Exercises 441 Bibliographical Notes 450 PART FOUR STORAGE MANAGEMENT Chapter 10 File System 10.1 File Concept 455 10.2 Access Methods 465 10.3 Directory and Disk Structure 467 10.4 File-System Mounting 478 10.5 File Sharing 480 10.6 Protection 485 10.7 Summary 490 Exercises 491 Bibliographical Notes 492 Chapter 11 Implementing File-Systems 11.1 File-System Structure 495 11.2 File-System Implementation 498 11.3 Directory Implementation 504 11.4 Allocation Methods 505 11.5 Free-Space Mana