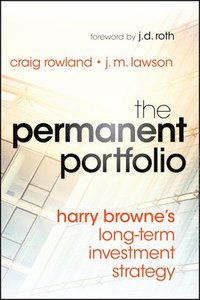 Fler böcker inom
Format

Inbunden (Hardback)

Språk

Engelska

Antal sidor

352

Utgivningsdatum

2012-09-18

Upplaga

1

Förlag

Illustrationer

Illustrations

Dimensioner

241 x 165 x 31 mm

Vikt

553 g

Antal komponenter

1

ISBN

9781118288252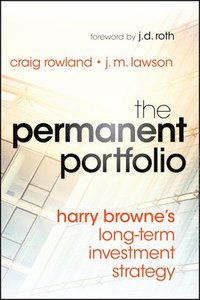 The Permanent Portfolio
Harry Browne's Long-Term Investment Strategy
Skickas inom 3-6 vardagar.
Fri frakt inom Sverige för privatpersoner.
An up close look at an investment strategy that can handle today's uncertain financial environment Market uncertainty cannot be eliminated. So rather than attempt to do away with it, why not embrace it? That is what this book is designed to do. The Permanent Portfolio takes you through Harry Browne's Permanent Portfolio approach which can weather a wide range of economic conditions from inflation and deflation to recession and reveals how it can help investors protect and grow their money. Written by Craig Rowland and Mike Lawson, this reliable resource demonstrates everything from a straightforward four-asset Exchange Traded Fund (ETF) version of the strategy all the way up to a sophisticated approach using Swiss bank storage of selected assets for geographic and political diversification. In all cases, the authors provide step-by-step guidance based upon personal experience. * This timeless strategy is supported by more than three decades of empirical evidence * The authors skillfully explain how to incorporate the ideas of the Permanent Portfolio into your financial endeavors in order to maintain, protect, and grow your money * Includes select updates of Harry Browne's Permanent Portfolio approach, which reflect our changing times The Permanent Portfolio is an essential guide for investors who are serious about building a better portfolio.
Passar bra ihop
+
Bloggat om The Permanent Portfolio
Övrig information
CRAIG ROWLAND is a serial entrepreneur who has been associated with several technology start-ups, two of which were ultimately purchased by Cisco Systems, Inc. At his last company, Psionic Software, Inc., he was founder, president, and CTO when purchased by Cisco. Another company Rowland was associated with was purchased by 3Com Corporation. He has provided consulting services to other start-up companies in addition to raising millions of dollars in venture capital for his own business. J. M. LAWSON is an attorney and retirement plan consultant. His practice involves retirement plan design and compliance issues, as well as assisting employers in creating and monitoring retirement plan investment policies and procedures.
Innehållsförteckning
Foreword xi Preface: Life Is Uncertain xv Acknowledgments xix CHAPTER 1 What Is the Permanent Portfolio? 1 A Simple Idea 1 A Simple Allocation 3 Simply Great Results 3 CHAPTER 2 The 16 Golden Rules of Financial Safety 5 Rule #1: Your Career Provides Your Wealth 6 Rule #2: Don t Assume You Can Replace Your Wealth 6 Rule #3: Recognize the Difference between Investing and Speculating 6 Rule #4: No One Can Predict the Future 7 Rule #5: No One Can Time the Market 7 Rule #6: No Trading System Will Work as Well in the Future as It Did in the Past 8 Rule #7: Don t Use Leverage 8 Rule #8: Don t Let Anyone Make Your Decisions 9 Rule #9: Don t Ever Do Anything You Don t Understand 9 Rule #10: Don t Depend on Any One Investment, Institution, or Person for Your Safety 10 Rule #11: Create a Bulletproof Portfolio for Protection 11 Rule #12: Speculate Only with Money You Can Afford to Lose 11 Rule #13: Keep Some Assets Outside the Country in which You Live 11 Rule #14: Beware of Tax-Avoidance Schemes 11 Rule #15: Enjoy Yourself with a Budget for Pleasure 12 Rule #16: Whenever You re in Doubt about a Course of Action, It s Always Better to Err on the Side of Safety 12 Investing and the Rules of Life 12 Recap 13 CHAPTER 3 Permanent Portfolio Performance 15 Growth, No Large Losses, and Real Returns: The Holy Trinity 16 Only Real Returns Matter 24 Looking at Total Performance Over Time 26 Recap 30 CHAPTER 4 Simple, Safe, and Stable 33 Simplicity 33 Safety 34 Stability 35 Making the Most of Your Investments 36 Expect the Unexpected 44 Recap 46 CHAPTER 5 Investing Based on Economic Conditions 47 When Diversification Fails 48 A Different Way to Diversify 55 Four Economic Conditions 57 Four Economic Conditions p Four Assets Strong Diversification 60 How the Portfolio Works with Economic Conditions 62 Recap 64 CHAPTER 6 Stocks 65 Benefits of Stocks 65 Risks of Stocks 66 Volatility 67 Owning Stocks 68 Recommended Stock Index Funds 69 Which Type of Index Fund to Use? 70 Why Use an Index Fund? 70 Avoid Actively Managed Stock Funds 74 Indexing Is a Marathon 78 Beware of Trading Costs 79 Large-Cap and Small-Cap Stocks 80 International Stock Funds 81 A Warning About Company Stock 84 No Index Funds What to Do? 85 Recap 85 CHAPTER 7 Bonds 87 Benefits of Bonds 87 Risks of Bonds 89 Volatility 90 Bonds and Deflation 92 Owning Bonds 93 Bonds to Buy 94 Buying Bonds 94 Other Bond Risks The Case for Treasury Bonds 98 Bonds to Avoid 103 Flight to Safety 108 Earning Money Multiple Ways 111 Bond Risk Matrix 112 Bond Funds and Retirement Plans 114 Recap 114 CHAPTER 8 Cash 117 Benefits of Cash 117 Risks of Cash 120 Volatility 121 Owning Cash 123 Cash Risks The Case for Treasury Bills 128 Cash to Avoid 132 Cash Risk Matrix 140 Cash and Retirement Plans 140 Recap 141 CHAPTER 9 Gold 143 Benefits of Gold 144 Risks of Gold 145 Volatility 147 Causes of Inflation 148 Gold Protects During Extreme Events 149 No Interest, No Dividends, No Problem 152 Why Do Central Banks Hold So Much Gold? 153 Owning Gold 153 Buying Gold 154 Buying and Storing Gold at a Bank 157 Gold Funds 158 Assets to Avoid 163 Limit Gold Bullion Sales Taxes 171 Other Considerations 171 Recap 173 CHAPTER 10 Implementing the Permanent Portfolio 175 Key Concepts 175 Four Levels of Protection 177 Level 1 Basic All Funds 179 Level 2 Good Funds, Bonds, and Gold 182 Level 3 Better Funds, Bonds, and Gold 185 Level 4 Best Funds, Bonds, Gold, and Geographic Diversification 187 All In, or Wait? 190 Other Portfolio Ideas 192 Final Considerations 19