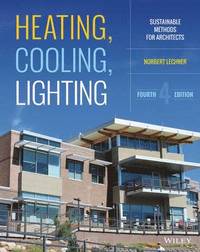 Fler böcker inom
Format

Inbunden (Hardback)

Språk

Engelska

Antal sidor

912

Utgivningsdatum

2014-10-03

Upplaga

4th Edition

Förlag

Illustratör/Fotograf

Illustrationer

illustrations

Dimensioner

292 x 228 x 44 mm

Vikt

1905 g

Antal komponenter

1

ISBN

9781118582428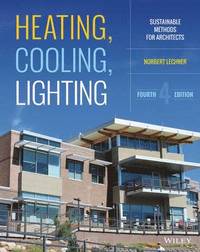 Heating, Cooling, Lighting
Sustainable Design Methods for Architects
Skickas inom 2-5 vardagar.
Fri frakt inom Sverige för privatpersoner.
Sustainable environmental control through building design Heating, Cooling, and Lighting is the industry standard text on environmental control systems with the emphasis on sustainable design. By detailing the many factors that contribute to the comfort in a building, this book helps architects minimize mechanical systems and energy usage over the life of the building by siting, building design, and landscaping to maximize natural heating, cooling, and lighting. This new fourth edition includes new information on integrated design strategies and designing for the Tropics. Resources include helpful case studies, checklists, diagrams, and a companion website featuring additional cases, an image bank, and instructor materials. Designing buildings that require less energy to heat, cool, and light means allowing the natural energy of the sun and wind to reduce the burden on the mechanical and electrical systems. Basic design decisions regarding size, orientation, and form have a great impact on the sustainability, cost, and comfort of a building. Heating, Cooling, and Lighting provides detailed guidance for each phase of a design project. Readers will: * Understand the concept of sustainability as applied to energy sources * Review the basic principles of thermal comfort, and the critical role of climate * Learn the fundamentals of solar responsive design, including active and passive solar systems as well as photovoltaics * Discover how siting, architectural design, and landscaping can reduce the requirements for mechanical and electrical systems In sustainable design, mechanical, and electrical systems should be used to only accomplish what the architect could not by the design of the building itself. With this in mind, designers require a comprehensive understanding of both the properties of energy and the human factors involved in thermal comfort. Heating, Cooling, and Lighting is the complete, industry-leading resource for designers interested in sustainable environmental control.
Passar bra ihop
+
Kundrecensioner
Det finns 1 recension av Heating, Cooling, Lighting. Har du också läst boken?
Sätt ditt betyg »
Mycket intressant bok !

Jag ska börja läsa master programmet "Energi- och miljöeffektiva byggander" och den här boken kommer att vara min stött under hela studieresa!
Bloggat om Heating, Cooling, Lighting
Övrig information
Norbert Lechner is Professor Emeritus of Architecture in the Department of Building Science at Auburn University and a registered architect in the state of Alabama. His articles have appeared in Architectural Lighting and Solar Today. He is the author of the companion book Plumbing, Electricity, Acoustics, published by Wiley.
Innehållsförteckning
FOREWORD TO THE FOURTH EDITION xi Edward Mazria FOREWORD TO THE FIRST EDITION xiii James Marston Fitch PREFACE xv ACKNOWLEDGMENTS xvii 1 HEATING, COOLING, AND LIGHTING AS FORM-GIVERS IN ARCHITECTURE 1 1.1 Introduction 2 1.2 Indigenous and Vernacular Architecture 3 1.3 Formal Architecture 5 1.4 The Architectural Approach to Sustainable Design 8 1.5 Dynamic versus Static Buildings 11 1.6 Resilient Design 12 1.7 Biophilic Design 12 1.8 Color and Ornamentation 12 1.9 Energy and Architecture 13 1.10 Climate and Architecture 14 1.11 Sustainability Codes and Voluntary Programs 16 1.12 Integrated Design 17 1.13 Decision Making 18 1.14 Conclusion 19 Key Ideas of Chapter 1 19 2 SUSTAINABLE DESIGN AND ENERGY SOURCES 21 2.1 Easter Island: Learning from the Past 22 2.2 Sustainable Design 22 2.3 Reuse, Recycle, and Regenerate by Design 24 2.4 The Sustainability Movement 26 2.5 Population and Affl uence 26 2.6 Growth 27 2.7 Exponential Growth 27 2.8 The Amoeba Analogy 28 2.9 Supply versus Efficiency 29 2.10 Sustainable-Design Issues 30 2.11 Climate Change 30 2.12 The Global Greenhouse 33 2.13 The Ozone Hole 33 2.14 Effi ciency versus Renewable Energy 34 2.15 Energy Sources 34 2.16 Energy Use in Ancient Greece 34 2.17 Nonrenewable Energy Sources 35 2.18 Renewable Energy Sources 38 2.19 Hydrogen 44 2.20 Conclusion 45 Key Ideas of Chapter 2 46 3 BASIC PRINCIPLES 49 3.1 Introduction 50 3.2 Heat 50 3.3 Sensible Heat 50 3.4 Latent Heat 51 3.5 Evaporative Cooling 51 3.6 Convection 52 3.7 Transport 52 3.8 Energy-Transfer Mediums 53 3.9 Radiation 53 3.10 Greenhouse Effect 54 3.11 Equilibrium Temperature of a Surface 55 3.12 Mean Radiant Temperature 56 3.13 Heat Flow 56 3.14 Heat Sink 57 3.15 Heat Capacity 57 3.16 Thermal Resistance 58 3.17 Heat-Flow Coeffi cient 58 3.18 Time Lag 58 3.19 Insulating Effect of Mass 59 3.20 Energy Conversion 59 3.21 Combined Heat and Power 60 3.22 Fuel Cells 60 3.23 Embodied Energy 61 3.24 Conclusion 61 Key Ideas of Chapter 3 62 4 THERMAL COMFORT 63 4.1 Biological Machine 64 4.2 Thermal Barriers 65 4.3 Metabolic Rate 67 4.4 Thermal Conditions of the Environment 67 4.5 The Psychrometric Chart 68 4.6 Dew Point and Wet-Bulb Temperatures 69 4.7 Heat Content of Air 70 4.8 Thermal Comfort 72 4.9 Shifting of the Comfort Zone 73 4.10 Adaptive Comfort 74 4.11 Clothing and Comfort 75 4.12 Strategies 75 4.13 Conclusion 76 Key Ideas of Chapter 4 76 5 CLIMATE 79 5.1 Introduction 80 5.2 Climate 80 5.3 Microclimate 83 5.4 Climatic Anomalies 85 5.5 Climate Regions of the United States and Canada 86 5.6 Explanations of the Climatic Data Tables 87 5.7 Relative Heating and Cooling Loads 93 5.8 Additional Climate Information 94 5.9 Climate Information for Other Countries 95 Data Tables for Climate Regions, United States 96 5.10 Design Strategies 130 Key Ideas of Chapter 5 137 6 SOLAR GEOMETRY 139 6.1 Introduction 140 6.2 The Sun 140 6.3 Elliptical Orbit 140 6.4 Tilt of the Earth s Axis 141 6.5 Consequences of the Altitude Angle 142 6.6 Winter 144 6.7 The Sun Revolves Around the Earth! 144 6.8 The Sky Dome 144 6.9 Determining Altitude and Azimuth Angles 145 6.10 Solar Time 146 6.11 Horizontal Sun-Path Diagrams 146 6.12 Vertical Sun-Path Diagrams 148 6.13 Drawing Sunbeams 150 6.14 Sun-Path Models 153 6.15 Solar Heat Gain 154 6.16 Solar Site-Evaluation Tools 158 6.17 Heliodons 159 6.18 Sundials for Model Testing 160 6.19 Conceptually Clear Heliodons 161 6.20 Conclusion 162 Key Ideas of Chapter 6 164 7 PASSIVE SOLAR 165 7.1 History 166 7.2 Solar in America 166 7.3 Solar Hemicycle 167 7.4 Latest Rediscovery of Passive Solar 169 7.5 Passive Solar 169 7.6 Direct-Gain Systems 171