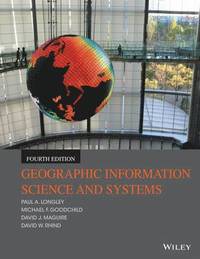 Fler böcker inom
Format

Häftad (Paperback / softback)

Språk

Engelska

Antal sidor

496

Utgivningsdatum

2015-12-01

Upplaga

4th Edition

Förlag

Medarbetare

Longley, Paul A. (red.)/Maguire, David J. (red.)

Dimensioner

273 x 209 x 19 mm

Vikt

1224 g

Antal komponenter

1

ISBN

9781118676950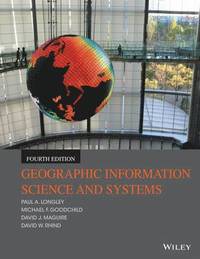 Geographic Information Science and Systems
Skickas inom 2-5 vardagar.
Fri frakt inom Sverige för privatpersoner.
Effective use of today s vast geographic information (GI) resources requires more than just powerful technology for problem solving. It requires science to help us understand the way the world works, and to help us devise effective procedures for making decisions. Three previous editions have established this text as a defining multidisciplinary treatment of the scientific principles that underpin the use of geographic information technologies for problem solving. This extensively revised and updated edition provides a guide to the enduring scientific principles and information systems that support effective use of today s GI. It also provides a primer on essential methods for analysis of GI, and the ways in which effective management of GI informs policy and action.
Passar bra ihop
+
Bloggat om Geographic Information Science and Systems
Övrig information
Professor?Paul Longley, Department of Geography, University College London, UK. Professor Mike Goodchild, Department of Geography, University of California Santa Barbara, USA. Professor David Maguire, ESRI, Redlands, USA. Professor David Rhind, Vice Chancellor and Principle, City University, ?London, UK.
Innehållsförteckning
FOREWORD x DEDICATION xi PREFACE xii LIST OF ACRONYMS xiv Introduction 1 Geographic Information: Science, Systems, and Society 1 1.1 Introduction: What Are GI Science and Systems, and Why Do They Matter? 1 1.2 Data, Information, Evidence, Knowledge, and Wisdom 9 1.3 GI Science and Systems 11 1.4 The Technology of Problem Solving 14 1.5 The Disciplinary Setting of GI Science and Systems (GISS) 16 1.6 GI Science and Spatial Thinking 30 1.7 GI Systems and Science in Society 31 Questions for Further Study 32 Further Reading 32 1 Principles 2 The Nature of Geographic Data 33 2.1 Introduction 33 2.2 The Fundamental Problem 34 2.3 Spatial Autocorrelation and Scale 37 2.4 Spatial Sampling 39 2.5 Sampling and VGI 42 2.6 Distance Decay 43 2.7 Measuring Distance Effects as Spatial Autocorrelation 48 2.8 Taming Geographic Monsters 51 2.9 Induction and Deduction and How It All Comes Together 53 Questions for Further Study 54 Further Reading 54 3 Representing Geography 55 3.1 Introduction 55 3.2 Digital Representation 57 3.3 Representation of What and for Whom? 58 3.4 The Fundamental Problem 61 3.5 Discrete Objects and Continuous Fields 62 3.6 Rasters and Vectors 66 3.7 The Paper Map 69 3.8 Generalization 71 3.9 Conclusion 76 Questions for Further Study 76 Further Reading 76 4 Georeferencing 77 4.1 Introduction 77 4.2 Place-Names and Points of Interest 80 4.3 Postal Addresses and Postal Codes 82 4.4 IP Addresses 84 4.5 Linear Referencing Systems 84 4.6 Cadasters and the U.S. Public Land Survey System 85 4.7 Measuring the Earth: Latitude and Longitude 86 4.8 Projections and Coordinates 88 4.9 Measuring Latitude, Longitude, and Elevation: GPS 94 4.10 Converting Georeferences 95 4.11 Geotagging and Mashups 96 4.12 Georegistration 96 4.13 Summary 98 Questions for Further Study 98 Further Reading 98 5 Uncertainty 99 5.1 Introduction 99 5.2 U1: Uncertainty in the Conception of Geographic Phenomena 101 5.3 U2: Further Uncertainty in the Representation of Geographic Phenomena 111 5.4 U3: Further Uncertainty in the Analysis of Geographic Phenomena 117 5.5 Consolidation 126 Questions for Further Study 127 Further Reading 127 2 Techniques 6 GI System Software 128 6.1 Introduction 128 6.2 The Evolution of GI System Software 129 6.3 Architecture of GI System Software 131 6.4 Building GI Software Systems 136 6.5 GI Software Vendors 137 6.6 Types of GI Systems 140 6.7 Conclusion 150 Questions for Further Study 151 Further Reading 151 7 Geographic Data Modeling 152 7.1 Introduction 152 7.2 GI Data Models 154 7.3 Example of a Water-Facility Object Data Model 168 7.4 Geographic Data Modeling in Practice 170 Questions for Further Study 172 Further Reading 172 8 Data Collection 173 8.1 Introduction 173 8.2 Primary Geographic Data Capture 175 8.3 Secondary Geographic Data Capture 181 8.4 Obtaining Data from External Sources (Data Transfer) 187 8.5 Capturing Attribute Data 190 8.6 Citizen-Centric Web-Based Data Collection 190 8.7 Managing a Data Collection Project 191 Questions for Further Study 193 Further Reading 193 9 Creating and Maintaining Geographic Databases 194 9.1 Introduction 194 9.2 Database Management Systems 195 9.3 Storing Data in DBMS Tables 198 9.4 SQL 201 9.5 Geographic Database Types and Functions 202 9.6 Geographic Database Design 205 9.7 Structuring Geographic Information 206 9.8 Editing and Data Maintenance 212 9.9 Multiuser Editing of Continuous Databases 213 9.10 Conclusion 214 Questions for Further Study 216 Further Reading 216 10 The GeoWeb 217 10.1 Introduction 217 10.2 Distributing the Data 222 10.3 The Mobile User 227 10.4 Distributing the Software: GI Services 233 10.5 Prospects 235 Questions for Further S